Overview
Leadership at Overlake Medical Center & Clinics
At Overlake, our board of trustees, senior management, clinical leadership and foundation trustees come from a wide variety of health care, non-profit and private industry backgrounds.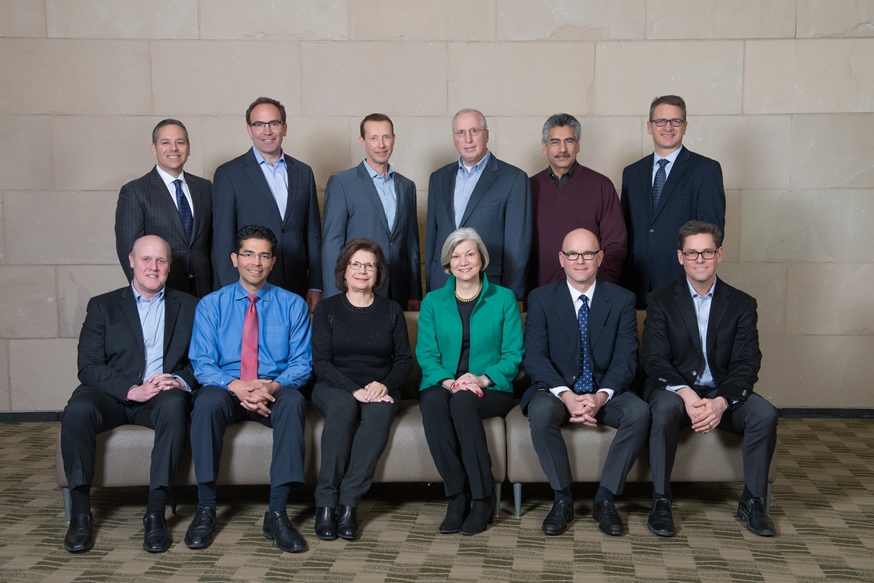 Overlake Medical Center Board of Trustees
Patricia Bedient, Board Chair
Patricia Bedient retired as the executive vice president and chief financial officer at the Weyerhaeuser Company in 2016. She had served as senior vice president of finance and strategic planning and as vice president of strategic planning. Prior to joining the company, Bedient was with Arthur Andersen LLP for 27 years, where she served a number of clients in the forest products, manufacturing, distribution and educational service industries. Bedient began her career with Arthur Andersen in Portland, OR, becoming a partner in 1987. 
Bedient holds a Bachelor of Science degree in business administration, with a concentration in accounting and finance, from Oregon State University. She is a certified public accountant and is a member of the American Institute of CPAs and the Washington Society of CPAs.
Bedient serves on the board of directors of Alaska Air Group, the Weyerhaeuser Company Foundation, the Oregon State University Foundation board of trustees, the advisory board for the University of Washington School of Business and the San Francisco regional advisory board for FM Global. She has served on the boards of the World Forestry Center, the Forest History Society, and the Forest Research Lab advisory committee, and Oregon State University. Bedient also served as past president, City Club of Portland; past chair, board of regents, St. Mary's Academy of Portland; past vice chair, Boise Chamber of Commerce; and past treasurer for both United Way of Ada County, Idaho, and Alliance for Education in Seattle.
Russell Stockdale, Chair Elect
Russell Stockdale spent four years as an executive with the early stage entrepreneurial endeavor Clearsight Systems. First as the vice president of marketing and then as the president. Through the challenges of start-up status, Stockdale was able to secure additional funding from the Board of Directors while streamlining costs. Prior to Clearsight Systems, Stockdale led numerous high profile successful groups with Microsoft Corporation. He led the transition of $1.3 billion acquisition of Great Plains into the organization as the vice president of Microsoft Business Solutions. As a result of his leadership and planning while under development, Sharepoint Server was able to become the fastest product in company history to generate $1 billion in revenue. He successfully refocused the marketing efforts for Exchange Server to build momentum and exceed the $525 million revenue plan. In addition, Stockdale implemented the Windows 95 worldwide roll out plan with a $20 million budget that achieved phenomenal product recognition.
Stockdale started his career in consulting at Accenture. During his time in consulting, he had the opportunity to design and implement information systems that streamlined business operations for organizations across numerous industries. Stockdale is a long-time resident of the Puget Sound area and has been active in the community, serving on the development committee of the University of Washington Autism Center. In addition, he serves as a board member for the Stockdale Family Foundation. Stockdale holds an MBA from the Wharton School of Business at the University of Pennsylvania. He earned his bachelor of science degree with distinction from Stanford University.
Robert Campbell, Secretary
Robert Campbell retired in 2016 as the treasurer and vice president of investor relations for Nordstrom, a position he held since March 2009. He held several leadership positions since joining Nordstrom in 1997, including vice president of finance for the full-line stores, treasurer, vice president of strategy and planning and director of investor relations. Earlier in his career, Campbell held various finance and accounting positions in several different west coast retail and restaurant companies. He serves on the local advisory board of the Rotary Boys and Girls Club of King County.
Jason Thompson, Treasurer
Jason Thompson served on the Overlake Medical Center Foundation board of trustees for six years and as the Foundation board chair for two years. He also represented the Foundation on the hospital's finance committee for four years. He first became involved at Overlake after the extraordinary care his wife received at the medical center in 2003 following the birth of their daughter. Supporting Overlake has been a family project ever since his daughter's birth, which has included annual visits to the nurses in the Mom + Baby Unit and contributions by his daughter with funds she has earned through lemonade stand revenues and weekly allowances. Thompson is a founding member of Overlake's Pulse! Network.
 
Thomas Stoll, MD, Chief of Staff 
Thomas Stoll, MD, was raised on the Eastside and graduated from Redmond High School. He received a Bachelor of Science degree in microbiology and molecular genetics from UCLA. Dr. Stoll received his medical degree from University of California San Diego and completed his orthopedic surgery residency at the University of Rochester in New York. He has been an orthopedic surgeon with Kaiser Permanente since 2005. Dr. Stoll previously served as the chair of Orthopedics for Overlake Medical Center and is currently the service line chief of orthopedics for Kaiser Permanente Physicians.
Ronnier Aviles, MD, Chief of Staff Elect
Ronnier Aviles, MD, is board certified in cardiovascular diseases and interventional cardiology and serves as Program Director of Cardiac Services at Overlake. He completed training in interventional cardiology at Brigham and Women's Hospital, Harvard Medical School and in general cardiology at the Cleveland Clinic. He is the author of many publications in leading scientific journals, including the New England Journal of Medicine, JAMA and Circulation. 
Dr. Aviles lives with his wife and two children in Kirkland. He and his family enjoy exploring the Pacific Northwest. Dr. Aviles and his wife serve in medical missions to underprivileged populations in rural Central American through their local church community.
J. Michael Marsh, President + CEO/Trustee Associate
J. Michael Marsh joined Overlake Medical Center as president and chief executive officer in April 2014. He is a health care executive with 30 years of experience in strategy, business development and operations supporting hospitals and health systems. Marsh has demonstrated success at all levels of management within different markets and across the entire continuum of care.
Prior to joining Overlake Medical Center, Marsh spent 26 years with Providence Health and Services, with 14 of those years in senior executive positions. In his most recent role he served as chief administrative officer for Providence's Western Washington region and its affiliation with Swedish. From 2006-2011, Marsh served as both chief operating officer and chief strategic officer for Providence's Washington/Montana region supporting five markets.
Marsh is known and well respected for his proven ability to provide strategic leadership at all levels of the organization and across diverse markets.  He is a skilled negotiator and consensus builder who is able to synthesize complex topics quickly and galvanize commitment in order to consistently achieve desired and targeted results.   
He holds a master's degree in health services administration from the University of Washington. He is married and has one grown daughter.
Jorge Cerda, Trustee
Jorge Cerda retired as vice president of information technology at Seattle Genetics. He has over 27 years of executive leadership experience in the areas of business growth and operations for large scale, complex information technology solutions. Recognized for optimizing organizational performance, developing business solutions, exceeding financial goals and service excellence, Cerda has been a key leader throughout his career in the healthcare industry.
Prior to joining Seattle Genetics in 2012, Cerda spent six years at GE Healthcare in several leadership roles. Most recently he was the vice president and general manager of international operations and led GE's enterprise product portfolio into emerging international markets.
Cerda has a Bachelor of Science degree from DeVry Institute of Technology.
Gregory Collins, Trustee
Greg Collins retired as the President and CEO of Parker, Smith & Feek. He was in the insurance industry since 1977 and joined Parker, Smith & Feek in 1987. He became a partner in the firm in 1991. Collins holds the Associate in Risk Management (ARM) and Associate in Loss Control Management (ALCM) professional designations. He is the past chairman and a current director of Assurex Global, an international corporation of privately held insurance brokers collectively managing more than $30 billion of annual insurance premiums worldwide. In addition to his corporate management obligations, Collins heads Parker, Smith & Feek's environmental practice group. He has presented public seminars concerning asbestos abatement, underground storage tanks, environmental impairment liability, and the use of environmental insurance in real estate transfers. He has successfully placed environmental insurance coverage on numerous contaminated properties throughout the Western U.S., including property transfers on Superfund sites. Collins is the immediate past chair of the Overlake Hospital Foundation Board. He also serves on the board of the Bellevue Chamber of Commerce. Collins earned a bachelor's degree from Montana State University in environmental sciences.
Janine Florence, Trustee
Janine Florence joined her family's businesses Quality Food Centers (QFC) and Property Development Corporation, a real estate holding company, in 1974. In 1986 the family sold its interest in QFC, the grocery retail operation. She has served as president and CEO of Property Development Corporation since 1985 and became chairwoman in 2006. Florence has served as a member of the board of directors of First Mutual Bank since 1985. She is the past chairwoman of the Bellevue Downtown Association and the Bellevue Schools Foundation. She has served on the board of both the Bellevue Community College Foundation and the Bellevue Art Museum and is currently the vice chairwoman of the Performing Arts Center of the Eastside.
Kemper Freeman, Jr., Honorary Trustee
Kemper Freeman is chairman and CEO of Kemper Development Company, the owner/developer of Bellevue Square Shopping Center and the mixed-use projects Bellevue Place and Lincoln Square. He is past chairman of the International Council of Shopping Centers as well as past chairman of the association's government relations committee and has served as a trustee since 1987. Freeman serves as a board member of the Performing Arts Center Eastside (PACE). He has a long history of involvement in political and civic activities. Freeman is a former Washington state legislator and has served on the boards of numerous business and civic organizations. The Freeman family is one of the founders of Overlake Hospital.
Ted Herb, Trustee
Ted Herb serves as executive vice president of operations and principal at GLY Construction, Inc. and served as its vice president of operations. He is a member of GLY Construction, Inc.'s corporate planning team. Herb has also served as GLY's chief estimator and director of marketing. He has 14 years of construction management experience, focused primarily on hospital and medical clinic projects, in new construction and renovations, in both civil and site work construction.  Herb has served previously on the University of Washington Construction Management advisory board, Little Bit Therapeutic Riding Center board and the Bellevue Chamber of Commerce board.
James Ladd, Trustee
James "Jim" Ladd retired from Deloitte, an international accounting and consulting firm, after a 28-year career during which he served as managing partner of the Seattle and Tokyo offices and of firmwide human resources.  After retiring from Deloitte, Ladd held C-level positions with EnCompass Globalization Inc. (a Japanese-owned software localization company), Bsquare Corporation (a publicly-traded software engineering company), City University of Seattle, and the Institute for Systems Biology (a biomedical research institute), finally retiring from full time employment in 2013.
Ladd has been active on corporate, professional and community boards throughout his career.  He currently serves as a board member of the Washington State Board of Accountancy and the National Association of State Boards of Accountancy.  In the recent past he served as board chair of Seattle Children's Hospital and the Washington Society of CPAS and as a board member of Emeritus Corporation (a public company) and as lead director of Sparling Inc. (a privately-owned company).  He also has served as a board member and treasurer of United Way of King County and The Seattle Foundation, among others.
He is a graduate of Duke University and is a CPA.
Linda Mahaffey, Trustee
Linda Mahaffey retired in 2012 as vice president of Symetra Life Insurance Company and president for Symetra Securities, Inc. She joined Safeco in 1994 as manager of mutual fund administration. She was appointed AVP of Safeco Services Corp. and Safeco Securities Inc. in 1995, Vice President in 1998 and President in 2004. When Safeco sold the life and investments division, Mahaffey remained with the newly formed company, Symetra Financial Corporation. Prior to joining Safeco/Symetra, she spent 16 years at Blue Cross of Washington. Mahaffey has a bachelor's degree in education from Central Washington University.
Phyllis Stark, Trustee
Phyllis Stark was co-founder and president of Northwest Perfusion, Inc., which provided perfusion (the process of supplying blood to body tissues) services to Overlake hospital. She retired from perfusion in 2000. Earlier in her career, Stark worked on cardiac surgery teams in Seattle, Tacoma and Bellevue. She worked in medical research prior to becoming a perfusionist in 1974.
Stark holds a degree in biology from the state University of New York. She was active in her professional society, the American Society of Extracorporeal Technology, serving on the Board of Directors and as editor in chief of the Society's peer-reviewed journal. She has been active in the YWCA of Seattle, King and Snohomish Counties. In 2001 she joined the Eastside Advisory Council and became Chair in 2004.  At that time she joined the YWCA Board of Directors, a position held until 2013. 
Stark joined the Overlake Auxiliaries in 2008 as a member of the Roger Stark Cardiac & Stroke Auxiliary.  She served as president of this Auxiliary from 2010 to 2012, and from 2012 to 2014 she was president of the Auxiliaries. Currently Stark serves on the Overlake Auxiliaries Board as past president.
Vicente Farinas, MD, Board Member at Large
Vicente Farinas, MD, is board certified in anesthesiology. He completed his medical training from Tulane University School of Medicine and his residency at the University of Washington. He was raised in New Orleans and served as a flight surgeon in the U.S. Air Force. Dr. Farinas has practiced at Overlake since 2003, and is also the chief of the anesthesiology department.
Jeff Wilcox, Chair
Tiffany Koenig, Past Chair
Pauline Bach, Secretary
Julie Sun, Treasurer
J. Michael Marsh, Ex-Officio, President, CEO
Molly Stearns, Ex-Officio, Executive Director
Lynnette Anderson, Auxiliaries Representative
Jim Gregson, Pulse! Representative
Merrill Behnke
Rachele Bouchard
Haleh Clapp
Dr. Joseph Doucette
Patty Edwards
York Harris
Warren Michelsen
Taylor Miller
Steve Nicholes
Tara Reimers, MD
Mike Ridgeway
Claire Sumadiwirya
Tyler Tonkin
Susan Feldman, President
Lani Mobius, Vice President, Governance Chair
Phyllis Stark, Representative to Hospital Board
Lynnette Anderson, Representative to Foundation Board
Brenda McCallon, Secretary/Treasurer
Molly Stearns, Executive Director
Brenda Epstein
Barbel Kappes
Mary Mott
Patty Murphy