Overview
Hospital + Overlake Medical Tower
Access to the hospital campus has changed; there no longer  is access via NE 10th Street. All patients will access the hospital from 116th Avenue NE. Hospital patients and visitors may park in the north or south garages on the hospital campus. Patients and visitors of the childbirth center, outpatient surgery or the PACCAR Education Center may park in the west parking garage, located on the northwest corner of the hospital campus.
The garages are open 24 hours a day.
The parking program throughout the campus uses an automated parking ticketing system. Payment for parking is accepted at the parking exits.
Patients and visitors are issued a parking slip at the garage entrances that is used to calculate the time they have parked at Overlake. The parking rates are as follows:
1 Hour: Free.
Up to 2 Hours: $4
Over 2 Hours: $5
Valet Parking: $5
PLEASE NOTE: The Overlake Medical Pavilion (where Starbucks is located) is not part of Overlake Medical Center and has different rates and rules.
Each hospital inpatient is entitled to one 30-day parking permit at a cost of $5. The parking permits are issued at the time of admission but paid for the first time you leave the garage. You will receive a blue hangtag and when you leave the garage the first time with your new hangtag, the parking attendant will take your $5 and register your tag for the month.
You can also use valet parking at the hospital's main entrance for $5. If you have a state handicap parking permit, you may valet park for $2.
Several parking team members are located throughout the campus to assist with directions or to provide customer assistance with flat tires, emergency gas, keys locked in vehicles, etc.
If you have any questions or require assistance, please contact the Ampco System Parking Overlake office at 425.688.5277.
Main Entrance
The driveway at the main entrance is for valet parking and loading/unloading only. Please do not leave your vehicle unattended unless you are having it valet parked.
Emergency Room Access
All patients will access the ER from 116th Avenue NE. Once on campus, follow signs to the P1 level of the South Tower, where Overlake staff will provide guidance for simple directions to the ER check-in desk.
See the map below showing the main entry points onto our hospital campus and the rendering showing the new ER vehicle entrance.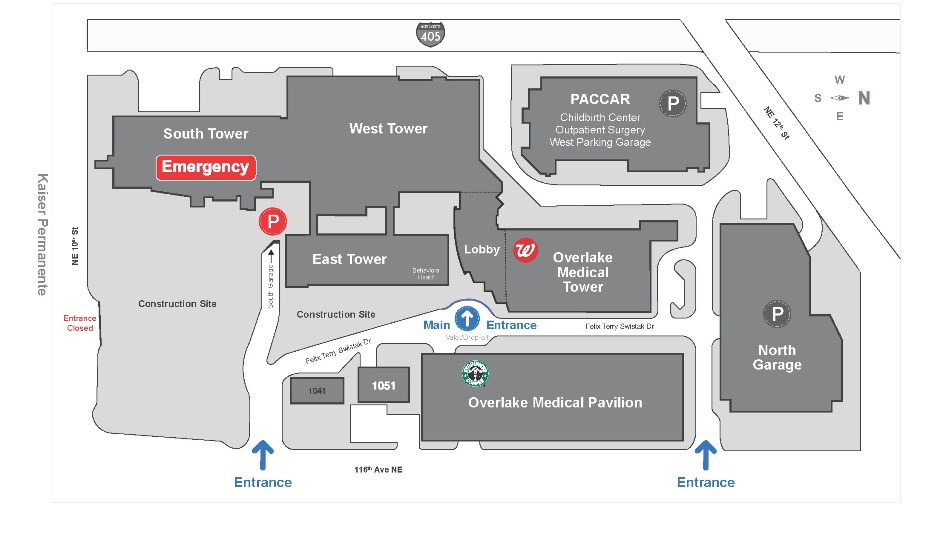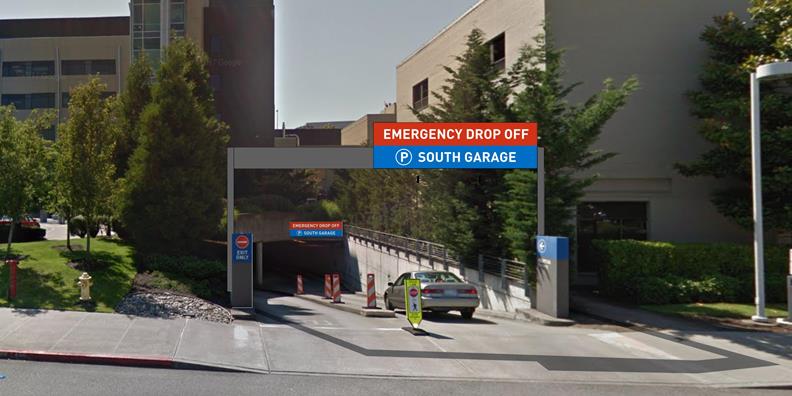 Campus Map
View a map of the hospital campus.
Senior Health Clinic + Outpatient Services
View a map with information about parking for the Senior Health Clinic and Outpatient Services at Hidden Valley.