Overview
Become an Overlake Medical Center Volunteer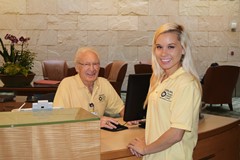 Welcome and thank you for your interest in volunteering at Overlake. Volunteers are a vital part of the patient and family-centered health care experience supporting our mission to provide compassionate care to every life we touch. Each day, our volunteers can be seen throughout the hospital, helping patients, their families and guests. 
Volunteering at Overlake offers a unique opportunity rarely found in other health care facilities. Volunteers can provide support in a variety of settings. They are often the first and last contact for our patients, their families and visitors. Volunteers are at the front door, discharge lobby, patient bedside from emergency services to surgery recovery, and in every medical unit in the hospital.
We offer generous benefits for our volunteers.
Volunteer Benefits
Annual volunteer recognition celebration.
Free beverage and meal on volunteer day.
Free parking.
Free medical screening and annual flu shot.
Annual holiday celebration.
Reference for employment or service hours (at discretion of department).
Interested in Becoming a Volunteer?
Volunteers must be 18 years or older and have a high school diploma/GED. High school students can refer to our summer program below.
Learn more about volunteer opportunities.
Special Volunteer Programs:
Summer College Program: Applications for our 2019 Summer College Program begin on April 15 and close May 15. Please do not apply earlier than April 15. Select the specific summer college program posting under the Careers section. New hire orientation will be held May 29 and June 26.
 
Summer High School Program: Please check back in late 2019 for volunteer opportunities beginning summer 2020.
Volunteer Testimonials
"Overlake has provided outstanding care for me and my family. I want to show my appreciation by volunteering." 
"At age 86, feeling useful is quite important. I get an abundance of that at Overlake."
"I have a great dog; she brings smiles and companionship to patients through Pet Therapy."
"I could not get into nursing school even though I had a 4.0 GPA because I had never been in the hospital setting, so I started volunteering on the Medical Surgical floor and I have been accepted to Seattle University and chosen an area of interest because of my experience at Overlake."