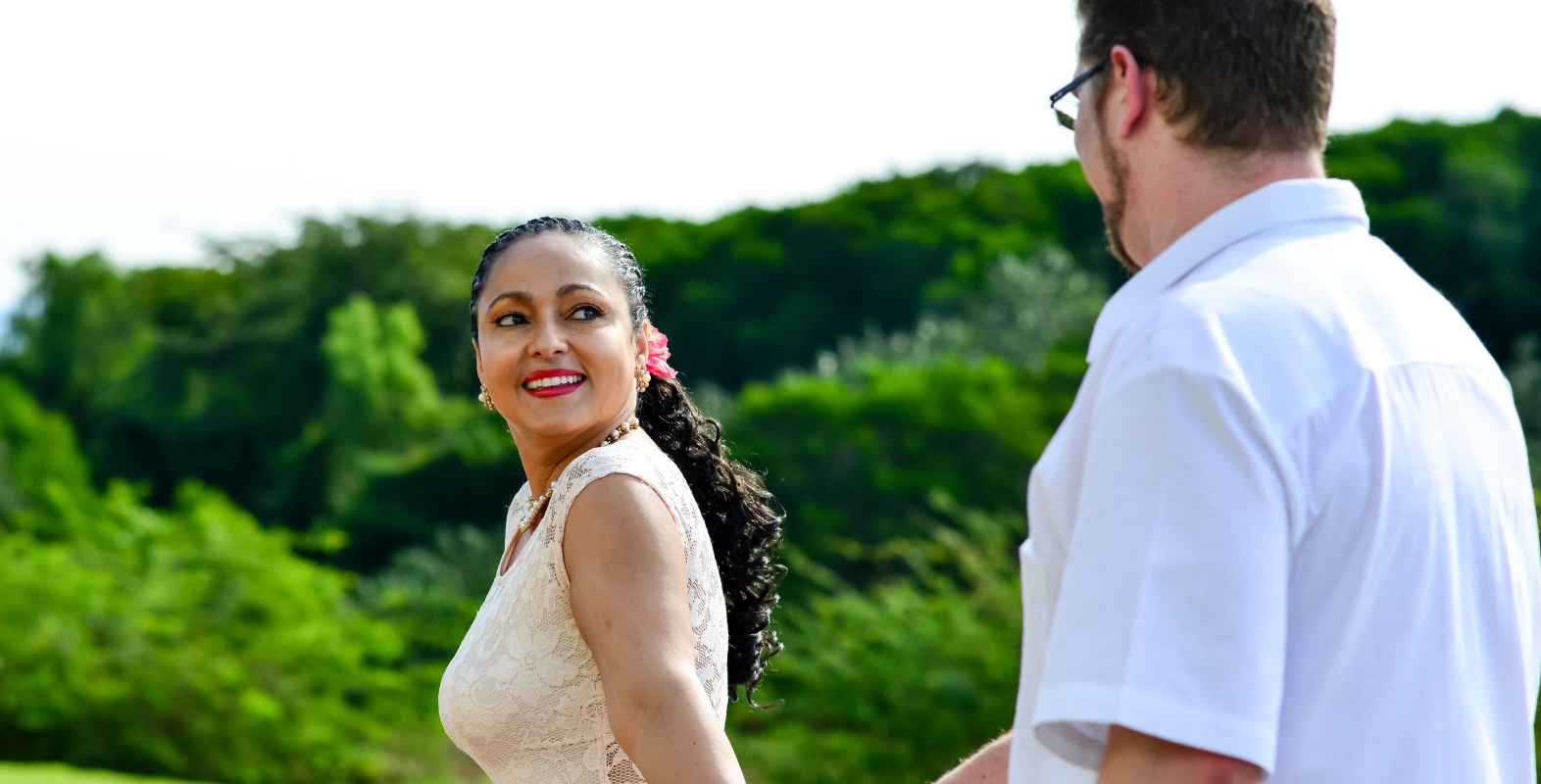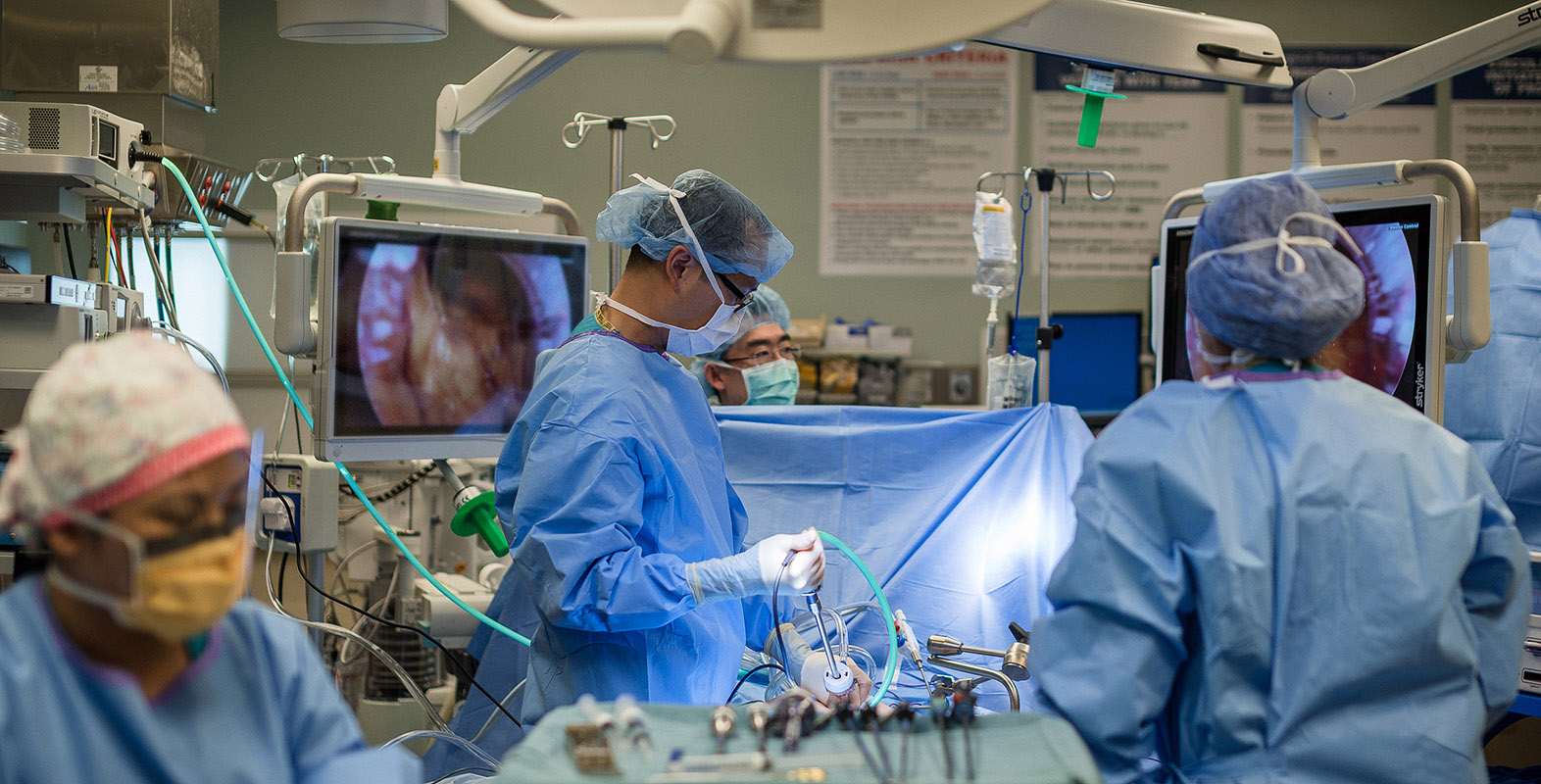 A Comprehensive, Personalized Approach
Our dedicated team will help you achieve your weight-loss goals to improve your quality of life.
Meet Our Providers
Results That Last
Choose Overlake as your partner in achieving your weight loss and wellness goals. Our team is
committed to your long-term success.
Meet Our Providers
Overview
Overlake Medical Clinics Metabolic + Bariatric Services
Our dedicated team provides comprehensive, personalized treatment to help you reach your weight-loss goals. Whether through our state-of-the-art metabolic and bariatric surgery options or our medical weight management program, Overlake has the tools to help you reach your ideal weight.
Metabolic + Bariatric Surgery
Obesity is the second leading cause of preventable death in the United States, following smoking. However, less than five percent of people with severe obesity (80 to 100 pounds or more overweight) are able to lose this weight through exercise and dieting. When these efforts have failed, you and your doctor should discuss weight loss (bariatric) surgery, and whether it is right for you.
Medical Weight Management
More than two-thirds of American adults are considered overweight or obese. Weight may be the result of many factors, including genetics, lifestyle choices, metabolic conditions and medications. 
Obesity is a complex disease that requires medical management from a care team with skill, experience and compassion.
Our program for medical weight management is about improving your health and well-being, not just focusing on the scale. We can help you navigate the often confusing, conflicting data and misinformation about diet. Our comprehensive, personalized approach is based on scientific research in weight management and years of experience. Our program includes:
Physical exam
Review of medical history and available lab
Monthly follow-up with a multidisciplinary team, which includes: a weigh in, review of progress and challenges, plan adaptations as needed, addressing challenges together, support and encouragement, and medications as needed.
Understanding Obesity Health Risks
Obesity + Metabolic Disease
Obesity has become the number one public health problem in our nation. This complex and multi-faceted disease is a major cause of premature death and is associated with many diseases such as diabetes, heart disease, hypertension and sleep apnea.
We have a comprehensive program to treat obesity and related medical conditions.
Understanding Weight + Obesity
The Center for Disease Control (CDC) defines overweight as a body mass index (BMI) between 25 and 30, and obesity as a BMI of 30 or higher.
Obesity has become a world-wide epidemic estimated to affect 1.7 billion individuals. Childhood obesity is also growing at alarming rates with one in every five children in the U.S. being either obese or overweight. It is estimated that 80% of obese children will progress into obese adults.
Each year, an estimated 365,000 adults in the U.S. die of obesity related causes. At a BMI of greater than 30, individuals are at increased risk of premature death and development of serious obesity related diseases. Obesity is a risk factor for life-threatening diseases such as diabetes, heart disease, stroke, sleep apnea and certain cancers.
Other medical conditions associated with being overweight or obese include:
Asthma
Cancer (breast, colorectal, prostate and endometrial)
Depression
Thromboembolism
Gallstones
Gastroesphageal Reflux
Heart Disease
Hypertension
Immobility
Incontinence
Infertility
Lipid Disorders
Low Back Pain
NASH (non-alcoholic steatohepatitis)
Obstetric Complications
Obstructive Sleep Apnea
Osteoarthritis
Skin infections
Urinary Incontinence
Venous Stasis
Obesity is also linked with reduced quality of life, social discrimination, disability and increased medical costs. It is estimated that in the U.S. the annual health expenditures associated with obesity is $147 billion per year — that's 21% of U.S. healthcare costs.
Obesity + Metabolic Disorders
The disease of obesity is so much more than simply excess weight. It truly is a metabolic disease involving complex metabolic and hormonal mechanisms. Obesity is associated with a chronic state of inflammation. Excessive fat cells release a cascade of biochemicals which result in chronic inflammation. It is believed that this chronic state of inflammation results in diseases such as diabetes, heart disease, stroke, cancer and joint and muscle pains.
Diabetes Risk
It is estimated that over 90% of all individuals suffering from diabetes are either overweight or obese. The Centers for Disease Control and Prevention estimates that diabetes has more than tripled between 1980 and 2010 in the U.S. The state of Washington ranks among the highest, with a rate increase of over 200%. About six million Americans have Type 2 diabetes and are unaware of it.
The estimated annual health expenditures associated with diabetes is $174 billion per year, representing 14% of the total healthcare expenditure.
The American Diabetes Association, the International Diabetes Federation and the American Society for Endocrinology all endorse the use of metabolic and bariatric surgery as a safe and effective treatment modality. The Cleveland Clinic has named metabolic and bariatric surgery as a treatment for diabetes as one of the Top 10 Medical Innovations for 2013.
Heart Disease Risk
Heart disease is the leading cause of death both in men and women in the United States. Risk factors include high cholesterol, high blood pressure, diabetes, smoking, obesity, diet and sedentary lifestyle. 
The American Heart Association identifies metabolic and bariatric surgery as a safe treatment option for long term weight loss and improved health through risk factor reduction.
Why Metabolic + Bariatric Surgery?
Many of our patients with obesity and its related diseases have tried repeatedly to lose weight. Behavior modification, dietary management, exercise and drug therapies have all failed to provide significant and long term success and wellness. Metabolic and bariatric surgery remains the only proven long-term treatment for obesity and obesity related diseases.
Weight loss after metabolic and bariatric surgery is defined as the percentage of excess weight loss where excess weight is the number of pounds over the patient's ideal body weight. In a meta-analysis by Buchwald (2004), the average percentage of excess weight loss for all types of surgeries combined was 61%. Currently the American Society for Metabolic and Bariatric Surgery states that on average patients lose 77% of their excess weight in the first 12 months following surgery.
Surgery not only results in significant weight loss, but it also dramatically resolves or improves many of the obesity-related diseases. No other treatment modality in all of medicine can treat as many disease processes with a single intervention.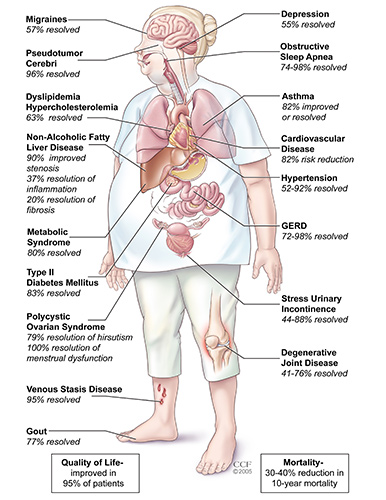 With increased wellness following surgery, patients see their quality of life improve dramatically. Surgery also improves life expectancy. Cristou (2004) demonstrated an 89% relative risk reduction in five year mortality for bariatric surgery patients compared to medically managed patients.
Surgery Safety And Risk
Clinical studies continue to demonstrate significant improvements in safety and decrease risk with metabolic and bariatric surgery. Risk of death following surgery is about 0.1% which is less than gallbladder surgery (0.7%) and hip surgery (0.93%). Overall likelihood of major complications following surgery is about 2.5%. This increased safety is due primarily to increased use of laparoscopy, advances in surgical techniques and more stringent standards of care.
Seminars/Classes if You're Considering Surgery
Has the time come to get the facts about weight loss surgery? If so, here is your opportunity.
Overlake invites you to attend a free information session to find out if weight loss surgery is right for you.
Thien Nguyen, MD will share details on:
Why have weight loss surgery?
Who is a candidate?
What are the options? What type surgery is best for me?
If you are interested, what is the next step?
Will insurance pay for weight loss surgery?
Classes are informative and free. Dates, times and registration information can be found here.
Support Groups for Surgery Patients
Support Groups
Our support group meetings are moderated by health care professionals and are an excellent resource for information. You'll find people who have similar wellness goals, who want to celebrate your successes and who support you in challenging times. This is a drop-in support group no registration required.
Overlake Medical Center
PACCAR Education Center
1035 116th Avenue NE
Bellevue, WA 98004
For more information, call 425.467.3957.
Click here for 2018 support group's times and dates.
In the News
Bariatric surgery addresses obesity and is also a promising treatment for diabetes | Healthy Outlook
Obesity is a leading cause of preventable death in the United States, but fewer than five percent of people with severe obesity are able to shed their excess weight with diet and exercise. Metabolic and bariatric surgery — which can improve sugar metabolism and cause dramatic weight loss — offers hope.
Overlake Medical Center offers leading-edge surgery within a comprehensive program that gives patients the tools and support they need. As a result, Overlake patients experience fewer problems — such as infections, readmissions and lengthy hospital stays — than the national rates.
---
Husband and wife undergo bypass surgery at Overlake Medical Center | Q13 FOX NEWS
Kelly and Jason Guffin each lost 250 pounds in a single year. See their amazing transformation.
Watch the Q13 Fox News report on the Guffin's experience.
---
Bellevue physician sees weight-loss surgery as life-saving effort | Bellevue Reporter
At the age of 36, Dr. Thien Nguyen has already lived a full life and overcome challenging obstacles. Today, the Medical Director for the Weight Loss Surgery Program at Overlake Hospital Medical Center in Bellevue uses his past experiences to teach his patients about perseverance and quality of life.
---
Robotic Weight Loss Surgery: Thanks to advanced technology, one overweight family finally shed excess pounds | Healthy Outlook
In May of this year, three members of an Auburn family — all more than 300 pounds in weight — changed their lives.
That's when Kelly and her husband, Jason, underwent robotic weight loss (bariatric) surgery at Overlake Medical Center, as did the oldest of the couple's four children, Cory.
Surgery-Related Frequently Asked Questions (FAQs)
Who qualifies for surgery?
Surgery is indicated when a patient's body mass index (BMI) is 40 or higher. It is also indicated when BMI is between 35 and 39 if other obesity-related illnesses exist, such as Type 2 diabetes, sleep apnea, high blood pressure, joint/back pain, etc.
You can ask your healthcare provider to help you calculate your BMI, or you can use our BMI calculator.
Will my insurance company cover weight loss surgery?
Many insurance plans cover most of the cost of weight loss surgery. Check with your insurance provider and ask about specific requirements. Our office will also help you figure out if your insurance will cover the procedure.
How much weight will I lose?
On average, patients who undergo weight loss surgery and make the necessary diet and exercise lifestyle changes will lose about ⅓ of their body weight within 18 to 24 months.
What type of weight loss surgery is best for me?
This depends on your medical condition and understanding the pros and cons of each surgical procedure. The right one is determined by you and your surgeon.
Will I still enjoy eating?
After recovery, patients go back to eating regular food, but generally in smaller quantities. However, certain foods must be avoided, and overeating can cause pain or vomiting.
Is it true that I will need to lose weight before surgery?
Yes, you will be placed on a special pre-operative diet designed to shrink your liver. This will provide the surgeon with greater visibility; making your surgery safer.
What happens to the excess skin after weight loss?
After weight loss, some patients may have excess skin requiring plastic or reconstructive surgery. Not all insurances cover these procedures.
What is the typical length of stay in hospital?
Typically laparoscopic adjustable gastric bands are done as same day procedures or overnight stays. Laparoscopic gastric bypasses and sleeve gastrectomies usually stay two nights.
How soon can I return to work?
Most individuals usually return to work within two to three weeks. Plan to discuss this with your surgeon.
Can I drink alcohol after undergoing weight loss surgery?
Complete abstinence from alcohol is required for the first six months. Following the first six months, alcohol may be consumed on a very limited basis and only on special occasions.
Can I get pregnant after undergoing weight loss surgery?
During the first 18 months after surgery, your body will undergo many changes resulting in increased fertility. You should avoid pregnancy during this time.
What is "dumping?"
Dumping can occur after eating or drinking high-sugar or high-carbohydrate foods. Symptoms include lightheadedness, nausea, fast heart rate, sweating, cramps and diarrhea.
I often use food to manage stress, how will I manage after surgery?
Managing stress is important to your overall health. It is important to try different methods of relieving stress. You may also consider talking to a mental health professional if you feel you need additional assistance and guidance.
Map + Directions
Map + Directions (PDF)
Meet Our Team
Carmela Pontillo, RN, MSN, CBN — Bariatric Program Manager
Carmela has been working at Overlake since 2011 as the bariatric program manager and in the field of bariatric surgery since 2004. She was certified by the ASMBS as a Bariatric Nurse in 2008, and holds a degree in psychology and a master's degree in nursing from McGill University in Montreal, Canada.
Although she has worked as a registered nurse for more than 30 years in many different areas, Carmela feels that working in metabolic and bariatric surgery has been by far the most rewarding. She considers it a great privilege to be granted the opportunity to share in our patients' remarkable journeys towards health and wellness
Shiree Harsh — Clinic Supervisor
Shiree has been with the clinic since 2011. For her, being able to share in the journey of the patients as they work toward their goal of weight loss is most rewarding. Shiree believes it is important for patients to feel confident that she and the rest of Overlake's staff are committed to working just as hard as the patient to make sure that their goal of weight loss and a healthier lifestyle is reached. The relationship created between patient, staff and physician during this process is a very special one, where everyone shares in the journey and everyone celebrates together each step toward a healthier life style.
Carrie Tollefson — Outpatient and Clinical Dietician
Carrie has worked for Overlake Medical Center since 2006 and with the bariatric program since 2010. She enjoys being part of bariatric patients' journey to make significant changes in their lifestyle, eating and fitness habits. It is exciting for her to see their motivation and enthusiasm as they transform their way to better health. She is inspired by patients' courage and dedication. Carrie co-facilitates the weight loss surgery support group with Randy Brandeis and Carmela Pontillo. Together with the patients, all three clinic staff share special moments together where they laugh, cry, grow and change. Carrie is very proud of the patients in this group.
Randy Brandeis, MSW, CSW — Clinical Social Worker
Randy co-facilitates the bimonthly support groups at Overlake, provides psychological evaluations for pre-surgery patients and sees individuals in his clinic practice. Randy has worked in multidisciplinary settings for 25 years and is committed to the Overlake concept that the best patient outcomes are the result of diverse professional disciplines working together.
Randy Brandeis is a board-certified clinical social worker who received his Masters degree in 1976 from the University of Illinois Jane Addams School of Social Work. Randy has worked since 1987 on the cognitive and behavioral treatment of obesity and other chronic medical conditions. He has worked with bariatric surgery patients since 2006.
Useful Links
You can find us Facebook, click here to learn more.
Patient Forms: Initial Consultation Forms
Patient Forms: Pre-Op Forms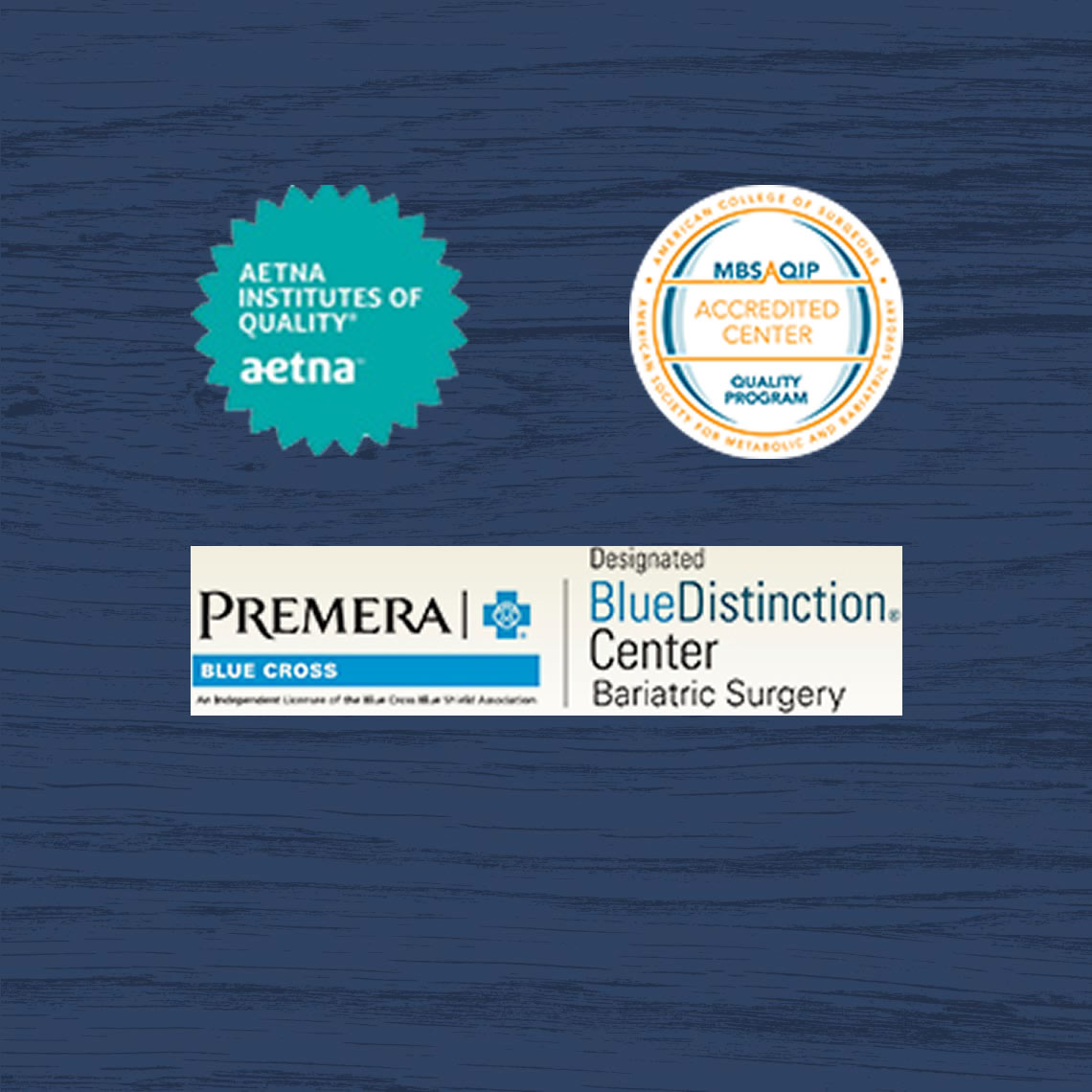 The Metabolic + Bariatric Surgery Center at Overlake Medical Center has been recognized by these organizations for surgical excellence.
Surgical Options
Am I Candidate?
National Institutes of Health Guidelines for Bariatric Surgery
Body Mass Index (BMI) of 40 or greater
Body Mass Index (BMI) of greater than 35 with an obesity related health problem
Dietary attempts at weight control have been ineffective
Psychological stability
Knowledgeable about the operation (risks, benefits, long-term consequences)
Motivated
Existing medical problems do not preclude likely survival from surgery
Body Mass Index (BMI)
Body Mass Index (BMI) is a measure of body fat based on height and weight that applies to both adult men and women. BMI does not differentiate between body fat and muscle mass. Therefore, body builders and people who have a lot of muscle bulk will have a high BMI but are not overweight or obese.
Fat predominantly distributed around the waist is also a risk factor for health complications such as cardiovascular disease and Type 2 diabetes. Fat predominantly deposited around the hips and buttocks doesn't have this same risk.
BMI Calculator
BMI Calculator
Body mass index (BMI) is a person's weight in kilograms divided by the square of height in meters. According to the Centers for Disease Control and Prevention, "BMI does not measure body fat directly, but research shows that BMI is moderately correlated with more direct measures of body fat obtained from skinfold thickness measurements, bioelectrical impedance, densitometry (underwater weighing), dual energy X-ray absorptiometry (DEXA) and other methods. Furthermore, BMI appears to be as strongly correlated with various metabolic and disease outcome as are these more direct measures of body fatness.  In general, BMI is an inexpensive and easy-to-perform method of screening for weight category, for example underweight, normal or healthy weight, overweight, and obesity."
Visit the Centers for Disease Control and Prevention site to calculator your BMI.
Sleeve Gastrectomy
Sleeve Gastrectomy
The Sleeve Gastrectomy has become the most commonly performed bariatric surgery in the U.S. With this procedure, two-thirds of the stomach is removed using a stapling device. The new stomach is roughly the size of a banana, capable of holding approximately 150 mL. There is no rerouting of the gastrointestinal tract in this procedure.
Roux-en-Y Gastric Bypass
Roux-en-Y Gastric Bypass
The Roux en Y Gastric Bypass is considered the gold standard bariatric procedure. In this procedure, a small stomach pouch is created from the stomach. The new stomach pouch is capable of holding approximately 15 to 30 mL. Although the old remaining stomach no longer stores food, it continues to function and secrete digestive juices. The small intestine is divided into two sections. The lower section (Roux limb) is connected to the newly created stomach pouch. The upper section of the intestine (Biliopancreatic limb) is connected further downstream on the small intestine.
Robotic da Vinci® Bariatric Surgery
Robotic da Vinci® Bariatric Surgery
Overlake Medical Center first established its robotic surgery program in 2010. Since then, it has become a regional leader in the field and now offers robotic assisted procedures in urology, gynecology, general surgery and bariatric surgery.