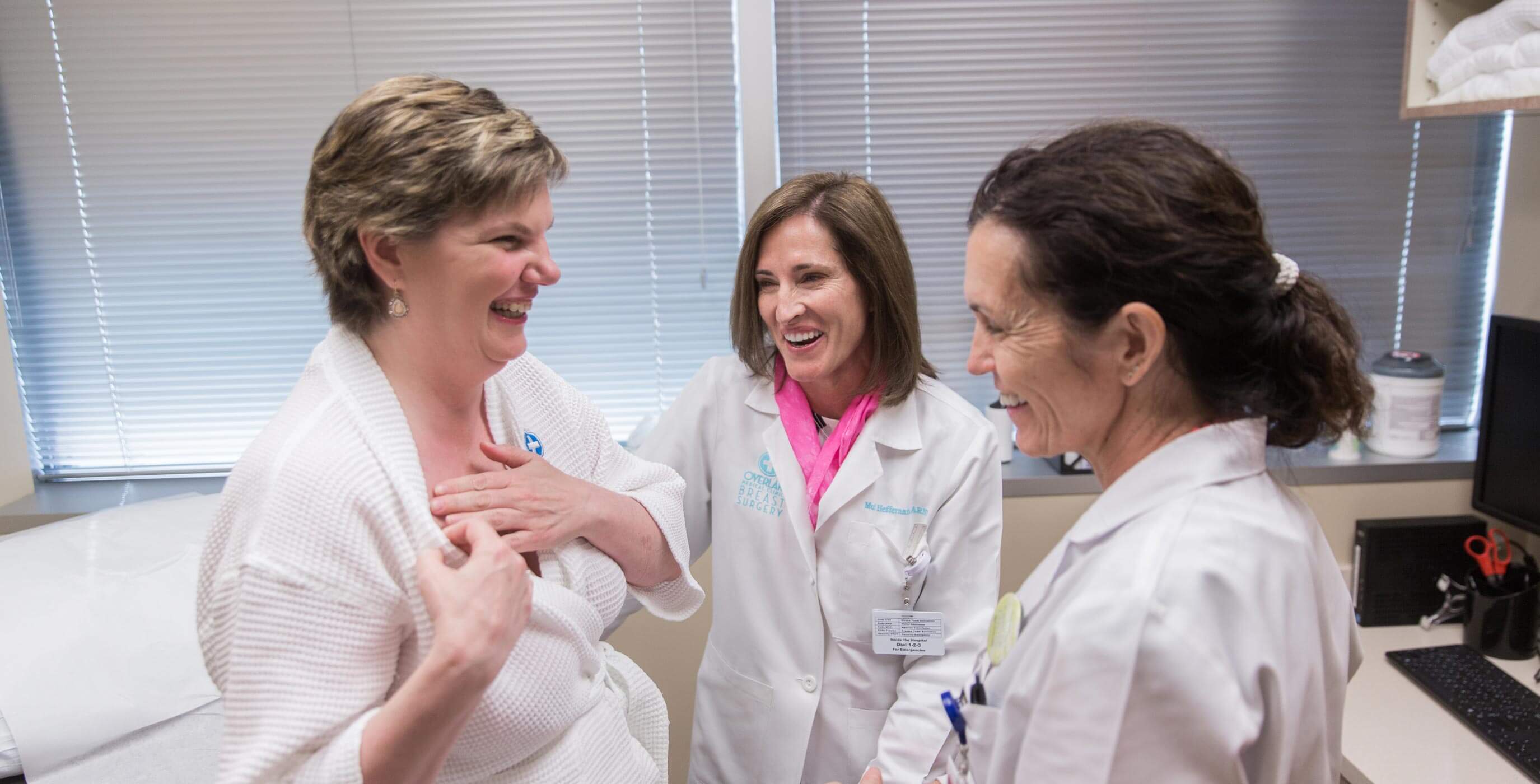 In This Together
With decades of experience in breast cancer treatment, our team educates and supports you in making decisions that help meet all of your needs while providing excellent results.
Overview
Comprehensive and Caring
If you have breast cancer, you want outstanding treatment. You also want to know you're cared for every step of the way. Your Overlake breast cancer care team understands that you may feel overwhelmed and anxious, which is why we do more than provide you the latest in breast surgical techniques and decades of surgical experience. We provide you with the education and support that helps you select the options that provide the best care for you. We will give you our time, because you're a person before you're ever our patient.
If you have moved to the Pacific Northwest after receiving cancer care elsewhere, we're happy to see you and support you in any way we can. 
Our caring, personalized team approach includes:
A goal of seeing you within 48 hours if you are newly diagnosed with breast cancer
Over 12 years' experience in nipple-sparing mastectomy
Oncoplastic surgical techniques to preserve the natural appearance of the breast while removing cancer
Immediate reconstruction following mastectomy in partnership with skilled reconstructive surgeons
Medical oncology access to the most current systemic therapy to achieve excellent long-term survival, as compared to local, regional and national outcomes
Radiation oncology techniques to minimize the chance of local and regional recurrence
Oncology social work support and treatment navigation services
Minimizing side effects through our partnership with local integrative medicine oncologists
The latest physical therapy techniques to manage lymphedema, should this occur
Ongoing support to you after active treatment through our survivorship care plan
Diagnosis 
Mammograms & Screenings
We offer breast screening services at two convenient locations, at our Breast Health Center in Bellevue and in Issaquah. You'll receive digital mammography, including 3D tomography images, which is the most advanced technology available to detect breast cancer and allows for earlier, less invasive treatment and better outcomes.    
Benefits of digital mammography include:
Shorter exam times
A better visualization of dense breast tissue to identify small cancers
Fewer repeat images
Intelligent computer-aided detection
To schedule a mammogram at either location, call 425.688.5985.
Breast Diagnostics & Imaging
If your mammogram is abnormal and our breast radiologist recommends additional diagnostic procedures, we will arrange a rapid follow-up in our breast diagnostic center to minimize wait time for additional answers. Breast diagnostics is conveniently located within the Breast Health Center.
Our team brings you state-of-the-art testing, including ultrasound imaging, stereotactic and ultrasound-guided biopsies, and breast magnetic resonance imaging (MRI) — the most sophisticated breast imaging available.
If You Receive a Cancer Diagnosis
Learning that you have cancer is an emotional experience. We recognize and acknowledge this and we want to support you through the journey with you with care that begins as soon as possible. We strive to have your first appointment with one of our dedicated breast surgeons within 48 hours of your diagnosis.
What to Expect At Your First Appointment
Giving You the Time You Need
You are the most important member of the breast cancer care team, and your specific needs are important to us. At your first appointment, we will take the time to discuss your treatment options and provide education to support you in decisions regarding your care. We may order other tests or have you see other members of our oncology team, which may include medical oncologists, radiation oncologists, genetic counselors, and/or reconstructive surgeons. 
We'll discuss what your treatment will include and how long it's expected to take. Depending on the disease severity and your personal choices, you're likely to begin treatment within two to six weeks. We offer on-site genetic counseling for cancer patients, often with same-day appointment availability.
With fully integrated care in one location and our ability to communicate with specialists far and wide, you're not just in good hands that provide outstanding clinical treatment. You're surrounded by a genuinely caring team that provides you all the time you need in order to ask questions and address your concerns.   
Treatment
Breast cancer treatment has rapidly evolved, and continues to evolve. Your treatment options may include one or more modalities, including surgery, pharmacologic therapy (chemotherapy, estrogen-modulating therapy, targeted antibody therapy) and radiation therapy. Because all of our services are on-site, our multidisciplinary team's weekly tumor board meeting makes sure that your care is timely and involves your entire care team.
Cancer treatment can be divided into two phases: active treatment and surveillance. Active treatment includes surgery, pharmacologic therapy, and radiation. The surveillance phase begins after active treatment and lasts for five to 10 years after your diagnosis, or as long as you have care needs. This may involve taking a stable dose of medication while being monitored for side effects. It may also involve modifying or changing medications to maximize your quality of life, while minimizing the chance of recurrent disease. Our goal is to help cancer survivors live the best life possible following cancer treatment.
Surgery
Overlake's surgery program continues to rank among the best in the area. With decades of combined experience, our dedicated breast surgeons provide compassionate, individualized care to our patients. Educating you is a cornerstone of our program, which equips you with resources to make informed decisions about your care. Our approach maximizes success and addresses your fears about living with and treating breast cancer.
Your breast surgery team takes a multidisciplinary approach to its practice, working collaboratively with other Overlake team members, including medical oncologists, pathologists, breast radiologists, plastic surgeons, radiation oncologists, nurses, technicians and social workers.
Our breast surgical techniques include:
Breast-conserving surgery (lumpectomy, oncoplastic surgery, hidden scar surgery)
Nipple-sparing mastectomy
Skin-sparing mastectomy
Total mastectomy
Sentinel node biopsy
Targeted axillary dissection
Axillary dissection
Chemotherapy port placement
Your dedicated breast surgeons partner with location reconstructive surgeons for immediate and delayed breast reconstruction, using a variety of advanced surgical techniques.
We also evaluate imaging abnormalities and perform biopsies for non-cancerous breast conditions.
Learn more about breast surgery. 
Pharmacological Therapy
Pharmacological therapy includes agents that that enter your body orally in the form of a tablet, intramuscularly or intravenously through the insertion of a needle into a vein or a catheter. The underlying aim is to stop the growth of the cancer cells.
Pharmacological therapy agents can reach metastatic cancer cells that cannot be reached by surgery or radiation. Occasionally these agents are given prior to surgery to decrease the size of a tumor in an effort to provide less invasive surgical options.
Your care team is here to support you during all aspects of your treatment. Side effect management is an important part of your care.
Radiation Therapy
Radiation therapy techniques have evolved, and delivering radiation treatment in a precise, controlled manner is the hallmark of present-day treatment. Radiation is frequently used in managing many types of cancers. The type of radiation and the length of treatment vary according to the type of tumor, its location in your body, your overall health and the stage of your disease.
Radiation is a beam of electromagnetic energy that is directed at the affected tissue, causing damage to the chromosomes of the cancer cells. When the cancer cells are damaged, they are not able to divide and grow. Radiation is often used in combination with other treatments like pharmalogical therapy (chemotherapy) and surgery. Because radiation stops cancer from growing, it may also be used to relieve pain and other symptoms, or to reduce the size of a tumor before surgery.
Learn more about radiation oncology.
Clinical Trials
Overlake participates in a number of clinical trials in collaboration with other institutions and industry-sponsored trials. As our patient, you may have the opportunity to take part in clinical trials aimed at improving outcomes or quality of life for cancer patients. Your treatment team works alongside our clinical trials coordinator to suggest a trial that is applicable to your cancer. It is your choice if you wish to participate. We are proud to participate in clinical research, as we aim to help advance options available for all cancer patients. 
Survivorship
We believe that you are a cancer survivor from the time you are diagnosed. Advances in cancer treatment mean that millions of people are surviving cancer, and we are committed to help you achieve wellness in all areas of your life.
After you complete active treatment (surgery, chemotherapy, radiation), you'll meet with one of our dedicated care team members, who will discussion your personalized treatment summary and Survivorship Care Plan with you. Our goal is to recommend and connect you with follow-up appointments, diagnostic imaging, and supportive resources to help you live a life of wellness after cancer.
Learn more about survivorship.  
Support & Resources
Support for Breast Cancer Patients
Your Overlake cancer care team has a wealth of information to help you understand your breast cancer diagnosis, learn about the treatment types available and know what to expect in managing the disease. 
Our staff works together in attending to your emotional and social needs, along with your physical well-being. This holistic approach allows you to concentrate on healing.
Contact Information
For additional assistance, please contact our oncology social workers/patient navigators by email at oncologysocialworker@overlakehospital.org or by phone 425.467.3809.
American Cancer Society
One of the primary goals of the American Cancer Society is to provide the most accurate, up-to-date cancer information. Patients receive help with making treatment decisions, understanding the effects of treatment, meeting other survivors, and finding or offering support on the Cancer Survivor network. Services are free of charge by calling 800.ACS.2345 (800.227.2345).
Cancer Lifeline
Cancer Lifeline provides emotional support 24 hours a day, seven days a week. They provide an array of services to cancer patients and survivors, as well as their family members, caregivers and friends. Services are free of charge by calling 206.297.2500 or 800.255.5505. 
Look Good, Feel Better
A free program from the American Cancer Society that partners with hairstylists, wig experts, and makeup artists to help cancer patients support each other and manage appearance-related side effects of treatment through group sessions.
Classes meet every other month on the Overlake campus and are limited to six people per class. Call 800.227.2345 to register.
National Cancer Institute
The National Cancer Institute provides the latest and most accurate information on cancer prevention, diagnosis, treatment, and ongoing research. Information is available via free printed materials and information specialists who can answer questions about cancer over the phone. Services are free of charge by calling 800.4.CANCER (800.422.6237).
Northwest Institute for Healthy Sexuality
Sexual health is a major quality of life issue that deserves attention, from cancer diagnosis to survivorship. Clinical research shows that sexual problems rank high on surveys as an unmet need for cancer survivors.
Dr. Serena McKenzie is an evidence-based physician, sexual medicine fellow, and licensed sex counselor who treats a wide variety of sexual concerns, including cancer survivorship sexual health. She is program director for Thrive Onward: Sex, Intimacy and Cancer Care. Contact Dr. McKenzie through Washington Urology Associates by calling 425.398.9355.
Susan G. Komen Breast Cancer Foundation
The Susan G. Komen Breast Cancer Foundation has information on all aspects of breast cancer.
Team Survivor Northwest 
Team Survivor Northwest has developed a variety of fitness and health education programs to help female cancer survivors, in any stage of treatment or recovery and at any fitness level, get active and continue their healing. Services are free of charge by calling 206.732.8350.
Breeze Dahlberg: Breast Cancer Survivor
Watch Video
News + Media
CANCER CENTER
Overlake Medical Center is known for the high quality of care we provide to our patients. An important part of our service is advising you of financial assistance that may be available to help pay for your care. It also is our duty to share with you information on the deposit requirements and your financial responsibility for services provided throughout your care.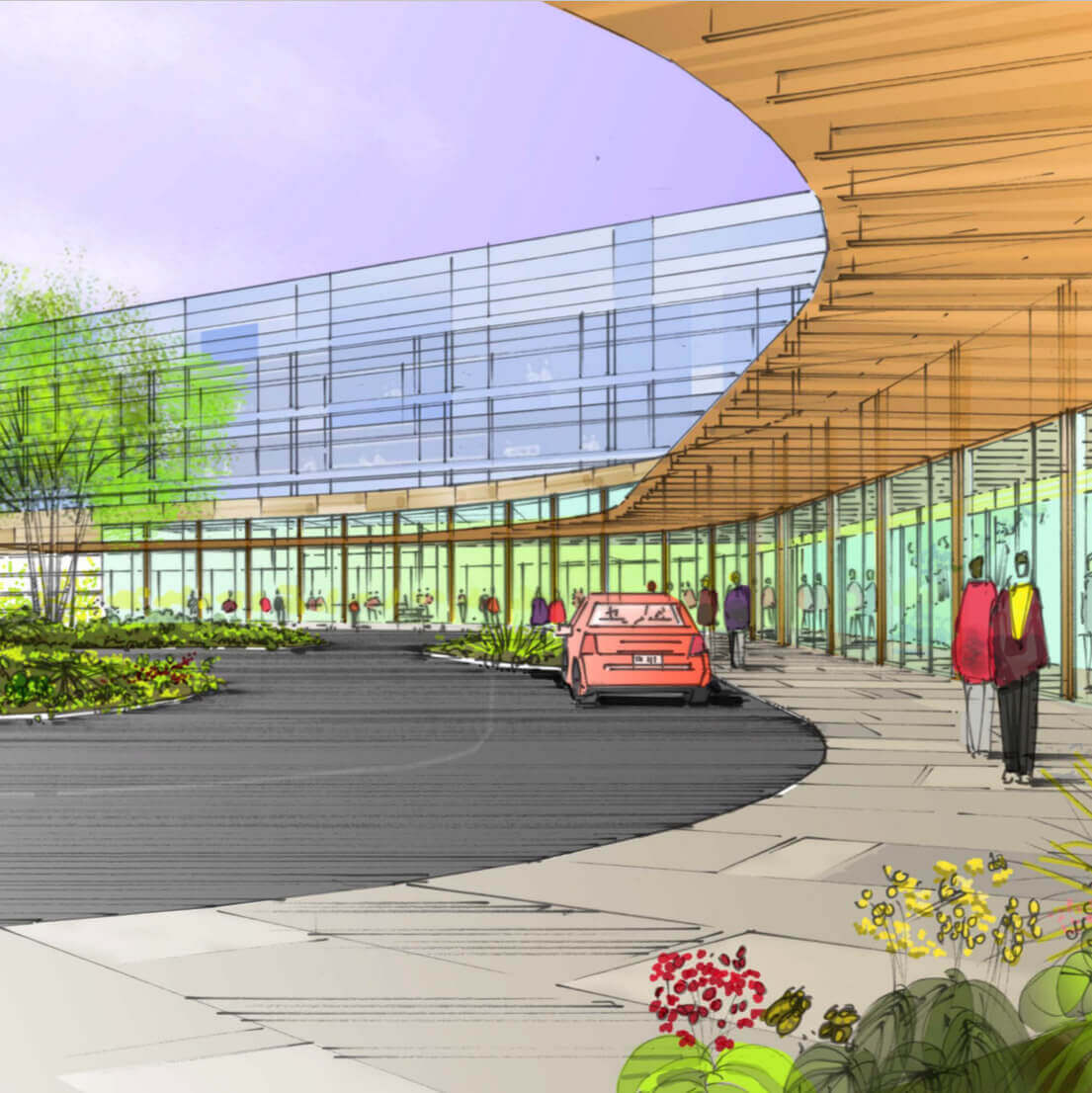 Announcing Project FutureCare
Project FutureCare is Overlake Medical Center's $250 million, six-year campus renewal project.
This project continues Overlake's investment in first-class medical facilities that helps fulfill our promise to meet and exceed the needs and expectations of a vibrant Eastside community.

The project will grow our campus and service offerings in several significant ways, including:
Create a new East Tower
Add a new Childbirth and Mother/Baby Center
Expand the Behavioral Health Unit
Add two state-of-the-art surgical suites
Enhance respiratory care
Add more laboratory space
Read more or check out our progress!