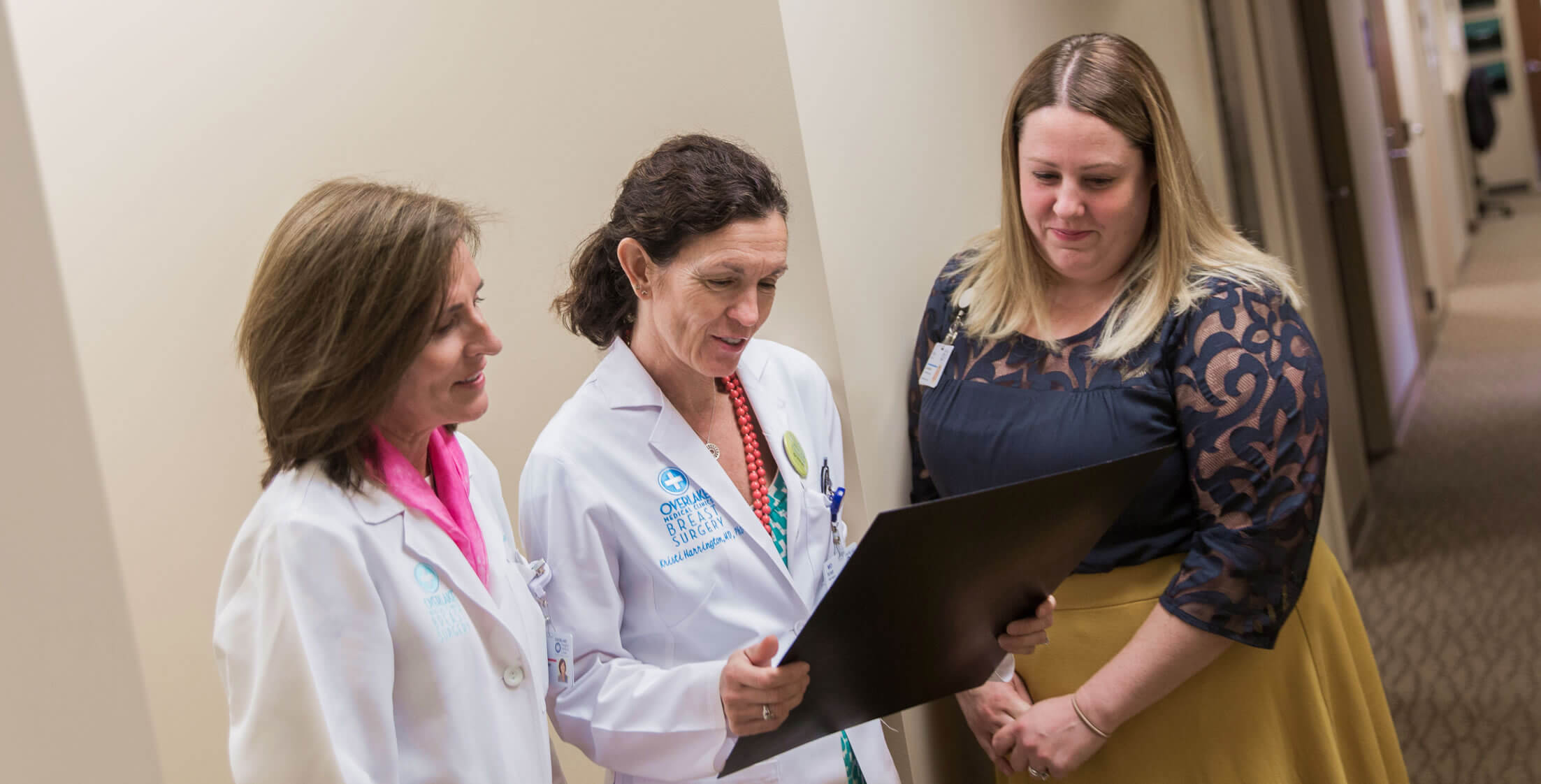 Breast Health Center
The Breast Health Center offers leading-edge technology, an outstanding team of medical experts and caring support for patients and families.
Overview 
Every woman needs to take control of her breast health by relying on experts who can guide, educate and offer treatment when necessary, with compassionate support every step of the way. Routine screenings and timely appointments are essential to maintaining breast health, preventing disease and receiving early diagnosis and treatment.
The Breast Health Center at Overlake includes advanced methods of screening and diagnostic breast imaging evaluation capabilities including 3D Tomography digital mammography, ultrasound, and stereotactic, MRI and ultrasound core needle biopsy services. Additionally, the center is closely linked to the Cancer Resource Center which features a warm, inviting and easily accessible private area with information on treatment, classes and support groups.
We offer mammogram screenings and specialized services at convenient locations in Bellevue and Issaquah where you can expect timely access for appointments in a comfortable environment.
Call 425.688.5985 to schedule an appointment.
A Team You Can Trust
At the Breast Health Center you'll be cared for by a comprehensive team that works together to provide exceptional patient care and Medical excellence every day™.
Our team includes:
Board-certified/fellowship trained breast imaging radiologists
Specially-trained mammography and ultrasound breast technologists
Dedicated breast radiologists
Board certified breast surgeons
Radiation oncologists
Physicians specializing in breast health
Steve Scallon, MD, a fellowship-trained mammographer, serves as the medical director for breast imaging and leads the dedicated group of physician specialists from Vantage Radiology & Diagnostic Services, who provides expert breast imaging services for our patients. Vantage Radiology & Diagnostic Services is a group of more than 25 radiologists who have provided high quality imaging services for 40 years. 
Support When You Need It
You'll find a wealth of support from a range of caregivers including:
Plastic Surgeons
Clinical Nurse Specialists
Social workers
Pharmacists
Technologists
Educators
Dietitians
Our entire team understands the special needs of breast cancer patients. Additional support is available at the Cancer Resource Center where caring staff and volunteers educate patients and their families about treatment options, classes and support groups in a warm, inviting environment. The Cancer Resource Center also offers wig fittings for chemotherapy patients.
Early Breast Cancer Detection
Early detection is the key to successful treatment of breast cancer.
Women Over Age 20 Should Perform a Breast Self Exam (BSE) Every Month.
Overlake offers monthly classes with instructions on the most accurate ways to do a BSE. A woman who is familiar with her breasts will most likely notice early changes that occur.
If You Are Over 40, You Should Have a Mammogram Every Year
The Breast Center offers mammography (breast X-rays) on-site to promote the early detection of breast cancer. Very low levels of radiation are used and Overlake technicians monitor and test the equipment regularly to ensure its safety and accuracy. The Breast Health Center is fully accredited by the American College of Radiology (ACR) and was designated an ACR Center of Excellence in 2007.
A clinical breast examination by your healthcare provider is recommended every year if you are over 40, or every three years if you are between 20 and 39 years old. Overlake can refer you to a physician close to home.
If your mammogram shows areas of concern for breast cancer, your physician will use tests to determine if cancer is actually present. These may include stereotactic breast biopsy, ultrasound or other imaging techniques. All of these services are available at the Breast Health Center in a comfortable and convenient location.
Breast Self Exam
At the same time each month, check for any change in the normal look or feel of your breasts. Look for a lump, hard knot or skin that thickens or dimples. Report any changes to your doctor or nurse. Schedule appointments for regular breast exams and pap tests, and ask about mammography screening.
Check Your Breasts Using These Steps
Lying Down
Place a pillow under your right shoulder.
Put your right hand under your head.
Check your entire breast area with the finger pads of your left hand. Use small circles and follow an up and down pattern. Use light, medium and firm pressure over each area of your breast.
Repeat these steps on your left breast.
Before a Mirror
Check for any changes in the shape or look of your breasts.
Note any skin or nipple changes such as dimpling or nipple discharge.
Inspect your breasts in four steps: arms at side, arms overhead, hands on hips pressing firmly to flex chest muscles and bending forward.
In the Shower
Raise you right arm.
With soapy hands and finger flat, check your right breast. Use the method described in the "lying down" step.
Repeat on your left breast.
Awards + Recognition
Breast Imaging Center of Excellence
---
The American College of Radiology (ACR) recognized Overlake's breast imaging center for earning accreditation in mammography, stereotactic breast biopsy, and breast ultrasound (including ultrasound-guided breast biopsy).
Breast Screening Centers
Overlake's Breast Screening Centers provide breast screening services at two convenient locations, in Bellevue and Issaquah. Our skilled technologists strive to make your experience as comfortable as possible.
When you receive your digital screening mammogram at one of our screening centers your exam will be read by highly-trained, dedicated breast imaging radiologists. Should additional evaluation become necessary, a seamless transition to the Overlake Breast Diagnostic Center is arranged, expediting care.
Schedule Your Mammogram Today
Phone: 425.688.5985
Fax: 425.467.3717
Breast Screening Center - Bellevue
1135 116th Ave NE
Suite 200
Bellevue, WA 98004
Hours: 
Monday - Friday 
8 a.m. - 5:30 p.m.
Breast Screening Center - Issaquah
1740 NW Maple Street
Suite 207
Issaquah, WA 98027
Hours: 
Monday - Wednesday
8:30 a.m. - 5 p.m.

Thursday - Friday
8:30 a.m. - noon
*Please Note: The locations are a hospital-based clinics. If you are treated at either location you, will also receive a bill from Overlake Medical Center.
Breast Diagnostic Center
Breast Diagnostic Center
The Overlake Breast Diagnostic Center provides comprehensive diagnostic breast imaging services in a soothing environment. Our dedicated breast imaging radiologists lead our team of highly skilled staff in caring for patients who are symptomatic or have breast-related conditions. The center offers state-of-the-art digital imaging equipment and is designated as a Breast Center of Excellence by the American College of Radiology.
If there is a need for additional evaluation following a screening mammogram or if a woman has symptoms warranting additional imaging, diagnostic mammograms, breast ultrasound, stereotactic and ultrasound-guided biopsies are provided to ensure early detection of breast cancer.
If a positive diagnosis occurs, the Breast Diagnostic Center facilitates care with the highly skilled members of the Cancer Center at Overlake ensuring that the patient receives seamless treatment.  
Make Your Appointment Today 
1135 116th Ave NE
Suite 200
Bellevue, WA
Phone: 425.688.5985
Fax: 425.467.3717
Office Hours:
Monday - Friday
7:30 a.m. to 5 p.m.
Breast Biopsy
Contact the Breast Diagnostic Center
1135 116th Ave NE
Suite 200
Bellevue, WA
Phone: 425.688.5985
Fax: 425.467.3717
Hours:
Monday - Friday 
7:30 a.m. to 5 p.m.
*Please Note: This clinic is licensed as part of Overlake Medical Center. Patients receiving care at this hospital-based clinic may receive separate billing for a facility fee. This fee could result in higher out-of-pocket expenses for patients. Patients should contact their insurance provider to determine their coverage for hospital-based clinic facility charges.