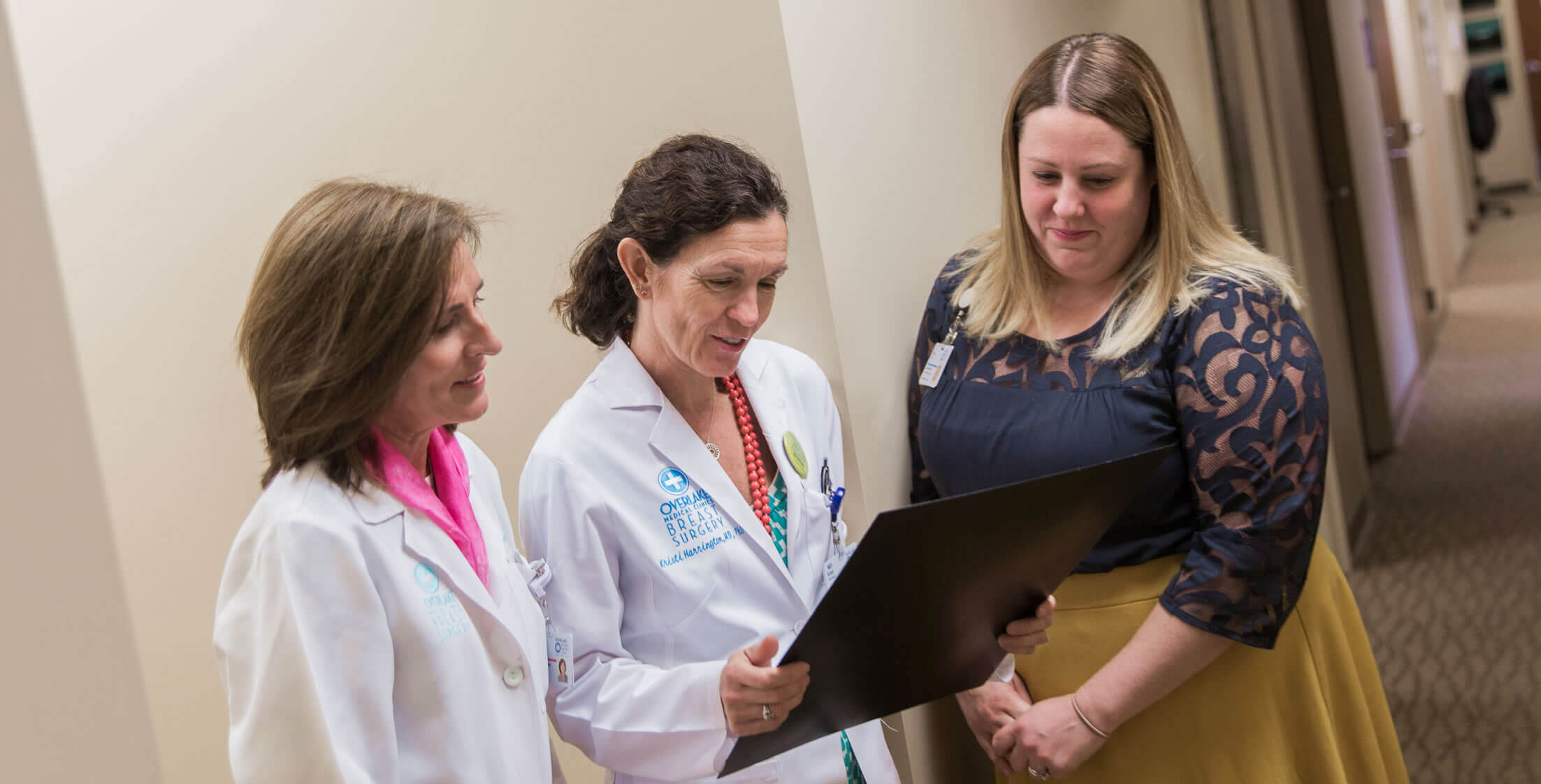 Dedicated Breast Surgeons
With decades of expertise in breast surgery, our team helps you make informed treatment decisions while delivering excellent results.
Outstanding Care for Maximum Success
Our multidisciplinary approach maximizes success with decades of combined experience. Our dedicated breast surgeons Kristi Harrington, MD and April Phantana-angkool,MD provide compassionate, individualized care. We focus to educating and providing you with resources to make informed decisions about your treatment options.
Services 
Comprehensive ... and Caring
We offer several services to meet your breast care needs:
Evaluating nipple discharge and pain
Evaluating imaging abnormalities
Performing biopsies for non-cancerous breast conditions
Following patients at increased risk for developing breast cancer
Prescribing risk-reducing medications
Coordinating medical imaging for high-risk screening
Linking high-risk patients to genetic counseling
Describing treatment options for breast cancer
Providing breast cancer surgery
Partnering with plastic surgeons for breast reconstruction
Ongoing support through all phases of breast cancer treatment, including survivorship
Immediate Support for a New Breast Cancer Diagnosis
Support When You Need It Most
Learning that you have cancer is an emotional experience. We recognize and acknowledge this, and want to support you with care that begins as soon as possible. We strive to have your first appointment scheduled with one of our dedicated breast surgeons within 48 hours of your diagnosis.
If you have breast cancer, your breast surgery team works collaboratively with other members of our team, including medical oncologists, pathologists, breast radiologists, plastic surgeons, radiation oncologists, nurses, technicians and social workers.
What to Expect at Your First Oncology Appointment
Giving You the Time You Deserve
You are the most important member of the breast cancer care team, and all of your needs matter. At your first appointment, we will take the time to discuss your treatment options and provide education to support you in decisions regarding your care. We may order other additional tests or have schedule you see other oncology team members, including medical oncologists, radiation oncologists, genetic counselors, and/or reconstructive surgeons.
We will discuss what your treatment will include, and how long it's expected to take. Depending on the disease severity and your personal choices, you're likely to start treatment within two to six weeks. We offer on-site genetic counseling for cancer, often with same-day appointment availability.
With fully integrated care conveniently in one location, coupled with our ability to communicate with specialists far and wide, you're not only in good hands that provide outstanding clinical treatment. You're surrounded by a genuinely caring team that gives you all the time you need to ask questions and address your concerns.  
Breast Surgery Techniques 
Our breast surgery techniques include:
Breast-conserving surgery (lumpectomy, oncoplastic surgery, hidden scar surgery)
Nipple-sparing mastectomy
Skin-sparing mastectomy
Total mastectomy
Sentinel node biopsy
Targeted axillary dissection
Axillary dissection
Chemotherapy port placement
Partnering with Plastic Surgeons for Breast Reconstruction
Your Overlake breast surgeons partner with location reconstructive surgeons for immediate and delayed breast reconstruction, using a variety of advanced surgical techniques.
Survivorship
We believe that you are a cancer survivor from the time you are diagnosed. Advances in cancer treatment mean that millions of people are surviving cancer, and we are committed to help you achieve wellness in all areas of your life.
After you complete active treatment (surgery, chemotherapy, radiation), you'll meet with one of our dedicated care team members, who will discuss your personalized treatment summary and Survivorship Care Plan with you. Our goal is to recommend follow-up appointments, imaging, and supportive resources to help you live a life of wellness after cancer.
Learn more about survivorship.  
Breast Cancer Support & Resources 
Support for Breast Cancer Patients
Your Overlake cancer care team has a wealth of information to help you understand your breast cancer diagnosis, learn about the treatment types available and know what to expect in managing the disease.
Our staff works together in attending to your emotional and social needs, along with your physical well-being. This holistic approach allows you to concentrate on healing.
For additional assistance, please contact one of our oncology social workers/patient navigators by email at Oncologysocialworker@overlakehospital.org or by phone, Abby McNeil, 425.467.3809.
American Cancer Society
One of the primary goals of the American Cancer Society is to provide the most accurate-up-to-date cancer information. Patients receive help with making treatment decisions, understanding the effects of treatment, meeting other survivors, and finding or offering support on the Cancer Survivor network. Services are free of charge by calling 800.ACS.2345 (800.227.2345).
Cancer Lifeline
Cancer Lifeline provides emotional support 24-hours a day, seven days a week. They provide an array of services to cancer patients and survivors, as well as their family members, caregivers and friends. Services are free of charge by calling 206.297.2500 or 800.255.5505. 
Look Good, Feel Better
A free program by the American Cancer Society that partners with hairstylists, wig experts, and makeup artists to help cancer patients support each other and manage appearance-related side effects of treatment through group sessions.
Classes meet every other month on the Overlake campus and are limited to six people. Call 800.227.2345 to register.   
National Cancer Institute
The National Cancer Institute provides the latest and most accurate information on cancer prevention, diagnosis, treatment, and ongoing research. Information is available via free printed materials and information specialists can answer questions about cancer over the phone. Services are free of charge by calling 800.4.Cancer (800.422.6237).
Northwest Institute for Healthy Sexuality
Sexual health is a major quality of life issue that deserves attention, from cancer diagnosis to survivorship. Clinical research shows that sexual problems rank high on surveys as an unmet need for cancer survivors.
Dr. Serena McKenzie is an evidence-based physician, sexual medicine fellow, and licensed sex counselor who treats a wide variety of sexual concerns, including cancer survivorship sexual health. She is program director for Thrive Onward: Sex, Intimacy and Cancer Care. Contact Dr. McKenzie through Washington Urology Associates by calling 425.398.9355.
Susan G. Komen Breast Cancer Foundation
The Susan G. Komen Breast Cancer Foundation has information on all aspects of breast cancer.
Team Survivor Northwest 
Team Survivor Northwest has developed a variety of fitness and health education programs to help female cancer survivors, in any stage of treatment or recovery and at any fitness level, get active and continue their healing. Services are free of charge. 206.732.8350