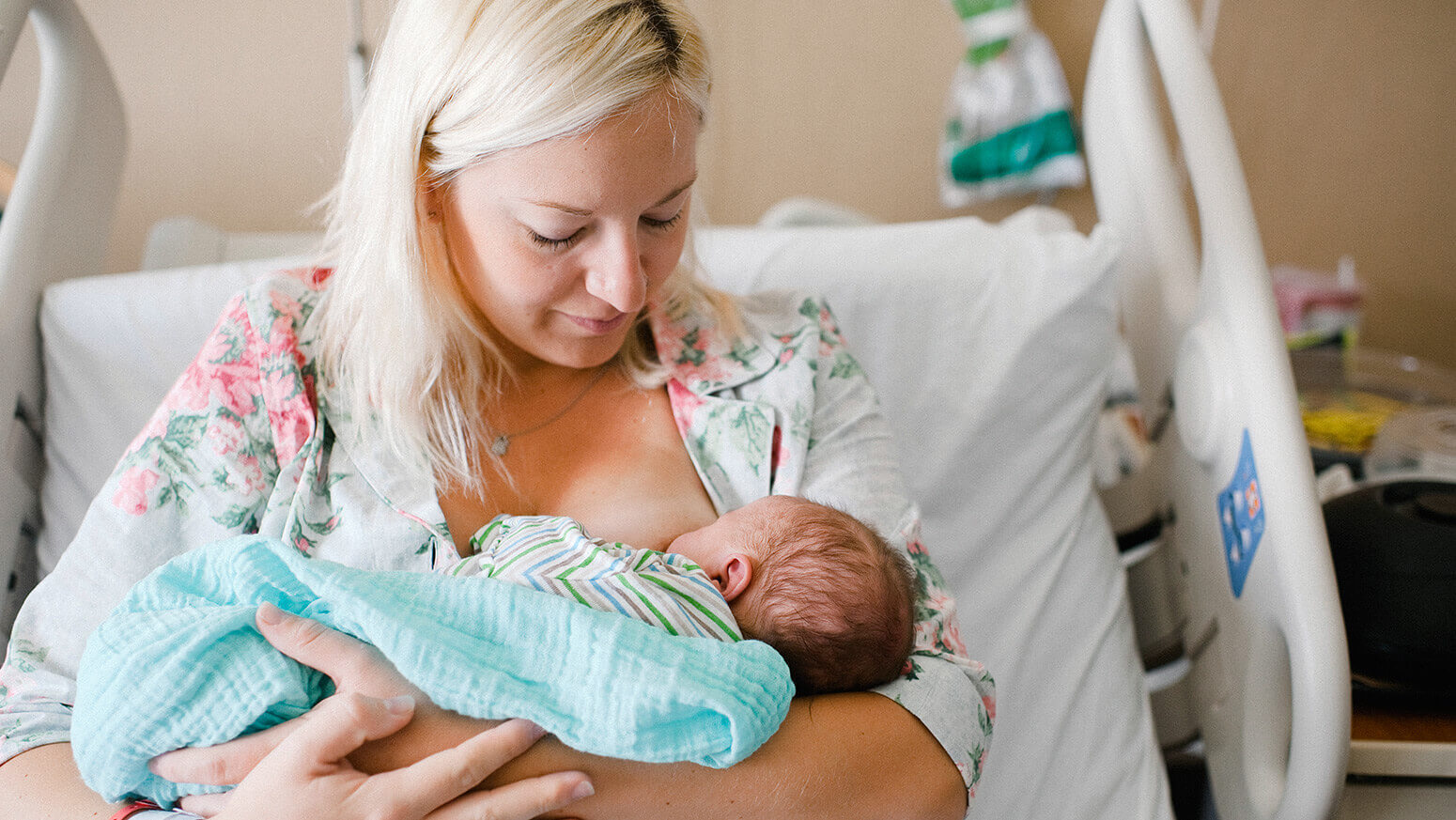 Breastfeeding Support
Each new mother and her family are unique and deserve special attention to ensure a successful breastfeeding experience.
Overview
The Childbirth Center's nursing and medical staff have years of experience in maternal/infant nursing and breastfeeding education. Our certified lactation consultants are available seven days a week while you are in the hospital and by phone or appointment at our Mom and Baby Care Center after you return home.
The Mom and Baby Care Center at Overlake supports each woman's decision to breastfeed. The Center's goal is to assist breastfeeding families by providing education about breastfeeding's many benefits, initiating and maintaining the breastfeeding process, infant nutrition and managing breastfeeding in special situations including multiple and premature births.
International board-certified lactation consultants and lactation specialists are available to provide breastfeeding support services upon request from patients, nursing and medical staff. You may make as many lactation appointments with us as needed. In addition, you do not have to deliver your baby at Overlake in order to meet with our lactation consultants; all mothers are welcome to use our services.
To make an appointment to see a lactation consultant, or to get information about what to expect of a lactation appointment or retail breastfeeding supplies, see below or call 425.688.5389.
Before Your Baby is Born
Our prenatal breastfeeding class will help you prepare for breastfeeding. For more information or to register, call 425.688.5259 or register for classes online.
During Your Hospital Stay
Lactation consultants are available 16 hours a day, seven days a week to provide support and answer questions.
After You Go Home
After you go home we offer:
A postpartum follow-up visit two to three days after discharge to assess breastfeeding and maternal-infant needs.
Private consultations with our lactation specialists.
Telephone counseling with our breastfeeding experts, call 425.688.5516.
Breastfeeding support group facilitated by a La Leche League group leader. La Leche League is an organization that gives information and encouragement to mothers who want to breastfeed their babies.
Electric breast pump rental and instruction. You can rent one of our efficient, affordable pumps.
Retail sales of breastfeeding equipment, pumps and accessories, books and videos, stools, pillows, lanolin and more.
Nursing bra fittings and sales. We give private, personal help to find the kind of nursing bra that is right for you.
Free baby-weight station.
Feeding Your Special Needs Baby
Overlake's Outpatient Nutrition Services has registered dietitians specially trained in the unique nutrition needs of neonates and premature infants. They can assess an infant's overall status and provide nutrition recommendations to help ensure appropriate growth and development.
An order from your child's physician is necessary to make an appointment. Learn more about Overlake's Infant Nutrition Clinic or call 425.688.5485.
Breast Pump Sales Rentals
We offer the best breast pumps and kits for pumping. We also have Medela parts, tubing, faceplates, diaphragms, vehicle lighter adapters, battery packs and foreign travel conversion kits.
We rent hospital-grade Medela Symphony Pumps (yellow).
Breast Pump Sales
Your baby deserves the best, so come in and learn about what a personal breast pump can do for you. What makes us different from retail and online stores? We offer you education and training for using your pump; other stores don't. We have highly trained lactation education specialists to answer all of your questions. We sell the following Breast Pumps:
Medela Pump In Style Original
Medela Pump in Style Advanced Over the Shoulder
Medela Pump in Style Advanced Backpack
Medela Pump in Style Advanced Limited Edition in many fashion colors
Medela Harmony (Manual Pump)
We offer personalized service and competitive rates. Visit us in Bellevue and find the right pump for your specific needs.
Breast Pump Parts Sales
Looking for a part for your Medela pump? We carry a wide assortment of Medela parts and accessories.
Contact Us
For questions about rates or to extend your breast pump rental, call 425.688.5819.
Lactation Appointments
Breastfeeding and milk supply are assessed and baby's growth is assessed. We provide one-on-one consultations and try to meet mom's goals for feeding.
At your lactation appointment you may expect:
Baby weight check
An observed feeding
Troubleshooting of any nursing issues
A feeding plan to be established
Breastfeeding education
Lactation consultant suggestions
You may make as many lactation appointments with us as needed. In addition, you do not have to deliver your baby at Overlake in order to meet with our lactation consultants, all mothers are welcome to use our services.
All lactation consultants are registered nurses with IBCLC (International Board Certified Lactation Consultant).
Contact Us
To speak with a lactation consultant, call 425.688.5516.
To make an appointment, call 425.688.5389.
Nursing Supplies
Certified Bra Fittings
Make nursing easier by obtaining a certified bra fitting. We are the only certified bra fitting establishment on the Eastside. You will be fit by knowledgeable staff who are lactation educators and know how to fit a nursing bra so as not to compromise lactation. No appointment needed.
Common Questions
When should I come for my bra fitting? 
Approximately 7 – 10 days after your baby's birth, after your milk has come in.
Why should I wait 7 –10 days? 
Because your breasts can change markedly in the first week, then they stabilize to the size you will be throughout your nursing.
What sizes do you carry? 
Sizes B – K (30 – 48+ inches). We carry the widest variety of nursing bras in Washington. 
What if I need a bra before delivery or during the first 10 days after delivery? 
Come in for a relaxed fit "sleep bra" fitting.
Not pregnant or nursing and looking for a "certified" bra fitting? Many women today are wearing the wrong size bra. Our lactation educators are happy to fit you whether you are nursing or not. A certified bra fitting will make a difference in how you feel and in how your clothes fit. We sell a full selection of European, Canadian and American bras.
Nursing Tops
Looking for a cami/tank to nurse in? Looking for some back-to-work nursing apparel? We have a variety of nursing tops and tanks to suit your every need.
Hands Free Pumping
Come in to be fit for your hands-free pumping bra. This is a must-have for moms returning to work or busy moms with another sibling to attend to.
Contact Us
For questions regarding bras, apparel and various aids, call 425.688.5819.