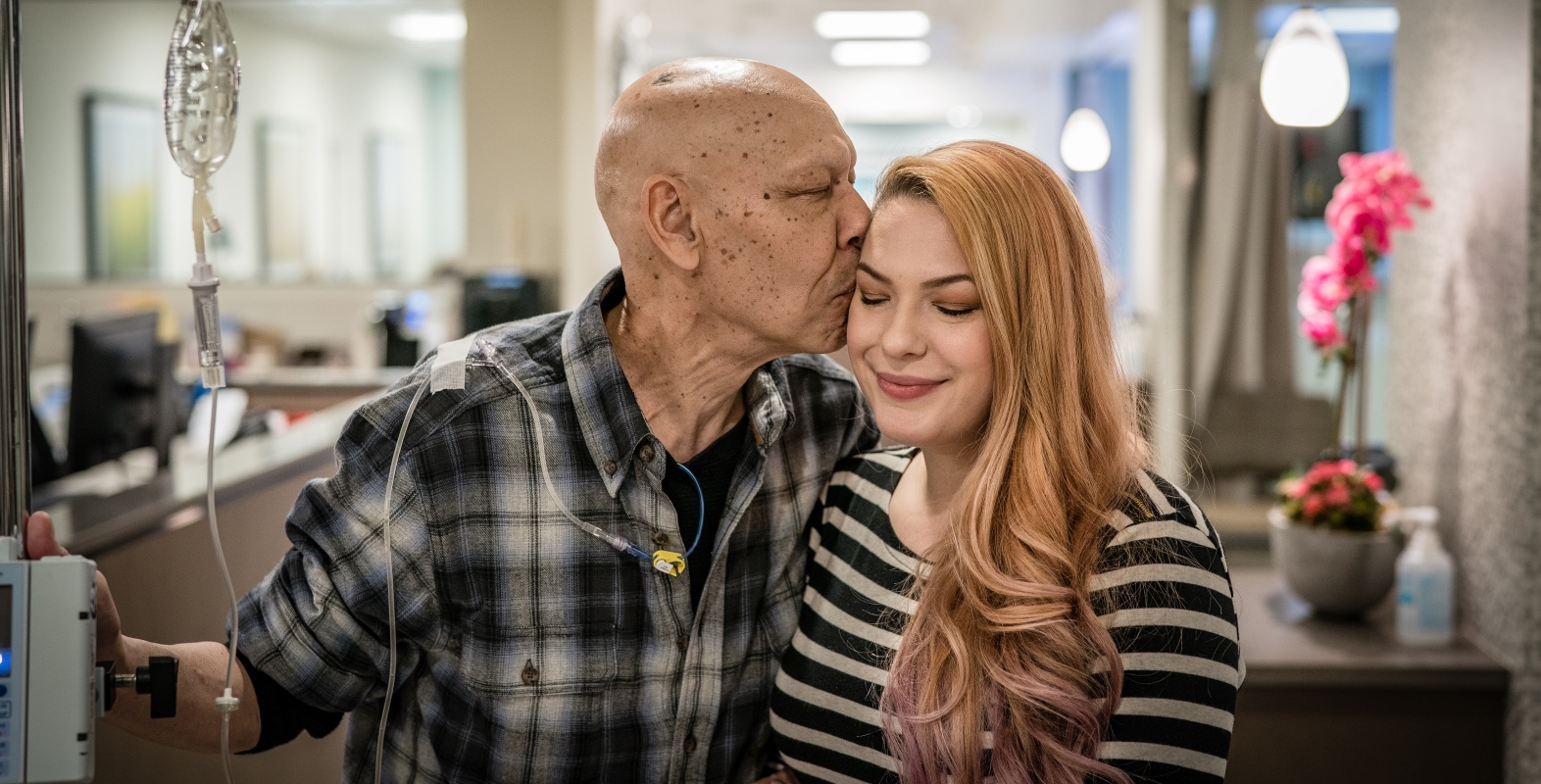 Caring for Body, Mind and Spirit
The Cancer Center at Overlake offers comprehensive care delivered by providers with the highest level of clinical expertise in their field in a single location.
Overview
World-Class Care That's Close to Home
Cancer care that revolves around you means offering the best combination of therapies delivered by care providers with the highest level of expertise in their fields. We treat virtually all forms of cancer and offer some of the most technologically advanced diagnostic and treatment capabilities in the region.
Treatment
Seamless Coordination
Our team works closely to make sure your care is seamlessly coordinated and compassionate. Our treatment options include:
Surgery
Overlake's surgery program continues to rank among the best in the area. With decades of combined experience, our surgeons provide compassionate, individualized care for our patients. Educating you is a cornerstone of our program in addition to providing resources to help you make informed decisions about your care. Our approach maximizes success and addresses your fears about living with and treating cancer.
Our surgical team takes a multidisciplinary approach to its practice, working collaboratively with other Overlake staff, including medical oncologists, pathologists, radiologists, plastic surgeons, radiation oncologists, nurses, technicians and social workers. 
Pharmacological Therapy
Pharmacological therapy (chemotherapy, estrogen-modulating therapy, targeted antibody therapy) includes agents that that enter your body orally in the form of a tablet, intramuscularly or intravenously through the insertion of a needle into a vein or a catheter. The underlying aim is to stop the growth of the cancer cells.
Pharmacological therapy agents can reach metastatic cancer cells that cannot be reached by surgery or radiation. Occasionally these agents are given prior to surgery to decrease the size of a tumor in an effort to provide less invasive surgical options.
Your care team is here to support you during all aspects of your treatment. Side effect management is an important part of your care. 
Learn more about medical oncology.
Radiation Therapy
Radiation therapy techniques have evolved, and delivering radiation treatment in a precise, controlled manner is the hallmark of present-day treatment. Radiation is frequently used in managing many types of cancers. The type of radiation and the length of treatment vary according to the type of tumor, its location in your body, your overall health and the stage of your disease.
Radiation is a beam of electromagnetic energy that is directed at the affected tissue, causing damage to the chromosomes of the cancer cells. When the cancer cells are damaged, they are not able to divide and grow. Radiation is often used in combination with other treatments like pharmalogical therapy (chemotherapy) and surgery. Since radiation stops cancer from growing, it may also be used to relieve pain and other symptoms, or to reduce the size of a tumor before surgery.
Learn more about radiation oncology.
Phases of Treatment
Cancer treatment can be divided into two phases: active treatment and surveillance. Active treatment includes surgery, pharmacologic therapy, and radiation. The surveillance phase begins after active treatment and lasts for five to 10 years after your diagnosis, or as long as you have needs. It may involve you taking a stable dose of medication while being monitored for side effects. It may also involve modifying or changing medications to maximize your quality of life while minimizing the chance of recurrent disease. Our goal is to help cancer survivors live the best life possible after cancer treatment.
Diagnoses
While we treat nearly every type of cancer, here are some of the more common types we work with at the Cancer Center at Overlake:
Colon Cancer
Gynecologic Cancer
Ovarian Cancer
We would be glad to answer any questions you may have about other types of cancer.
Research
Collaborative Clinical Trials
Overlake hosts a number of clinical trials in collaboration with other prestigious institutions, such as the University of Washington and the Fred Hutchinson Cancer Research Center. As a patient here, you may have the opportunity to take part in clinical trials aimed at improving quality of life and/or outcomes for cancer patients. Your oncologist will help you determine eligibility.
Multidisciplinary Care
Your entire cancer care team is focused on giving your our best. We are constantly communicating to bring you the most optimal treatment outcome.  
Daily Rounding
We're focused on giving you our best. That means discussing the care of everyone we see every morning, every day.
Weekly Care Conferences
Our multidisciplinary teams meet weekly to discuss your care plan, progress and supportive therapies. We have a general conference each week, as well as conferences devoted to breast cancer (weekly) and lung cancer (twice a month). 
Quarterly Tumor Committees
We also have tumor site specific committees (breast, gastrointestinal, and lung) that meet quarterly to review quality metrics and emerging data and technologies to better serve you. 
Cancer Committee
Overlake's Cancer Committee meets quarterly. Our Cancer Services Dyad Directorship and Cancer Committee Chair provide an overview of our center and programs, as well as quality data for all tumor types. This coordinated approach has allowed us to maintain accreditation from the Commission on Cancer, The National Accreditation Program for Breast Centers and the American College of Radiation Oncology. 
Measuring Up to National Cancer Accreditation Standards
At Overlake, we partner with our cancer patients to develop cancer treatment plans based on each individual's needs and goals. Overlake participates in several national accreditation programs related to our cancer services.  One of these is the Commission on Cancer (CoC), which comprises a group of professional organizations dedicated to improving survival and quality of life for cancer patients.
Supportive Care & Wellness
Cancer Care for Body, Mind & Spirit
We offer you a variety of services to fully support you in your cancer care. Speak with your oncologist or oncology social worker/patient navigator for additional information.
Genetic Counseling
Empowering You and Your Family
In order to understand your risk of developing cancer, it's important to evaluate your risk factors and to receive education and advice regarding options to manage any potential risks. Genetic counseling and testing can provide peace of mind for you and your family. 
Oncology Social Work/Patient Navigation
Help Every Step of the Way
Our oncology social workers understand that cancer affects everything in your life: your health, relationships, work, and how you view yourself. They will help you navigate your cancer care, offer emotional support, and provide advocacy and resources based on your needs. 
We Navigate
Provide education about your diagnosis and treatment options
Teach you about other support services such as genetic counseling and nutrition
Introduce you to your cancer care team members
Facilitate communication with your physicians
Connect you with other healthcare professionals
We Support
Counsel you and your loved ones
Teach you how to cope with your emotions
Lead support groups and classes
Help you plan and understand advanced care options
Give referrals for additional counseling/supportive services
Provide a safe space where you feel heard, cared about, and understood
We Advocate
Help you obtain and care for a wig or other medical devices
Teach you how to hire in-home help
Referrals for home health and hospital
Transportation access for your appointments
Access to temporary housing during your treatment
Understand and apply for social security and disability benefits and insurance coverage
Integrative Medicine
A Full Range of Options
Integrative medicine combines mainstream medical therapies and complementary therapies to address all areas of your health: physical, emotional, social, spiritual and environmental. Your oncology and integrative medicine team work together to provide you with safe, evidence-based, personalized care.
Benefits of Integrative Medicine
Reduction of cancer treatment side effects
Strengthens immunity during and after treatment
Restoration of full health through lifestyle changes
Enhances quality of life
Nutrition
Nourishing Recommendations
Our nutritionist is a Washington-registered dietician who helps you eat well through all phases of your cancer care so you can stay strong and nourished. Skilled at separating facts from fads, our nutritionist translates the latest medical information on diet and nutrition into practical uses.
Managing Treatment Side Effects
We provide nutritional strategies for managing and minimizing the following cancer treatment side effects:
Loss of appetite
Nausea and vomiting
Constipation
Diarrhea
Difficulty chewing or swallowing
Taste changes
Expanding Your Nutrition Knowledge
Nutrition counseling for cancer care provides:
Expert nutrition information
An individualized meal plan
Individually tailored educational materials
Information on nutrition labeling
Eating and healthly lifestyle tips
Psychosocial Support
A Team United for You
We offer you several options for the emotional support you may need during your cancer care. Our team of social workers/patient navigators, psychiatrists and community counselors apply scientific knowledge of the interrelationships among behavioral, cognitive, emotional, social and biological component of the treatment of cancer. 
Rehabilitation Services
Convenient Care in One Location
We offer physical, occupational and speech therapy within the Cancer Center. Our therapists treat and help you prevent any physical impairments related to cancer and associated treatment.
Massage Therapy
We offer physical, occupational and speech therapy within the Cancer Center. Our therapists treat and help you prevent any physical impairments related to cancer and associated treatment.
Gentle, therapeutic massage can help reduce symptoms and ease side effects of treatment, and provide a sense of calm.
Onsite massage therapy is now offered at Overlake Cancer Center and can help:
Lessen anxiety.
Reduce pain.
Improve quality of sleep.
Lift mood.
Enhance wellbeing. 
From diagnosis to treatment through survivorship, massage therapy is safe during any stage of cancer. Your massage therapist will ensure the massage is to your comfort level. Let your doctor know if you would like to include massage therapy in your care plan as a referral is required. Your financial counselor will determine insurance coverage. Cash pay options are available. 
Survivorship
Cancer Diagnosis = Survivor
We believe that you are a cancer survivor from the time you are diagnosed. Due to advances in cancer prevention and treatment, millions of people live beyond cancer. We recognize that once treatment ends, the fear of recurrence doesn't, nor does the impact cancer has on your emotions, relationships and life. Your cancer care team is committed to help you achieve wellness so you can live your fullest and best life. 
Inpatient Palliative Care
Supportive Care for You and Your Family
Palliative care focuses on the relief of the pain, symptoms, and stress of your serious illness. Our goal is to help you to live comfortably and to provide the best quality of life for you and your family. Palliative Care can be provided at the same time as curative treatments.                     
Your palliative care team includes specially trained and board-certified physicians, nurses, social workers, chaplains, pharmacists and others team members who work in partnership with your attending and primary care physician to provide an extra layer of support for you and your family. 
What Palliative Care Offers
Expertly treat your pain and other symptoms such as shortness of breath, nausea, constipation, fatigue, loss of appetite and difficulty sleeping.
Provide information, assistance, and emotional support to you and your family so that you can identify your goals and match your treatment to those goals.
Coordinate care and treatment with your doctors, at any stage of your illness.
Identify support services to help you after you leave the hospital.
Hospice
A Partnership for End-of-Life Support
When you've received a terminal diagnosis, hospice can provide you with options to help you remain comfortable and live as fully as possible. The Cancer Center at Overlake partners with Evergreen Hospice to meet your individual care needs.