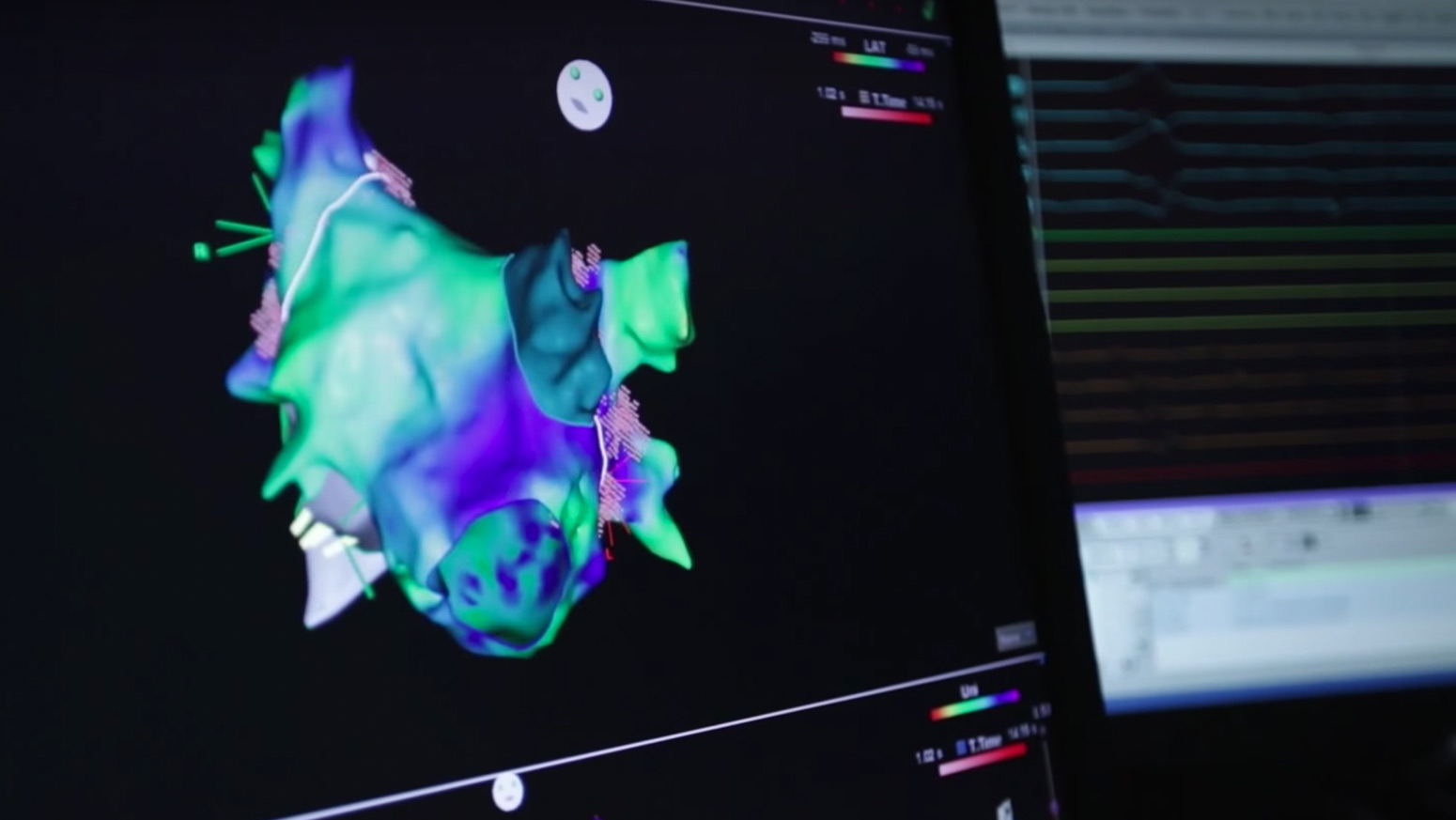 Have Heart
Our two state-of-the-art electrophysiology labs, three catheterization suites, and echocardiography lab offer you expert heart care.
Overview
Diagnostic & Interventional Cardiology
To discover if you have heart or vascular disease and where problems exist, an accurate diagnosis must be made. Non-invasive or invasive tests can be done in our two state-of-the-art electrophysiology labs or three catheterization suites or echocardiography lab. 
Diagnostic Procedures and Options Include:
Cardiac Function Testing
Nuclear Cardiology
Interventional Cardiology
Interventional cardiology refers to procedures used to "intervene" and open clogged arteries, and improve blood flow to the heart. Services include:
Alcohol Septal Ablation
Cardiac Resynchronization Therapy
Defibrillator/Pacemaker Insertions
Percutaneous Septal-Wall Defect Repair
Percutaneous Valvuloplasty
Interventional Unit
This unit is for diagnostic and interventional cardiac catheterization patients and patients scheduled for medical imaging and cardiac short-stay procedures. Expert heart care is delivered before and after heart procedures, testing and treatment.
Cardiac Catheterization
Overlake's Catheterization Lab (Cath Lab) combines state-of-the-art technology with skilled, experienced personnel who are passionate about their work. The results translate into high-quality outcomes and cost-effective services. All three rooms support electrophysiology, while two rooms also provide pulse fluoroscopy.
During these procedures, a catheter (a thin, flexible tube) is inserted to the right or left side of the heart and coronary arteries. Catheterization can determine pressure and blood flow in the heart's chambers, collect blood samples from the heart and examine the arteries of the heart. After a catheterization, patients recover in the hospital for an average of two and a half days.
Coronary/Peripheral Angioplasty/Stenting
This is a catheterization procedure performed in the Cath Lab by a cardiologist. A thin catheter is inserted into the heart and coronary arteries. A tiny balloon-like device is inflated to push the blocking plaque against the wall of the artery to improve blood flow. Stents are also commonly used during coronary angioplasty, which is a mesh tube that is expanded to the exact shape of the artery to free up blood flow.
Angiography
Angiography is the study of the arterial blood vessels of the body. A cardiology team injects a contrast dye through a tiny catheter. A rapid succession of X-rays is taken to view how well blood is moving through the arteries.