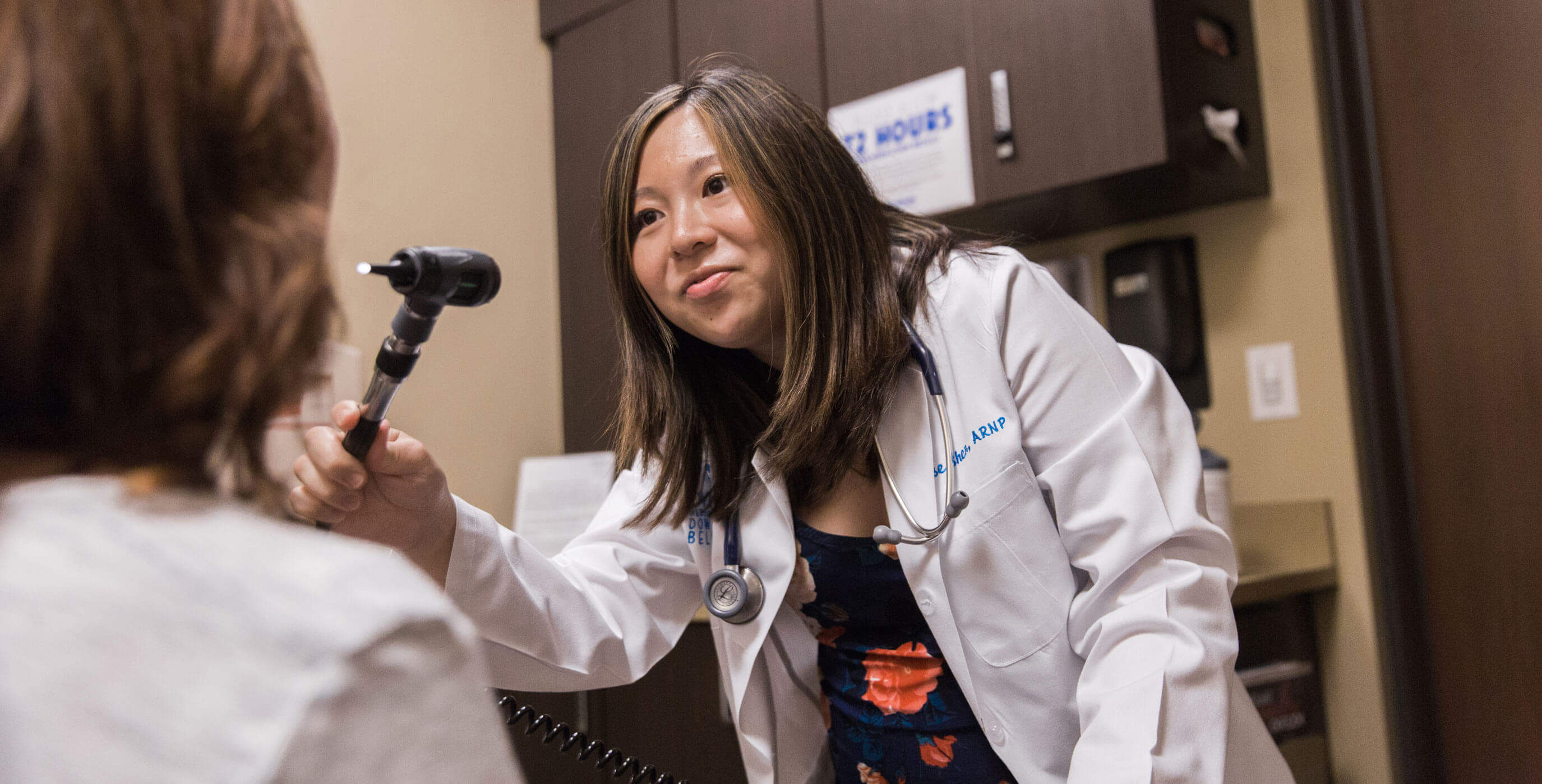 Primary Care
Overlake offers quick and easy access to excellent preventive care.
Overview
Primary Care at Overlake Medical Center
Wellness visits and regular checkups are key to leading a healthy lifestyle. Overlake's primary care clinics in Downtown Bellevue, on our hospital campus, Issaquah, Kirkland, Bellevue/Lake Hills (Crossroads), Redmond and Sammamish offer quick and easy access to excellent preventive care for adults and children. 
Our primary care physicians, most of whom specialized in either family medicine or internal medicine, are your partners in good health and wellness. Whether you need an annual exam, flu shot, a screening, a full skin assessment or if you need to be treated for an acute or chronic condition - like a broken bone or diabetes - our network of family practitioners and internal medicine physicians are here to help. Rest assured, if you need additional specialized care we are connected to Overlake's extensive network of affiliated specialists.
Patient-Centered Medical Home Philosophy of Care: Overlake Medical Clinics (OMC) embraces a patient-centered "medical home" model. This means we focus on the "whole person" to improve the physical and mental health and wellbeing of our patients.    
A patient-centered medical home includes:
                  ●    Ready access to care.
                  ●    Regular preventive care.
                  ●    Care that is based on evidence. This is known as quality and service excellence.
                  ●    Chronic disease management.
                  ●    Coordination of care with necessary specialists.
What is a Primary Care Physician or Provider?
A primary care physician or provider (PCP) is a generalist who coordinates your health care needs, determining the best treatment courses and deciding when to refer you to other medical specialists. A PCP could be a family practitioner, an internist, or if you have children, a pediatrician.
There are many reasons you may need to choose a new PCP such as:
You are new to the area.
Your health insurance plan has changed.
Your physician is retiring.
You are dissatisfied with your current provider.
Selecting a Primary Care Provider
Choosing a doctor that best fits your needs is the first step to good health. It's best to begin the selection process early to avoid making a hasty decision. Here are some tips for you to consider when selecting a PCP:
Find out about medical training, background, board certification and years of experience.
Determine your preferences:

Do you prefer a male or female physician?
How important is location?
How important are office hours?
Do you prefer a family practitioner, an internist or a pediatrician?
Is it important that your physician will correspond via email?

Ask about practice philosophy.
Visit the office and observe the environment and staff.
Interview the doctor; discuss your medical history and concerns.
Find out about accessibility and communication style.
Select a Primary Care Physician today by calling our Physician Referral Line at 425.688.5211.
Your Partners in Health
We also understand it can be difficult to predict your healthcare needs and that's why we offer convenient, same-day appointments. Please call ahead as early as possible to alert clinic staff you need to see a doctor.
Transitioning from Pediatric Care to Adult Care - What You Need to Know
Congratulations, you are  on your way to becoming a young adult! We at Overlake Medical Clinics have enjoyed caring for you, and we look forward to continuing to help you with your health care as you become an adult.
We would like to help you and your family prepare for this change and to make it as easy as possible. We find it best for most patients to make this change around the time of high school graduation (or by the time you are 19). Around this time, your health care needs change and it makes sense to have a health care provider who can meet the needs of a young adult. Of course, there are always special circumstances, so feel free to discuss with your provider the right time for you to transition.