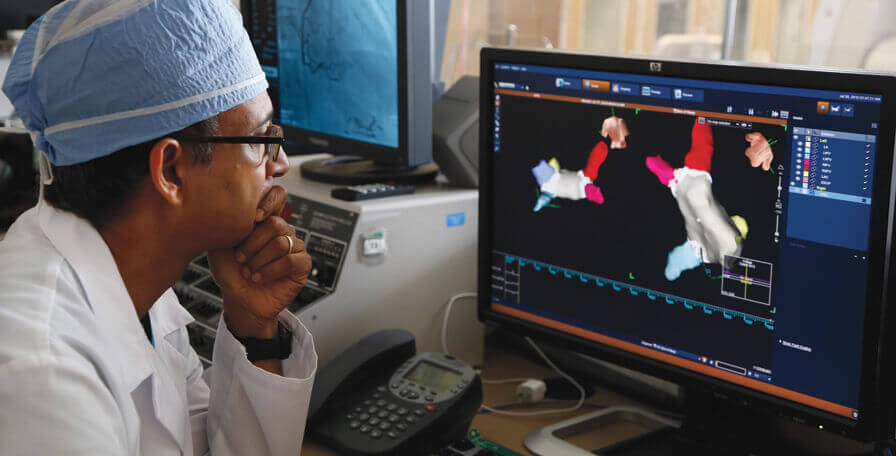 More Heart
When a racing heart could put your life at risk, turn to the Bob & Patty Edwards Arrhythmia Center at Overlake.
Ventricular Tachycardia
When a racing heart could put your life at risk, turn to the Bob & Patty Edwards Arrhythmia Center at Overlake. Our experienced electrophysiologists will diagnose your condition, explain your treatment options and help you protect your health and well-being.
What Is Ventricular Tachycardia?
If you have ventricular tachycardia, your heart beats rapidly (120 or more beats per minute) due to abnormal electrical pathways in the lower chambers (ventricles). You may experience just a few rapid heartbeats in a row or have sustained episodes that last 30 seconds or longer.
During sustained episodes of ventricular tachycardia, your heart isn't able to pump enough blood to the rest of your body. That makes this condition potentially life-threatening.
Symptoms of Ventricular Tachycardia
With ventricular tachycardia, you may experience:
The feeling that your heart is beating too fast or too hard (heart palpitations)
Fatigue
Weakness, dizziness or light-headedness
Chest pain or tightness
Shortness of breath
Many people with ventricular tachycardia also have heart disease.
How Are Rapid Heartbeats Diagnosed?
If your physician thinks you may be experiencing ventricular tachycardia, you'll probably take an electrocardiogram. This short, painless test detects your heart's electrical activity.
Learn more about diagnostic services at the Bob & Patty Edwards Arrhythmia Center of Excellence at Overlake Medical Center.
Treatments for Ventricular Tachycardia
You and your physician will work together to create a care plan that fits you. Depending on your condition and symptoms, your care plan may include:
Lifestyle changes to manage your arrhythmia.
Medications to reduce your blood pressure (beta-blockers) or prevent arrhythmias (antiarrhythmics).
Catheter Ablation: A minimally invasive procedure that stops abnormal electrical signals by eliminating short circuits in your heart.
Implantable Cardioverter Defibrillator (ICD): A device placed inside your body to monitor and correct your heart rhythm.
Experienced Team, Proven Success
When you choose Overlake, you join hundreds of your Eastside friends and neighbors who trust us for ventricular tachycardia care. Our experienced electrophysiologists have performed hundreds of catheter ablations for this complex condition, with high success rates. 
Advanced Emergency Heart Care
In a medical emergency, count on rapid access to advanced emergency heart care from specialists in Overlake Medical Center's Emergency Department.