Dogs support patients at Overlake Hospital - KING5 News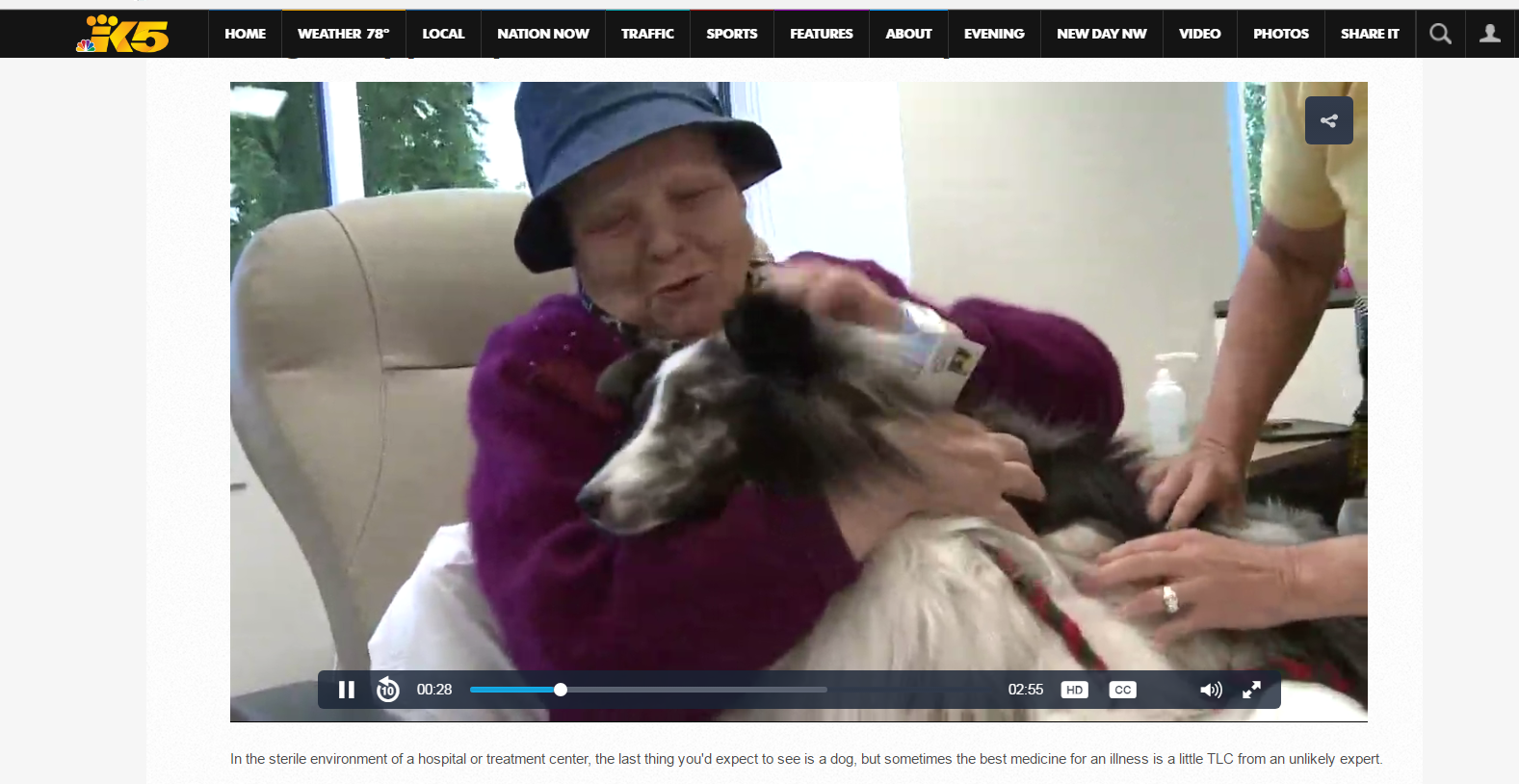 A dog may be the last thing you expect to see in a sterile environment like a hospital or treatment center, but a special pet therapy program at Overlake Hospital is creating smiles for patients.
"For a patient, there's only so much medicine can do. They treat the body of the medicines, but the dog treats their psyche," Karen Keenan, a nurse and canine volunteer, said.
Keenan's dog, Viansa, was in training to be a guide dog for the blind when a veterinarian found a spot on her eye. It disqualified her from work as a service dog. Keenan decided to re-direct her training to become a pet therapy dog at Overlake.
All the dogs are certified and trained to interact with patients They're docile enough to jump in bed with someone who wants a snuggle. It's a welcome distraction for many patients.
"Having Charlie come in or any other dog is nice. It's a good distraction especially if you're a dog person. Even if you're not, because it really takes your mind off stuff," Frank, a patient undergoing chemotherapy at Overlake, said.
"It's really a nice gift that you can bring a dog to a hospital setting, not just for cancer patients but, I imagine, across-the-board people benefit from this sort of therapy," Lisa, who is in treatment for breast cancer, said.
Overlake staff makes sure the dogs are always groomed and cleaned with their nails trimmed. They also require every patient to use sanitary gel before and after touching the dogs so that nothing is brought into the room and nothing is taken out. Bottom line: keep safety in line but patients in mind.
"When a volunteer and a dog walk in the room, I know that they're not there to poke them prod them or ask them any questions. They're here because they want to be. It chokes me up," Brenda Epstein, director of Overlake's Volunteer Services, said.
Epstein said they need more pet therapy dogs. But, again, all dogs need to be certified.
© 2017 KING-TV