Overlake Medical Center Named 2017 "Most Wired" by the American Hospital Association
BELLEVUE, Wash. – (August 22, 2017) –Overlake Medical Center announced today that for the third consecutive year it has received Most Wired 2017 distinction, according to results of the 19th Annual Health Care's Most Wired® survey, released by the American Hospital Association's (AHA) Health Forum.  The award spotlights hospitals that are harnessing innovation to better serve patients.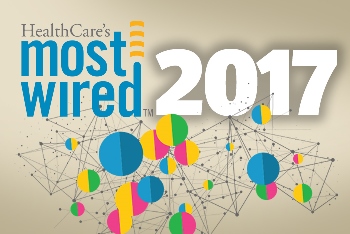 The Most Wired award recognizes Overlake's commitment to integrating technology in a meaningful way into patient care. "Embracing emerging technologies allows us to deliver unparalleled care to the Eastside community," says Chief Information Officer Scott Waters. "Our methods and leading-edge technology allow our providers to better understand our patients and their needs across the whole care continuum."
"The Most Wired hospitals are using every available technology option to create more ways to reach their patients in order to provide access to care," said AHA President and CEO Rick Pollack. "They are transforming care delivery, investing in new delivery models in order to improve quality, provide access and control costs."
Overlake Medical Center adopted the following technological services during fiscal year 2017, contributing to its Most Wired recognition:
Offering VOALTE, a secure messaging system between clinicians on mobile devices
Ongoing monitoring of patients at home using secure e-mails for patients and families to keep in touch with their care team
Simplifying prescription renewals by allowing patients to make requests on their mobile devices
Running targeted phishing exercises to teach employees to question suspicious emails
Analyzing retrospective clinical and administrative data to identify areas for improving quality and reducing cost of care
Interfacing electronic health record data with population health tools for care management
Providing data analytic tools training to physicians
Delivering quality metrics to physicians at the point-of-care
Offering real-time patient identification and tracking for value-based care conditions, such as chronic obstructive pulmonary disease
HealthCare's Most Wired® survey, conducted between Jan. 15 and March 15, 2017, is published annually by Hospitals & Health Networks (H&HN). The 2017 Most Wired® survey and benchmarking study is a leading industry barometer measuring information technology (IT) use and adoption among hospitals nationwide. The survey of 698 participants, representing an estimated 2,158 hospitals — more than 39 percent of all hospitals in the U.S. — examines how organizations are leveraging IT to improve performance for value-based health care in the areas of infrastructure, business and administrative management; quality and safety; and clinical integration. 
Detailed results of the survey and study can be found in the July issue of H&HN. For a full list of winners, visit hhnmag.com.