Overlake Honors Team Member for 50 Years of Service | June 6, 2018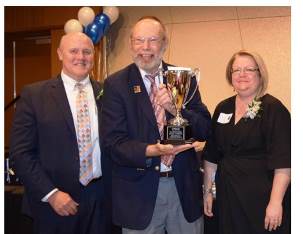 Bellevue, Wash. – (June 6, 2018) – Colleagues would remark that Karly Johnson's mail deliveries were so reliable, staff could set their clocks by them. On Friday, June 1, Overlake Medical Center recognized Johnson for 50 years of service to the organization during its annual employee recognition event. Johnson began delivering mail at Overlake Memorial Hospital in November 1967.  In his own 1969 performance review he wrote, "I have been very pleased in working with the hospital and intend to as long as I can."
Johnson's presence extended beyond snail mail deliveries. In the late 1990s, Overlake held a contest to name its new Intranet. The winning entry, "Karly," was selected as a tribute, named for the tool that would be delivering necessary information to employees in the modern era. 
After 38 years of active employment, Johnson retired in 200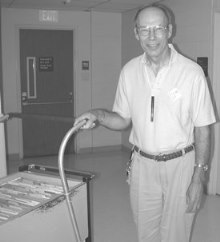 5 but has continued to work each Wednesday for the last 12 years in Overlake's Mom & Baby Care Center, stocking supplies and materials for distribution to families. 
Johnson, who was born with epilepsy, said that while he is proud of what he has contributed to Overlake's community, he is grateful for the culture of inclusiveness that made him feel cared for. "When I started working here at age 27, there had been no other mail delivery person, I was the first one," said Johnson. "I knew it would be my only job. Overlake will always be my home."
(Photo at right: Karly Johnson delivering mail, 2005).