Overlake Offers Students a Behind-the-Scenes Look at Health Careers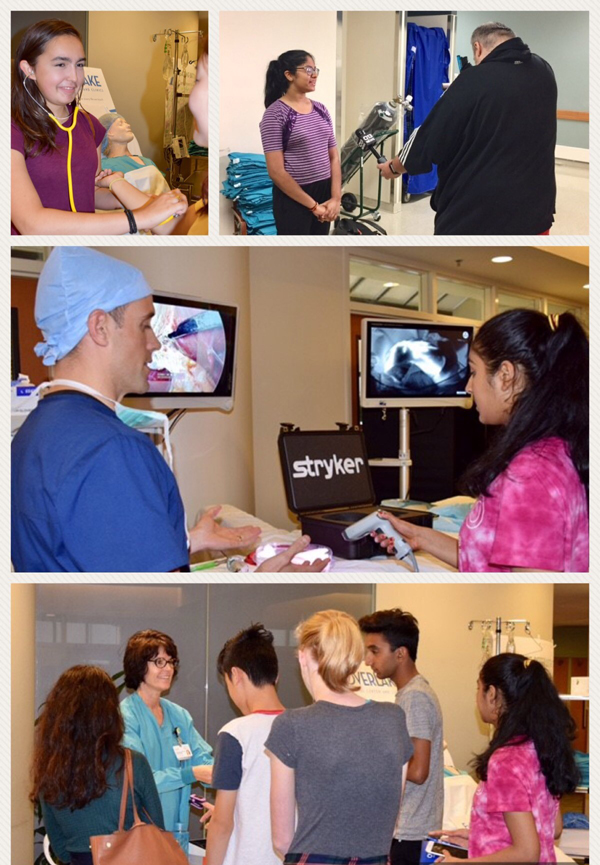 More than 80 high school students from around the Eastside attended Overlake Medical Center's "Careers in Medicine" event on August 27, 2018. The students, some with their parents, heard from physicians in fields ranging from urogynocology to neurosurgery, psychiatry and cardiology. They also got a behind-the-scenes tour of hospital departments not usually open to the public. Most students said they have been previously interested in science or STEM (science, technology, engineering and math) fields but not necessarily medicine, and many told event organizers that they are much more likely now to consider a career in healthcare. 
"For some people healthcare is a job, for some people healthcare is a career, but for some like me, healthcare is a calling," Overlake CEO Mike Marsh said in welcoming the students to the event. The panel that followed included neurosurgeon Abhineet Chowdhary, MD, cardiologist Andrea Vitello, MD, psychiatrist Kelan Koenig, MD, and urogynecologist Julie LaCombe, MD.  Each spoke about their own career paths, which in some cases included some twists and turns.
"I was supposed to be an engineer, but I found out in college that I didn't get along with calculus," Dr. Koenig told students. "For me, I remember going to a doctor's appointment with my mom and the person didn't even make eye contact," Dr. LaCombe recalled for the audience. "I realized that it's like a Trojan Horse, to effect change, you have to sneak into the system."
"I like fixing things," Dr. Chowdhary explained about operating on patients with conditions including brain cancer. "So for me, my practice is not typically one where I see patients with a chronic condition over time, I like helping people by fixing an immediate problem."
Students' questions included ones about work-life balance. "I have a three-year-old son, and I give my all to my family when I am with them and everything to my work when I am here," said Dr. Vitello. "I don't know that that's the right way, but it is the only way I know."
Kiara Fitzpatrick, a sophomore at Lake Washington High School, has an interest in science yet had never thought much about cardiology.  But after seeing a pig heart and getting to play around with medical devices used in some of the highest-tech procedures in medicine, "Now after being here tonight I can totally see doing something more in cardiology or even neurology," said Fitzpatrick.