On Veterans Day, We Honor Members of our Overlake Family Who Have Served our Country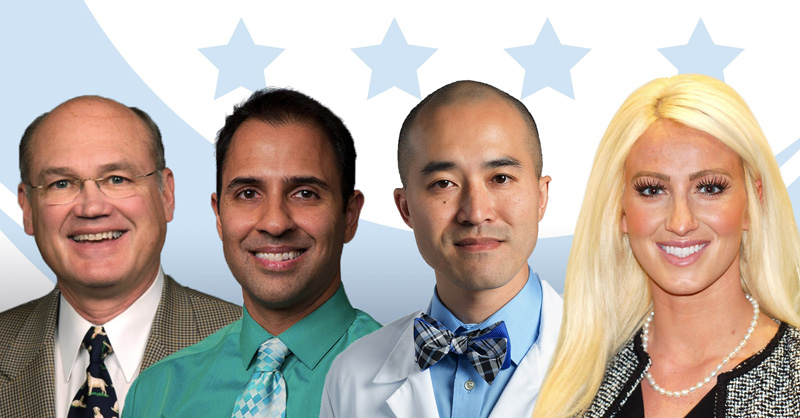 When Raj Butani, MD, deployed to Ramadi, Iraq, as part of Operation Iraqi Freedom, he was nervous. "It was very scary to me professionally, this kind of emergency room trauma was not my area of expertise, but my job was to treat mangled extremities, punctured lungs, gunshot wounds… I just wanted to take good care of my soldiers," says Dr. Butani.
In March, 2005, U.S. Army Major Butani lost a good friend during that deployment, the physician assistant he worked closely with, Captain Sean Grimes, who died when his patrol was struck by an improvised explosive device.  "For me, Veterans Day is a chance to reflect, a chance to remember all the amazing people I served with, paying homage to the camaraderie we had in the military," says the Overlake gastroenterologist.
Oliver Biggers, MD, a 16-year veteran of the U.S. Air Force, recalls his own service as chief of surgery at Maxwell Air Force Base in Alabama, treating the many wounded warriors post-Vietnam.  But Veterans Day also brings back memories of his own father, also a member of the U.S. Air Force who served in WWII.  "I remember stories about my mom smelling my dad's uniform when he was away, but she knew he might not come back," says Dr. Biggers.  For this Overlake surgeon, his family's service makes Veterans Day far more than just another holiday. "I feel like I have an appreciation for what's going on, I understand the sacrifices military families make."
For Alicia Quaco, a supply chain manager at Overlake and U.S. Air Force captain who worked for the Defense Contract Management Agency at Boeing, every November 11 is all about connecting with family.  With two brothers in U.S. Army Special Forces, the family always sends cards and calls one another on Veterans Day.  "We make sure that one another are appreciated and our parents do the same," says Quaco. "Because we're all military, we are all scattered, but it is important to have this bond with one another."
This year's Veterans Day holiday will be the first for Tuvien Le, DO, as a civilian.  Now a primary care provider at Overlake Medical Clinics Primary Care - Issaquah, Dr. Le spent eight years active-duty with the U.S. Navy.  As one of just two general medical officers on an amphibious assault ship with 1,100 sailors aboard,  Lieutenant Le learned to make do with what one has.  Supplies were limited and medical emergencies in the middle of the Pacific Ocean required creative thinking and treatment.  Having settled in Bellevue with his family after his most recent assignment to Naval Hospital Yokosuka in Japan, Dr. Le will spend his first Veterans Day stateside with his loved ones. "We've traveled enough to see how other cultures live, we like our freedom here and see how some people take it for granted."
Showing appreciation and gratitude is what our Overlake providers do every day of the year.  We are grateful for them, and all of our providers and staff who have served our country at home and abroad. Thank you.