Mythbusters: Breastfeeding Edition
By Julie Crews, RN IBCLC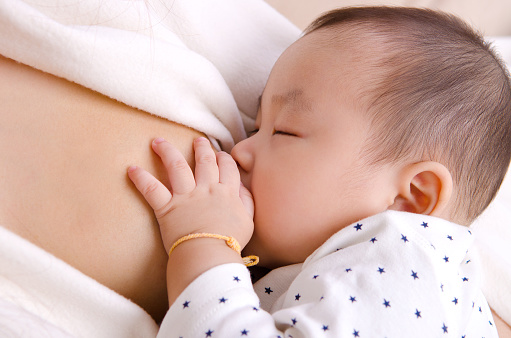 As soon as you announce you are pregnant, people begin to share their wisdom, amusing experiences, sometimes horrifying stories and general tidbits of knowledge surrounding babies. Breastfeeding is a hot topic for many people—quite a few myths and common misunderstandings about how breastfeeding works tend to get repeated. Let's examine some common myths and separate fact from fiction.
Myth #1: Your mother couldn't breastfeed – you will probably have trouble too.
Reality: The ability to breastfeed or not breastfeed is not genetic. People often did not get the support they needed to deal with challenges that arose. Many women can breastfeed their subsequent babies, even if the previous baby didn't breastfeed well. Every baby is different and every woman is different.
Myth #2: I have to drink milk to make milk.
Reality: If we look at cows, they make milk by eating grass and drinking water. Their bodies naturally convert their natural food into milk. Humans are the same way – eat a balanced diet rich in whole grains, fruits, vegetables and protein. Drink water to thirst and your body will naturally make perfect milk for your baby.
Myth #3: My colostrum or beginning milk isn't "real milk."
Reality: Not only is colostrum truly milk, it is almost the MOST important milk your baby can get! When your baby is born, he/she has only the beginnings of an immune system, and your colostrum is packed full of elements that help your baby build his/her immune system as well as receive calories and nutrition.
Myth #4: You have to only eat bland foods while breastfeeding – spicy foods or foods that create gas will make your baby upset.
Reality: By the time the foods you eat have been digested and used to make breastmilk, the potentially upsetting elements of that food have been broken down. Most babies are not negatively affected by the food in a mother's diet. Some studies show that babies even prefer milk flavored by strong-tasting foods. Use a wait-and-see approach - if you find that your baby is fussy 2-12 hours after eating a certain food, try cutting it out of your diet for a while to see if it makes a difference.
These are just a few examples of common misunderstandings surrounding breastfeeding. At Overlake Medical Center, we are committed to making sure you are able to ask a lactation consultant any question you have and get the correct answer. If you have breastfeeding questions, please call us at 425.688.5516 and leave a message. A lactation consultant will be happy to return your call. Happy breastfeeding!