From Fragile Beginnings to Visions of Good Health: Overlake Celebrates 6th Annual NICU Reunion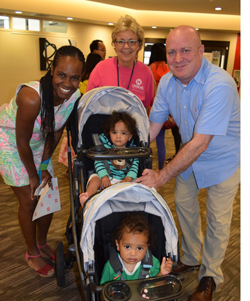 They arrived looking like double visions of good health: 17-month-old twins Brendan and Aiden Connolly were among those joining Overlake Medical Center's sixth annual neonatal intensive care unit (NICU) reunion in September. Their parents Colinda and Don said making the trip from Bothell for the celebration was well worth the effort. After all, they had spent hundreds of hours in the NICU over the six-week period their boys were here.  "It was long enough to really get to know people.  We were excited to show everyone how well they are doing," said Colinda Connolly.
"They begin their life with us in such a fragile state and over the years we are able to see the amazing advancements in not only their size but their academics and social progression as well," said NICU nurse Michele McRae. "I love seeing our former patients and the leaps in growth and development they make each year."
The reunion at Overlake's PACCAR Education Center drew more than 140 people, despite competing for attention with the Seattle Seahawks season opener.  In fact, some families like Donohue-McElroy family showed up in their 12's spirit wear.  The children's ages ranged from 3 months to 11 years.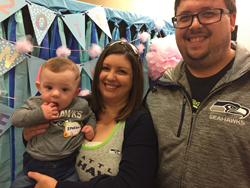 Graduates of Overlake's NICU this past year have had the opportunity to reflect on a new technology Overlake offers families; Angel Eye cameras that allow for constant, remote monitoring of their babies via a secure app on a phone or computer.  Parents can grant access to friends or family located around the world.  But as NICU manager Lynne Saunders heard from one grateful NICU alumni mom, the Angel Eye gave her comfort even while she was home in bed. "The family thanked me for the camera," said Saunders. "She had been having a nightmare in the middle of the night and the camera was off her baby.  It was good to see her face light up when I told her that I was the nurse that she talked to and who turned it back on for her so she could be assured everything was okay!"
Back to Women's + Infants' Blog