Overview
While costs vary widely based on the provider you choose and your care path, Overlake is here to help you make an informed decision about the cost of the care you are planning to receive.
Factors to Consider When Making a Decision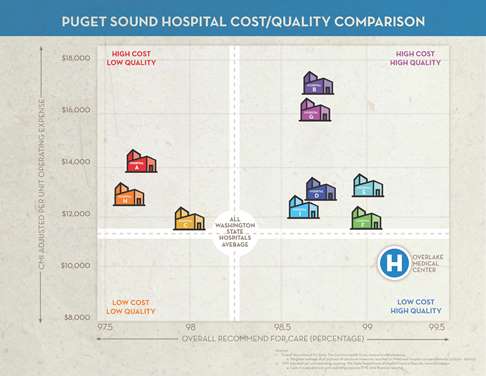 The highest cost provider may not be the best quality provider. There is no correlation between cost and quality, outcomes or service. Based on an independent analysis of publicly reported data, Overlake has been proven to be the highest value facility in the Puget Sound region. This means as a patient at Overlake, you will receive the best quality for a reasonable cost.
 
Health Plan / Insurance Cost Estimate
Because every insurance / health plan is different, the most accurate information about out-of-pocket costs will come directly from your insurance provider. For your convenience, we have provided links to several insurance plans' online cost estimators. Each of these will require your personal login.
If you experience any difficulty with navigating these links, please contact your health plan or insurance directly.
 
Overlake Cost Estimate
Currently you can receive cost estimates through Overlake for medical imaging services as well as outpatient surgery. The following form lists all the information you will need to provide. Once your completed form is submitted, you will receive a phone call to discuss your estimate. It is important to note that you will need the procedure code(s), which your doctors office should be able to provide.
Complete the following form to receive an estimate of cost:
Cost Estimator Form