Image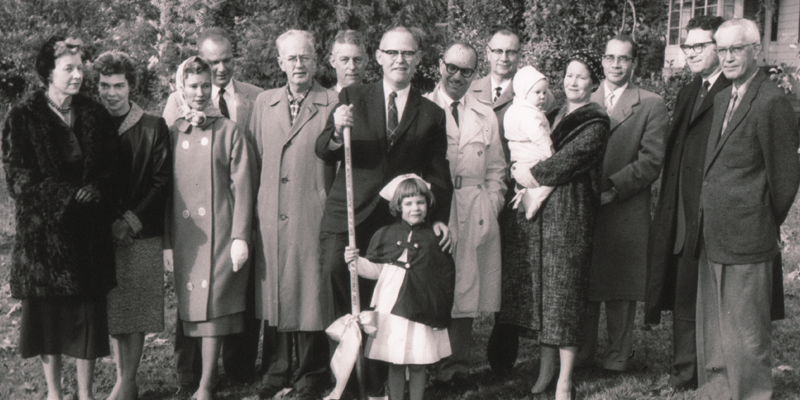 The vision for high-quality healthcare on the Eastside began in 1953 when community leaders and volunteers joined forces and set in motion a seven-year fundraising campaign. A dedicated group of women formed an auxiliary, led by Clyde Hill resident Lorraine Weltzien, and began raising money to bring the dream of the hospital to life. In addition, area businessmen and physicians purchased the property where the hospital now sits.
In the weeks leading up to the grand opening, community members and hospital supporters speculated who might be the first patient. The hospital was scheduled to open at 3 p.m. on Sunday, October 16, 1960, but when Rose Cziprian went into labor early that Sunday morning and worried she wouldn't make it across the bridge in time, the staff opened the doors five hours early just for her. A short time later, Dr. Stewart Hilscher delivered Rose's baby, Katherine "Kathy" Mary.
The day Kathy was born there were 56 beds in the hospital. In the years that followed, Overlake quickly grew to what it is today: a 349-bed medical center distinguished for its cardiac, surgical, cancer and women's services. The hospital treats more than 500,000 outpatients and 15,000 inpatients each year, while welcoming more than 3,500 babies into the world.
Significant Moments in Our History
Image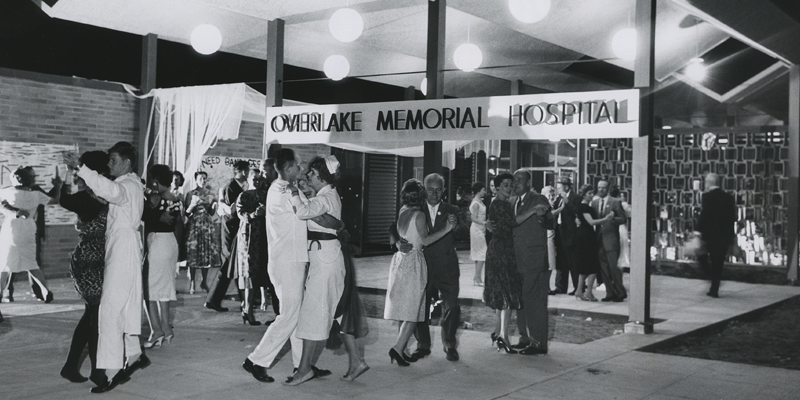 1951: The U.S. Department of Health concludes the number of Puget Sound area hospitals is inadequate.
1952: The Overlake Memorial Hospital Association is formed to raise money for a community hospital, find a site and build it. 
1953: Local citizens form the Fabiola Auxiliary, the first Auxiliary in the U.S. to be established before a hospital existed.
1959: Hospital construction begins. 
1960: Hospital opens with 56 beds. Initial cost of $1.2 million. 
1963: New North Wing adds 23 beds.
1965: Major $110,000 expansion of Surgery Center is completed. 
1967: East Wing opens with coronary and intensive care units. 
1968: Eleven-bed Psychiatric Unit added. 
1969: 10,000th baby born at Overlake. 
1970: Emergency Department physicians on duty 24 hours a day. 
1982: New Emergency Room opens. 
1983: Overlake Memorial Hospital officially changes its name to Overlake Hospital Medical Center to reflect more comprehensive services. 
1986: Overlake approved to perform open heart surgery.
1989: New Surgical Pavilion opens. 
1990: New Childbirth Center opens.
2004: Overlake Medical Center Issaquah opens to serve the expanding Eastside.
2007: $134 million South Tower campus expansion completed, adds 104 beds. 
2008: Overlake contracts with Group Health to provide its members with inpatient and surgical care. 
2009: PACCAR Education Center opens to support staff, physician and community education. 
2009: Remodeled Childbirth Center opens. 
2009: Hospital launches Season's Dining Room Service program. 
2010: Robotics surgical program begins. 
2010: Overlake celebrates 50 years of healing.
2011: Overlake opens Urgent Care in Redmond.
2012: New, expanded neonatal intensive care unit (NICU) opens.
2012: Overlake Cancer Center opens.
2012: Overlake expands specialty services by opening new clinic in Issaquah. The new clinic features Cardiology, Pulmonology, Anticoagulation and Breast Screening.
2012: Primary Care clinic opens in Redmond.
2013: David and Shelley Hovind Heart & Vascular Center opens.
2015: Neuroscience Institute and Downtown Bellevue Urgent Care open.
2016: Lake Hills Primary and Urgent Care clinic opens.
2017: New, $20 million Cancer Center opens.
2017: Overlake and EvergreenHealth form the Eastside Health Alliance.
2017: Pelvic Health, Musculoskeletal Medicine clinics added to specialty network; Sammamish Primary Care clinic opens.
2018: Project FutureCare, a five-year, $250 million campus renewal project, breaks ground.
2018: Sammamish Urgent Care clinic opens.
2019: New cardiac operating room (OR) suite, including hybrid OR opens. 
2019: Newcastle Primary and Urgent Care clinic opens.
2020: Overlake celebrates its 60th year.
2020: Overlake and Fred Hutchinson Cancer Research Center launch joint treatment program.
2020: Overlake partners with Snoqualmie Valley Hospital to manage its Emergency Department.
2020: Overlake Clinics adds Bellevue Internal Medicine Associates and Sleep Medicine to its clinic network.
2021: Overlake opens the cornerstone of Project FutureCare, a new five-story 240,000 square-foot tower, including a new Childbirth Center.
2021: New Behavioral Health Unit opens.
2021: Ob/Gyn and Urology clinics open, further expanding its specialty network.  
Image