Overlake is committed to the health and safety of our patients, visitors and staff. As a result of COVID-19 in our community, we are taking extra steps to keep our campus as safe as possible and ensure our ability to care for our patients.
Effective Tuesday, Nov. 17 at 6 a.m., no visitors or caregivers/companions are permitted at Overlake Medical Center & Clinics, unless a patient qualifies for an exception below. 
Visitor Exceptions
We recognize there are times when having visitors or family members present is crucial. In these cases, visitors will be allowed based on the following exceptions. Visitors will only be allowed if they pass the screening process and meet the conditions listed below.
Please note the following visitor exceptions:
Childbirth Center

In addition to one (1) visitor (primary partner), patients may have one (1) certified labor doula as a second support person, who is allowed to stay until two hours after delivery.

Neonatal intensive care unit (NICU) 

Two (2) visitors (must be a parent/primary support person with visitor band).

End of Life

Patients who are at the end of life may have two (2) visitors. Minors may be allowed if they are accompanied by a parent/guardian and approved by the care team.

Patients may have one (1) member of the spiritual community per day.

Caregiver Visitation

Patients who require a home caregiver to be trained may have one (1) caregiver per day.

Patients with confusion, altered mental status, developmental delays or agitation, who need a caregiver to provide safety and support, may have one (1) caregiver per day. 

Patients who require an escort for assistance related to mobility, interpretation or healthcare decision-making may have one (1) assistance person per day.

Patients with a disability may have one (1) family member, service provider or other individual knowledgeable about the needs of the person with a disability per day.

Community-based Care Provider

Patients who have a community-based care provider involved in their care may have one (1) provider per day.

Surgeries/Procedures

If a surgical/procedural patient meets one of the exceptions, then they may have one escort/support person to accompany them through the surgery/procedure and after to the post-op unit.
Screening 
Upon arrival, the visitor of a patient who meets an exception above will be screened for COVID-19 symptoms and exposure. Only visitors without symptoms or exposure are allowed. The approved visitor will then proceed directly to the patient's room/exam room and must remain there at all times. However, visitors with symptoms, exposure, or who have tested positive for COVID-19 or are under investigation for COVID-19 may be allowed for: end-of-life patients, Emergency Department patients meeting an exception, if they are a primary partner visiting a patient in the Childbirth Center, or if the patient is a minor and the visitor is the patient's parent or guardian.
Armband
If visiting a hospital inpatient, the approved visitor will be issued an armband, which must be worn at all times during the visit. Only one (1) armband will be issued to one (1) approved visitor per patient per day.
Masks
Each visitor must wear a mask at all times while in the facility. Cloth face coverings, masks with valves, bandanas and neck gaiters do not meet our safety standards. If you are wearing this type of face covering, we will provide you with an approved mask.
Image




Length of Stay
The approved visitor may stay as long as they would like on the day they arrive. However, they must be re-screened the next day and get a new armband.
Patients with COVID-19
Patients who have tested positive for COVID-19 or patients under investigation for COVID-19 may not have visitors, except for patients at the end of life, an Emergency Department patient meeting an exception, a patient in the Childbirth Center and the visitor is a primary partner, or are a minor and the visitor is the patient's parent or guardian. In these cases, visitors must remain masked at ALL times and follow staff directions.
Children
Children under age 16 are not allowed in our facilities at this time unless they are the patient or visiting a patient who is at the end of life and are accompanied by an adult.
Meals
Inpatient visitor meals may be purchased from Seasons Dining room service from 6:30 a.m.–7 p.m. To order, dial 6368. All meals must be consumed in the patient room. Masks may be removed briefly to eat, but visitors must re-mask if staff enters the room.
 

Overlake Campus Entry Screening Locations

Until COVID-19 no longer poses a public health threat, we are modifying entrances at our hospital campus and all patients and visitors will be screened in the following locations:
Main Entrance/Lobby: Open 24/7
South Tower/Emergency Department: Open 24/7
PACCAR Breezeway: Open 5 a.m.–10 p.m.
North Garage/Overlake Medical Tower: Open 6:30 a.m.–4:30 p.m.
Click here to download a PDF of the screening locations campus map.
Image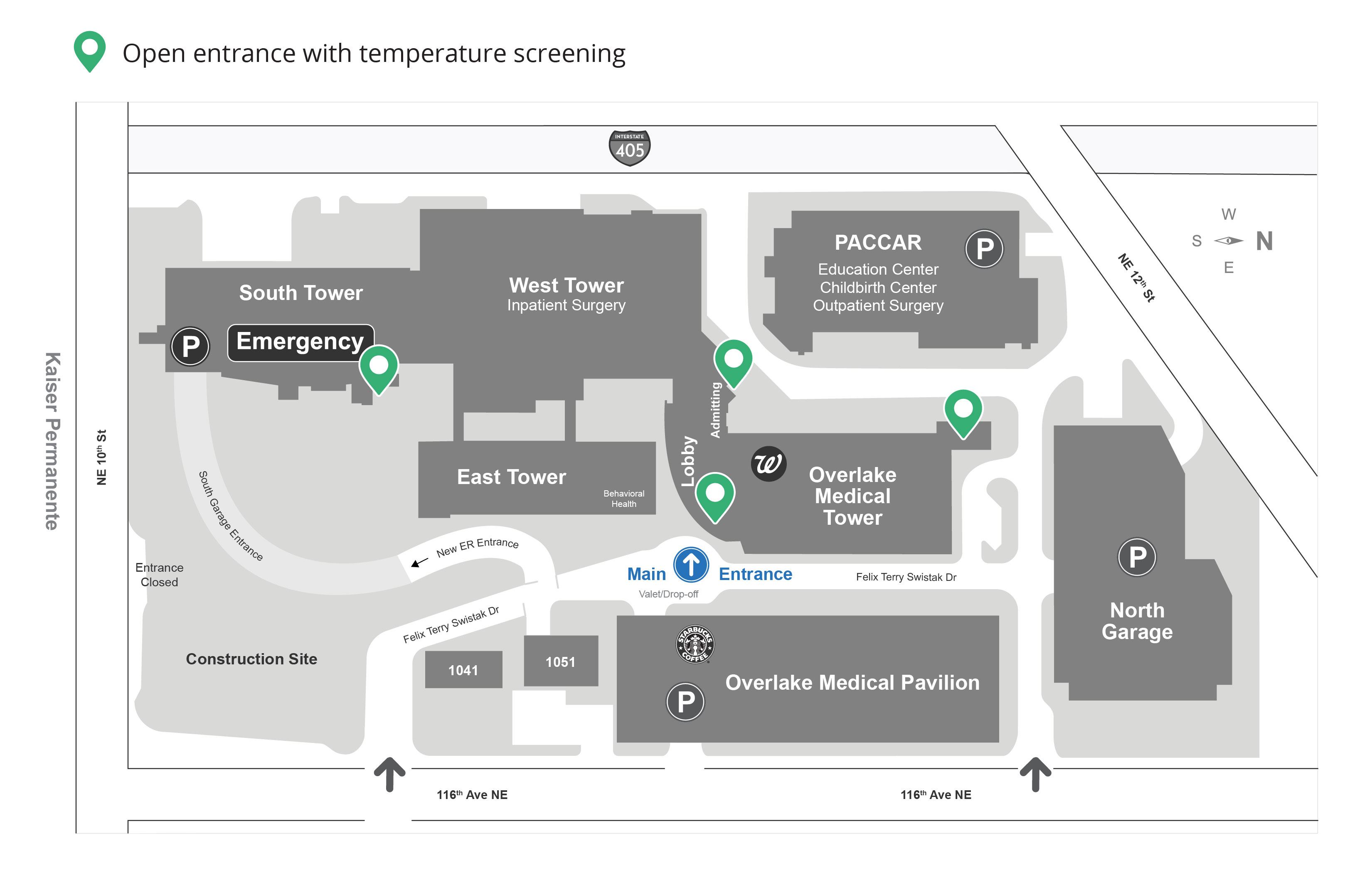 Thank you for your understanding and cooperation.