Where to Park
Access to the Overlake Medical Center campus in Bellevue is available from 116th Ave NE. Emergency Room access is available from NE 10th St. 
Main Hospital Campus:
Parking is available for patients and visitors in the Garage 3 (North Garage) or Garage 1 (South Garage).
Emergency Room: 
Access is available from NE 10th St.
Limited spaces in the short-term surface lot in front of the entrance to the Emergency Room are available for ER patients/companions.
Entry to underground parking in Garage 1 (South Garage) is available from the NE 10th St entrance.  
Childbirth Center: 
Parking is available for patients in Garage 1 (South Garage). 
If you feel birth is imminent, follow signs to the Emergency Room

 and park in the surface lot. Enter through the Emergency Department entrance and use the Building 1 public elevators on your right to access Level 2, where you will find Labor & Delivery.
Outpatient Surgery & PACCAR Education Center:
Parking is available for patients in Garage 4 (West Garage) located in the northwest corner of the hospital campus.
Valet Parking: 
The driveway at the main entrance is for valet parking and loading and unloading only. Please do not leave your vehicle unattended unless you are having your vehicle valet parked.
Garage Access & Rates
The parking garages are open 24 hours a day. Patients and visitors are issued a parking ticket at the garage entrances, which is used to calculate the time they have parked at Overlake.
Parking at Overlake garages is free up to 1.5 hours, while B5 parking is free for up to 1 hour.
The parking rates are as follows:
Up to 1.5 hours: Free
1.5–2 hours: $5
2–4 hours: $6
4–6 hours: $8
6–7 hours: $10
7–8 hours: $12
8–12 hours: $15
12–24 hours: $20
Valet Parking is available Monday–Friday for $7. Cars with a disabled parking placard may use valet parking for $2.
If you have any questions or need assistance, please call ABM parking services at Overlake (425) 688-5277.
PLEASE NOTE: The Overlake Medical Pavilion (Building 5, where Starbucks is located) is not owned by Overlake Medical Center and has different parking rules.
Campus Maps
The map below shows the main entry points onto the hospital campus. Upon arrival to campus, use the following map to navigate to your intended destination. Download a PDF of the campus map here.
Image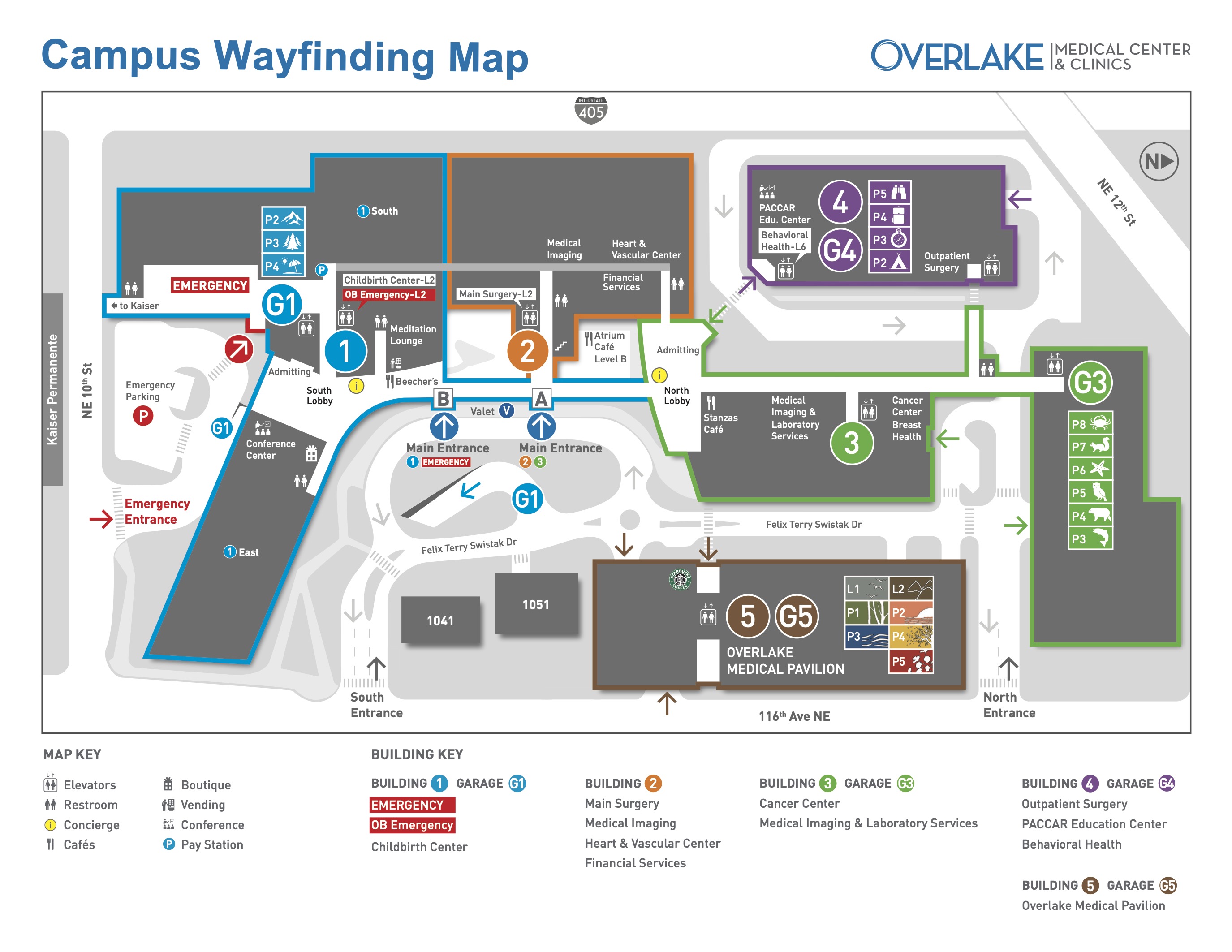 Inpatient Parking Permit
Each hospital inpatient is provided one 30-day parking permit upon request for Garage 3 (North Garage) or Garage 4 (West Garage) at a cost of $7. If requested, the parking permits are issued at the time of admission, but paid for the first time you leave either Garage 3 (North Garage) or Garage 4 (West Garage). The parking attendant will collect $7 and register your tag for the month.
These parking permits are not valid in Garage 1 (South Garage), which uses automated parking. Garage 1 (South Garage) parking validation is available only for Childbirth Center and emergency room patients with their accompanying families or companions.
Tobacco & Smoke-Free Campus
Thank you for not smoking or using any tobacco products on campus. Overlake Medical Center's goal is to improve the health and well-being of each person who visits our hospital campus and clinics. Overlake is a tobacco-free and smoke-free organization. This includes e-cigarettes and unregulated nicotine products.
Helpful Links
Garage 1 - Main Hospital Campus, Emergency Room, and Childbirth Center parking
Garage 3 - Main Hospital Campus parking
Garage 4 - Outpatient Surgery and PACCAR Education Center parking
Call ABM parking services at Overlake: (425) 688-5277