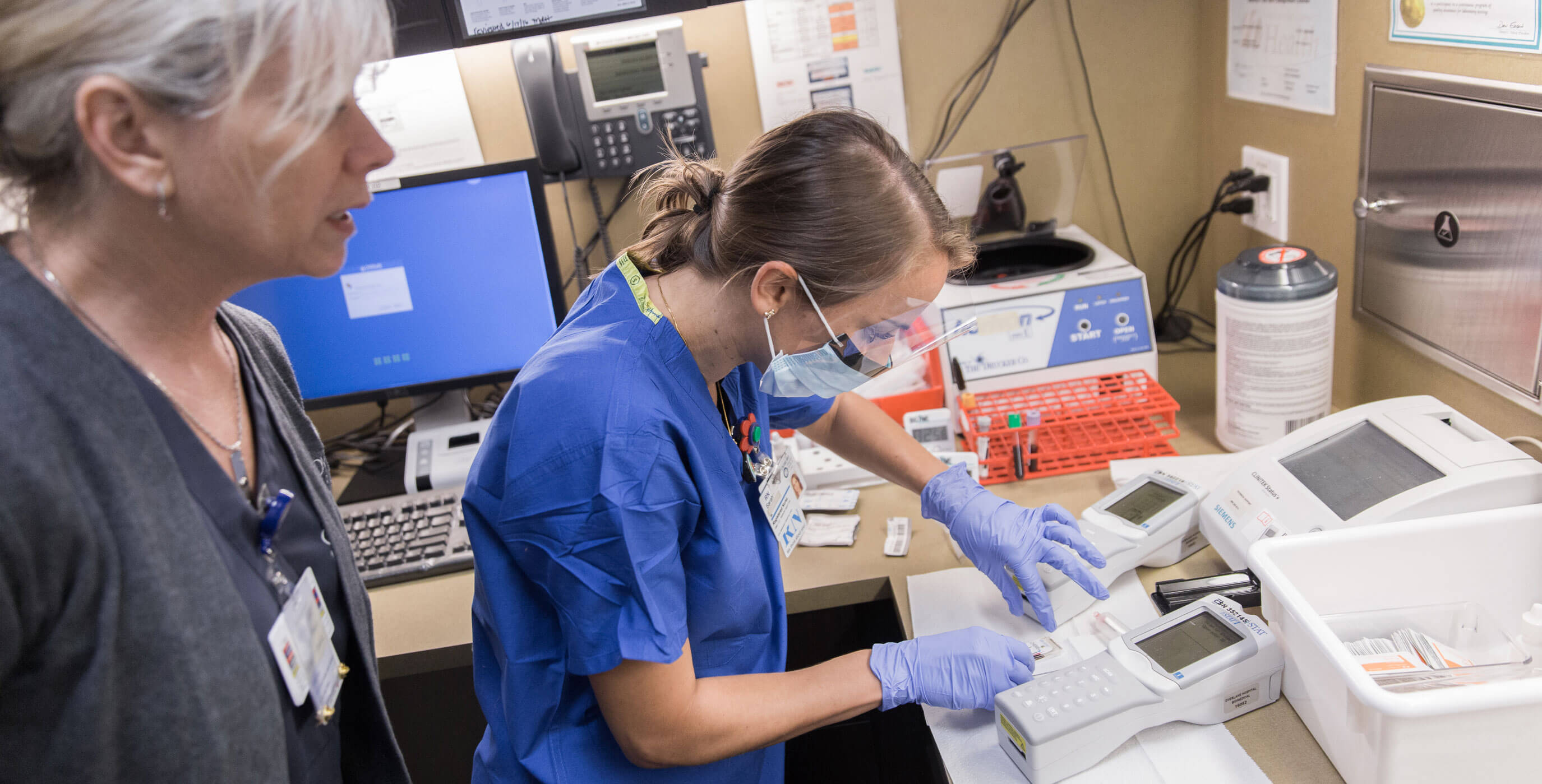 Our Pathology Services
We work closely with our medical staff peers to provide excellent clinical and anatomic pathology services to both hospitalized patients and outpatients.
Overview
Laboratory Services
The laboratory professionals at Overlake Medical Center work closely with the medical team to provide excellent clinical and anatomic pathology services to both hospitalized patients and outpatients. The laboratory is committed to meeting the ever-changing healthcare needs of our community through continual education, process improvement and adoption of new technologies. We view our role in community health and wellness as providing quality diagnostic services with efficiency and accuracy.
The laboratory provides comprehensive testing in the areas of chemistry, hematology, serology, microbiology and point of care. In addition to our onsite capabilities, we have established long-term associations with excellent secondary reference laboratories to provide esoteric testing in the areas of virology, toxicology, cytogenetics and molecular biology. The primary reference laboratory for Overlake hospital is LabCorp of America. LabCorp is also the primary provider of laboratory testing for the Overlake Medical Clinics. Please see the listings to the right for LabCorp patient service centers.
Anatomic Pathology
Anatomic Pathology
Overlake contracts with Incyte Diagnostics for pathology services. The pathologists are board-certified in clinical and anatomic pathology, including surgical pathology, cytopathology, fine needle aspiration biopsy and autopsy. Pathologists are available for consultation during regular business hours.
Main Hospital Laboratory
Main Hospital Laboratory
The hospital laboratory supports all inpatient departments for laboratory testing services including, outpatient surgery, inpatient surgery, heart room, emergency room, and all nursing units. After normal business hours when the outpatient service centers are closed, physicians may send patients with STAT or URGENT to the hospital laboratory for services. Please have patients check in at the admitting desk in the lobby to register prior to going to the laboratory.
Accreditation
Accreditation
Overlake Medical Center is fully accredited by the Joint Commission. To maintain our level of excellence, our laboratory subscribes to strict quality assurance programs and is accredited by the College of American Pathologists (CAP) and is CLIA (Clinical Laboratory Improvement Act) licensure is provided through the Washington State Department of Health, and phlebotomists are MA-PC licensed. Aside from fostering self-development and continuing education, our staff is required to complete competency testing each year to remain proficient in their field. Overlake's board-certified pathologists, certified medical technologists, medical laboratory technicians and laboratory assistants all contribute to a proud tradition of medical excellence.