Campaign FutureCare: New East Tower and Childbirth Center
A Gleaming New Tower Will Replace an Aging Building
The new five-story East Tower, currently under construction, will dramatically change the Overlake campus. The whole building has been designed around the patient's experience and will offer a healing environment full of natural light.
Take the Virtual Tour!
Overlake's Childbirth Center will occupy floors two and three of the new building. It will provide each new mom with a spacious room that will accommodate the family members and supportive friends she would like to have with her for her baby's arrival.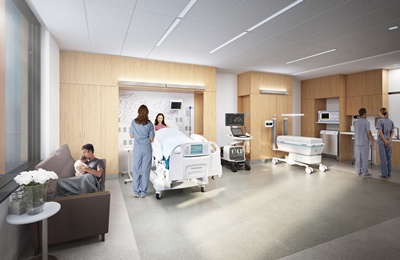 After the birth, moms and babies will stay in spacious rooms that are designed to keep them together in most circumstances.
Neonatal Intensive Care Unit (NICU)
The Childbirth Center will include a five-room NICU, which will keep babies needing more care close to mom. Several rooms will hold two beds, so that twins can be in the same room.
For babies needing more intensive care, our existing level III NICU can provide care for babies born as early as 26 weeks. All of our NICU facilities are staffed by expert doctors and experienced and dedicated nurses.

Foundation board member and local business owner Claire Sumadiwirya talks about her experience giving birth at Overlake.
Emergency Care
The Overlake Childbirth Center will include an obstetric emergency department with private rooms for pregnant women experiencing medical emergencies. Moms needing C-sections will also receive care in the Childbirth Center's emergency department, keeping labor and delivery rooms free.
Bed Rest Rooms
In some cases, women at high risk of pre-term birth need medically supervised bed rest. The Childbirth Center will include a dedicated area for these moms, keeping labor and delivery rooms free and providing a peaceful environment with the amenities needed for a longer hospital stay.
Space for Family
The days of dad in the waiting room with cigars are over. Not only do dads participate in the birth process, many other family members do as well. In the new Childbirth Center, the labor and delivery rooms and the mom and baby rooms have plenty of space for family and friends to visit. In fact, the space in all of the East Tower rooms has been designed in thirds: one-third for the patient, one-third for the doctors and nurses, and one-third for family.

Dr. Dave Knoepfler, Overlake's Chief Medical Officer, on the importance of the healing environment for patients. (Note: visitation is currently restricted due to COVID-19.)
Heart, Cancer and Orthopedic Floors
The fourth and fifth floors of the East Tower will house rooms for heart, cancer, and orthopedic patients. Because the East Tower will connect with the current South Tower, each of these care units will be located together on a single floor, connecting physicians, nurses, and care technology with the patients in a far more efficient way.
Neighborhoods of Care
Image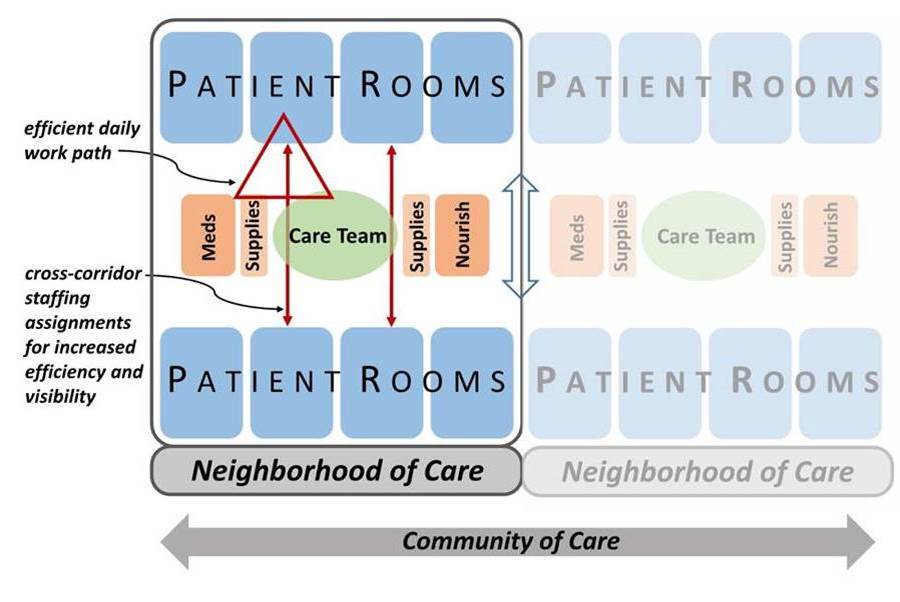 In addition, patient rooms in the new East Tower have been designed in a "neighborhood of care" configuration that places staff, equipment and supplies close to every room. Nurses will be able to see every patient assigned to them from the nursing station, rather than having to walk down a hallway to each patient's room to check on them.
The benefits and efficiencies of placing related services close together and placing nursing staff closer to patients are the driving forces behind the plan for the new East Tower. In addition, plans include occupational and physical therapy facilities on floors four and five for ease of access to therapies that are a critical part of the healing process.