Add a leaf to the tree to support the work of the Cancer Center.
Nearly everyone has been touched by cancer in some way, through their own diagnosis or that of a friend or loved one. The Tree of Hope, displayed on a central wall in Overlake's Cancer Center, represents our collective commitment to caring for our friends and neighbors.
Image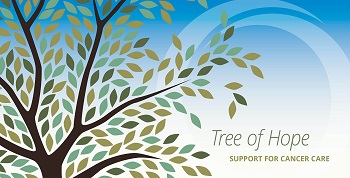 When you contribute a leaf, you are supporting: 
Personalized care centered around the patient.
Screening and diagnostics.
Patient navigation.
Advanced treatment.
Support services from diagnosis through survivorship.
How it Works
You select a donation level and let us know the name you would like to have inscribed on your leaf. It can be your own name; the name of a family member who has received cancer care at Overlake; the name of an Overlake doctor, nurse or other caregiver; or someone else you choose.
Your leaf will remain on the Tree of Hope inside the Cancer Center for at least a year after your donation.
To keep your leaf on the tree for another year, just renew your contribution. Tree of Hope gifts provide ongoing support for the Cancer Center's work.
Make Your Gift
The Tree of Hope represents compassion, love and the strength of our community. Together we built the Overlake Cancer Center and together we sustain it. Your gift today will help provide personalized, patient-centered care.