Birth Story: The Langenhop Family
November 25, 2020
Birth story submitted by the Langenhop family
"When we found out we were pregnant again, we had about a month of excitement before the COVID-19 pandemic shut the world down. Our anticipation turned into anxiety. At that point, we faced endless uncertainties, except for one: We would be delivering our second baby at the Overlake Childbirth Center. Due to our previous experience, we knew we would be receiving excellent care at a time it mattered most. 
"Before the birth of our first son in 2018, we had taken in-person childbirth and newborn care classes at Overlake. This time around, instead of the generic overview, we opted for a focused class: labor coping techniques. Our hope was to have an unmedicated birth experience. Due to the pandemic, we became the first virtual students for the class. Our instructor, Sara, was so attentive, interactive and engaging. We did not feel like we missed anything being virtual; in fact, in was nice to be in our living room for it.
"It was a late Sunday afternoon, and I had only been experiencing contractions for about an hour. By the time they became regular and closer together, I called Overlake's Labor & Delivery [L&D] phone number. The woman who answered was professional, positive and encouraged me to come on over to get checked out. By the time we arrived, my contractions had progressed to become stronger and closer together.
"I told my husband we were not letting them send us home that night. If they tried, I was going to walk a lap of the parking garage and go back in. I had heard stories from other moms that their hospitals sent them home, and they barely made it back in time to deliver baby. But this concern turned out to be invalid. The L&D triage nurse was gentle and professional. She hooked me up to a monitor, watched my contractions and made sure not to distract me, by waiting until I was in between them to help me move or ask me questions.
"A doctor came in to check on my progress and found that I was 5 cm dilated. Time to be admitted! The next few hours went by so quickly. Much of the timing and order is kind of a blur now, and I am so grateful that even in the middle of the pandemic, my husband was allowed with me every step of the way.
"I changed my clothes, got my first COVID-19 test and had a hep-lock inserted, just in case I needed an IV later. Sydney, my labor nurse, went over my birth plan with me between my further intensifying contractions. Her demeanor and encouragement made me feel like I was really in charge of my labor, with her as my support.
"As soon as our discussion was completed, I requested the labor tub be prepared. This is one of my favorite things about Overlake—the in-room jetted tub! I labored in the tub for a short period of time before I decided I needed to get out and get some stronger pain relief. One of the options on my birthing plan was medicated pain relief, but I made it clear I wanted to hold off as long as possible. Sydney was encouraging—she did not pressure me either way—but she reminded me what I had requested in my plan and offered to check me, so we would know how much progress I had made.
"We found I was already at 10 cm and, not only that, during my last couple contractions I felt increased pressure, like it would be time to push soon. Sydney called the on-call OB, knowing it would be time for me to deliver. She continued to support and encourage me through my next few contractions until the OB arrived. My waters still were intact, so when the doctor arrived and after a couple of pushes, our new son was in my arms.
"Overlake allowed us a beautiful Golden Hour, where I was able to hold our new baby skin-to-skin and get to know him. Then, Sydney helped me get up and prepare for our transition to the Mother-Baby Unit, while my husband watched the baby nurse weigh, measure and care for our new child in our room.
"In that time, I can't imagine receiving better emotional and medical support than what I got from Sydney. She quickly became close to our hearts, and I was a little sad to leave her to head over to the other wing. The level of care we received after never faltered. Each nurse was caring and attentive toward me and my baby. We were supported in the decisions we made for our son, such as delaying his first bath until we got home. When it came time for our discharge, the nurse allowed us to move at our own pace—we forgot how long it takes us to get out the door with a newborn! The staff made sure we were prepared for postpartum and newborn care, too. It helped our confidence to have a follow-up scheduled at the Mom & Baby Care Center, so we knew we weren't more than 24 hours away from additional care. 
"One of the biggest losses of the pandemic is our in-person community, and looking at the newborn stage without this, was incredibly daunting. After the birth of our first child, I attended the After Baby Comes 0–3 month group at the Mom & Baby Care Center each week. I cannot overstate what a difference it made in my mental health. Knowing I wouldn't be able to attend that class in-person gave me a lot of anxiety in the weeks leading up to giving birth. With the group still operating virtually, I've been able to attend without having to load up the car and go anywhere. The nurse facilitator, Lisa, is intentional about making sure everyone in attendance has a chance to ask questions and contribute to the discussion. While I miss the in-person classes and visiting with the other moms, I am so grateful the group still exists. 
"Obviously, I can't say enough good things about our care at Overlake before, during and after delivery. Returning for the birth of our second child was the best decision we could have made. Sara, Sydney and Lisa are imprinted on our hearts, but we think so highly of the entire staff at the Overlake Childbirth Center and Mom & Baby Care Center."
Image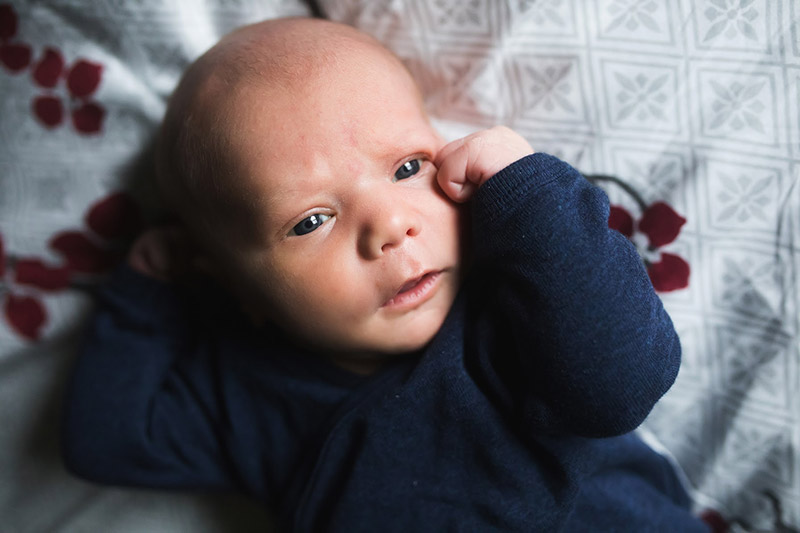 Image
Photography by Neyssa Lee Photography