Compassionate Care Proves Pelvic Prolapse is Nothing to be Embarrassed About
August 03, 2022
Image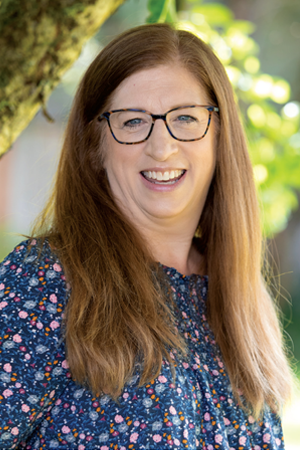 Today is a bright, sunny day in the Pacific Northwest and Julie Bigelow is giving visitors a tour of her immaculate yard. She is a picture of health—smiling and enthusiastic—and she has good reason to feel that way. It has been six weeks since she had surgery to repair her pelvic prolapse and she's excited to tell her story.
"I feel like I turned a corner last week," she says. Julie is now symptom-free and able to walk a mile each day, work in the garden and enjoy the outdoors with her husband, Mark.
In October 2021, Julie was contending with the uncomfortable symptoms of pelvic prolapse, a condition where pelvic organs shift out of their proper position. In Julie's case, as with many patients, the progression and symptoms of her prolapse progressed gradually over many years. Risk factors for prolapse include genetic collagen inheritance, vaginal childbirth, menopause, and chronic constipation, to name a few.
"It was never painful," Julie recalls. "It just felt different." Her internal medicine physician confirmed that she had pelvic prolapse and said it would continue to get worse and suggested Julie meet with a physical therapist.
The physical therapist taught her exercises to strengthen her pelvic floor but told her that although physical therapy is the solution for some patients, it wouldn't resolve the problem because of the location of Julie's prolapse. The therapist recommended that she make an appointment with Overlake urogynecologist Julie A. LaCombe, MD, FACOG.
Dr. LaCombe agreed with the therapist's assessment that although physical therapy can be beneficial in terms of symptom improvement, it was unlikely to "reverse" the prolapsed organs. After a thorough examination, Dr. LaCombe advised Julie that she had multiple options: to either take a "wait-and-see" approach over time, which many patients choose if their symptoms are mild; to use a pessary, a medical-grade silicone device to support the prolapse; or to consider corrective surgery.
"She never told me what I should do," Julie says. "Instead, Dr. LaCombe explained the options and let me make the decision. I chose surgery because I didn't want to live with the discomfort anymore and this was the best decision for me."
Laparoscopic pelvic organ prolapse surgery was performed using very small, specialized surgical instruments inserted through tiny incisions in Julie's abdomen. This allowed Dr. LaCombe to see and operate without having to use a long incision. This minimally invasive approach offers several advantages over a vaginal approach or traditional open surgery, including; shorter hospital stay, less pain and blood loss, and a faster recovery.
After the successful surgery, Julie went home from the hospital the next day. "At my last followup visit, Dr. LaCombe smiled and said, 'OK, I don't want to see you again,'" Julie laughs. "The surgery was a complete success and I'm so glad I had it.
"Dr. LaCombe and her staff were very compassionate and supportive. They took a situation that could have been awkward and made me feel very confident and cared for," Julie says. "My wish is that women with this condition will seek out the treatment they need and realize this is not anything they should be embarrassed about."
To learn more about the Pelvic Health Clinic, visit overlakehospital.org/pelvic-health or call 425.635.3450.