Expertise and Empathy: Overlake Stands Out for a Patient Seeking Complex Heart Surgery
January 31, 2023
Gene Heisler, 78, is more grateful than ever for his daily 3-mile walks in scenic West Seattle. While taking in views of the Seattle skyline and the towering Olympic Mountains, Gene recalls a time when long walks weren't an option.
Image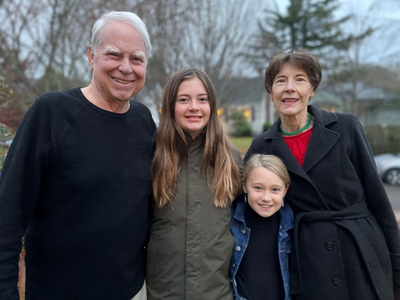 In October 2020, Gene experienced shortness of breath and severe swelling of his extremities and was rushed to the emergency room at a nearby Seattle hospital. The care team there discovered Gene had fluid overload caused by congestive heart failure (CHF). Gene stayed in the hospital, recuperating for almost two weeks. After discharge, he then spent many months recovering and receiving medical therapy. In 2021, Gene's physician recommended that he undergo open heart surgery for a condition called aortic insufficiency, which is life-threatening if left untreated.
"I knew this was a complicated and serious surgery, and I knew that I wanted a second opinion," Gene recalls. "I had heard that Overlake had a good reputation, so I went to Dr. David Nelson. "Although Dr. Nelson had the same opinion as the cardiac surgeon at the first hospital, I was especially impressed by how intensely he listened to my questions and concerns and answered each and every one of them thoroughly, in a manner that was easy to understand," Gene says.
This personalized care is at the heart of Overlake's award-winning Heart & Vascular program. "People do so much better if they understand what's going to happen, believe in the process and feel comfortable with you. You have to establish that right from the beginning," says David Nelson, MD, cardiothoracic surgeon and Medical Director of Overlake Clinics – Cardiothoracic Surgery. Gene echoes this sentiment, stating, "I had the strong feeling that Dr. Nelson really cared about me and would do his best to ensure a good surgical outcome."
Gene returned to Overlake to have open heart surgery, including an aortic valve replacement and aneurysm repair. Dr. Nelson says an open aortic valve replacement is a good option for those experiencing severe aortic insufficiency, which causes blood to leak backward through the valve instead of moving out to the rest of the body. During the surgery, Gene's leaking valve was replaced with a new valve. Additionally, the aneurysm was repaired using a synthetic graft.
Gene says his recovery and recuperation are going well, "I'm celebrating each and every day with my new, improved heart. I feel like I've been given a new lease on life, and I would especially like to thank Dr. Nelson and Physician Assistant Johnny Nguyen for their skill, kindness and empathy," says Gene. "Overall, I had a wonderful experience at Overlake."
To learn more about Overlake's innovative, personalized treatment for conditions affecting the heart, visit: overlakehospital.org/services/heart-vascular-care.
Image