Is it Postpartum Depression or Just a Case of the 'Baby Blues'?
September 11, 2023
Image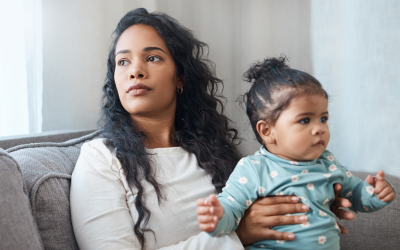 As many as three-quarters of new birthing parents experience the "baby blues"—a short-lived emotional response following birth that makes them feel more intensely emotional with increased tearfulness, irritability, restlessness, anxiety and elation. Postpartum depression differs from the baby blues in that the symptoms are more severe and last longer.
In the United States alone, roughly one in eight birthing parents experience postpartum depression symptoms, according to the U.S. Centers for Disease Control and Prevention. Although many who experience postpartum depression begin to feel its effects right after giving birth, symptoms can also occur as much as six or more months later.
Signs and symptoms
If you have several of the symptoms listed below for more than two weeks, contact your healthcare provider and ask to be screened for postpartum depression.
Symptoms vary from person to person, but may include:
Feeling sad, hopeless and helpless.

Experiencing a change in eating and sleeping patterns.

Crying for no apparent reason.

Worrying excessively about your baby, distance or a lack of interest in your baby, or doubting your ability to care for your baby.

Feeling more angry or irritable.

Feeling guilty or that you are a burden.

Withdrawing from your loved ones.

Having thoughts of harming your child or yourself.
Risk factors
People with the following risk factors are more likely to develop postpartum depression:
Previous depression or other mental health issues.

Family history of depression or other psychiatric issues.

Lack of support from family and friends.

Financial or relationship problems.

Prior loss or traumatic experiences (including traumatic birth or

Neonatal Intensive Care Unit (NICU)

 stay).
Getting help