Mending Broken Hearts: Overlake Team Celebrates 1000th TAVR Procedure
May 08, 2023
Image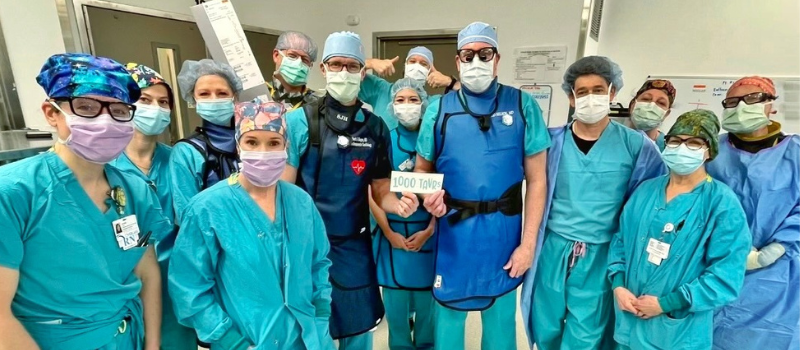 In the fall of 2013, Overlake Medical Center launched the Transcatheter Aortic Valve Replacement (TAVR) program to help high-risk patients suffering from aortic stenosis. During this minimally invasive procedure, doctors use a long tube called a catheter to guide instruments and the new valves through the artery and into the heart.
"Before TAVR, patients diagnosed with severe symptomatic aortic stenosis who were not surgical candidates because of diminished health, experienced a mortality rate as high as 50% at two years," says Scott Haugen, MD, Medical Director of the Structural Heart program. "Providing TAVR to these patients not only extends patients' lives, the procedure also improves the quality of their lives."
In May 2023, the Overlake team celebrated a milestone after completing their 1,000th TAVR procedure. For 10 years, this procedure has given many patients new hope and has vastly improved the ability of their hearts to function.
Overlake's very first TAVR patient, Stanton (Stan) Brandt, joined virtually to celebrate the 1,000-mark achievement.
"I feel blessed to have been guided to the doctors I had, and the nurses, and everyone involved with the procedure," says Stan, who recently celebrated his 99th birthday.
Image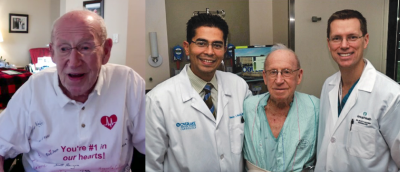 Left: Stan, pictured at the virtual celebration, wears the t-shirt given to him at his first office visit and signed by his Overlake surgery team, which reads, "You're #1 in our hearts!" Right: Stan photographed before surgery in 2013 with Ronnier (Ron) J. Aviles, MD, Program Director of Cardiac Services (left) and Scott Haugen, MD, Medical Director of the Structural Heart program (right).
To learn more about the TAVR procedure and the exceptional care delivered at Overlake Medical Center's Structural Heart service, visit overlakehospital.org/tavr.