Overlake NICU Provides Exceptional Care for the Tiniest Patients
February 14, 2023
Jyotsna's second pregnancy was uneventful at 24-weeks. Two days earlier at the check-in with her obstetrician, she was assured that the pregnancy was proceeding as expected. Then, suddenly, everything changed.
Image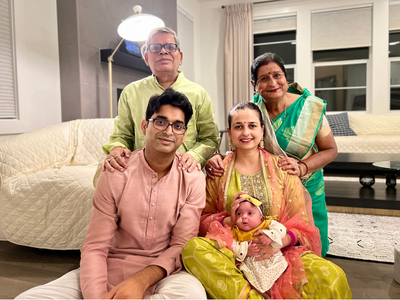 "It was mid-morning and I was in my kitchen, relaxing with a glass of water," Jyotsna recalls. "My husband Ujjwal had taken our son Vihaan to his daycare near our home. All of a sudden, I realized that something was very wrong. I ran to the bathroom and got there just as my water broke. 
"There hadn't been any symptoms or signs before it happened," she says. "I was in shock."
Ujjwal immediately drove her to the Overlake Childbirth Center, where tiny Vamika was delivered. She weighed only 1 pound, 6 ounces. "We didn't know much about caring for a premature baby and were so thankful that we were at Overlake so she didn't need to be transferred to another hospital," Jyotsna remembers.
Vamika was admitted to Overlake's Level III Neonatal Intensive Care Unit (NICU). The Overlake NICU team has the Level III designation because they are skilled at treating even the tiniest babies; babies like Vamika, who are born at 24-weeks of gestational age, when the lungs, heart and brain are not yet developed sufficiently for life outside of the womb.
To support Vamika during her four-month stay, the NICU nurses taught Jyotsna the importance of providing skin-to-skin care daily, holding tiny Vamika against her chest to comfort her. Skin-to-skin care has been shown to help babies sleep and eat better and results in higher oxygen levels and weight gain. "Every day, my husband or I went to the NICU to hold Vamika," Jyotsna says. "The nurses were so supportive and took the time to address all of our questions and concerns."
A life-saving treatment known as surfactant replacement therapy was given through a breathing tube, which helped coat Vamika's lungs and improve pulmonary function. Because she didn't have the strength to suck, Vamika received nourishment through a thin tube, known as a nasogastric tube, which is threaded through her nose, down the back of her throat to her stomach, delivering the breast milk Jyotsna pumped each day.
"The nurses were so encouraging when I came to pump," Jyotsna remembers. "They made our journey less stressful. They took such good care of Vamika, we felt very assured when we left each day to take care of our son, who was 3 years old at the time. We knew she was in the best hands."
Finally, four months after admission, it was time to take their baby home. The only holdup was that someone at home needed to have the confidence to insert the nasogastric tube for daily feeding, which Jyotsna found intimidating. "Thankfully, the nurses patiently worked with Ujjwal, teaching him how to insert the feeding tube, and we were able to take her home.
"A month has gone by and she is able to eat without the tube. She's a big baby now," Jyotsna adds with a laugh. "She weighs 10 pounds, 11 ounces; 10 times more than she did at birth.
"Her big brother, Vihaan, loves her, and we're so glad to have her home with us. Thank you, Overlake NICU."
To learn more about the award-winning Overlake Childbirth Center, visit: overlakehospital.org/services/childbirth-center.
Image