Recipe: Basil Spinach Pesto
November 02, 2023
Image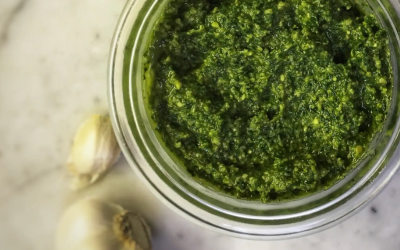 Pesto is a delicious and simple way to increase your intake of leafy greens, without even noticing you're eating them. It's delicious, mixed with your favorite pasta, dolloped on roasted vegetables, or thinned out with olive oil and tossed with a salad. This pesto recipe in particular is great because it includes spinach, which adds another leafy green to your daily intake, mixes right into the flavor of the pesto, and keeps the pesto looking extra green. Cheese is omitted from this recipe, making it a great choice if you're dairy-free or simply looking to reduce your cheese intake. 
The health benefits of pesto don't stop with the leafy greens. The health benefits of garlic are also vast. Garlic promotes heart health, gut health and metabolic health. The walnuts, pine nuts and extra virgin olive oil provide brain-healthy fats. 
Ingredients:
¼ cup raw walnuts.

¼ cup pine nuts.

6

–

8 garlic cloves.

4 cups fresh basil leaves, packed.

½ cup spinach leaves, packed

.

½ tsp sea salt.

Black pepper to taste.

½ cup extra virgin olive oil.
 Directions:
Wash the basil and dry it thoroughly.

Place the walnuts, pine nuts and garlic into a food processor and process for 30 seconds.

Add the basil leaves, spinach, salt, and pepper and continue to process for 20 seconds.

Pour in olive oil slowly through the mouth of the food processor and continue to process

 until finely pureed.

Serve immediately or store for later use.
Serves twelve; serving size is 2 tbsp. Each serving provides: 117 calories, 12 g fat (1.5 g saturated fat, 0 g trans fat), 0 mg cholesterol, 100 mg sodium, 1.5 g carbohydrates, 0 g sugar, .5 g fiber, 1 g protein.
Join us to learn actionable changes that you can make to your diet and lifestyle to improve your health, reduce your risk of common diseases and start on a journey to feeling your very best! Sign up today for Overlake's FREE nutrition class lead by a functional nutritionist and an Overlake internal medicine physician.