Image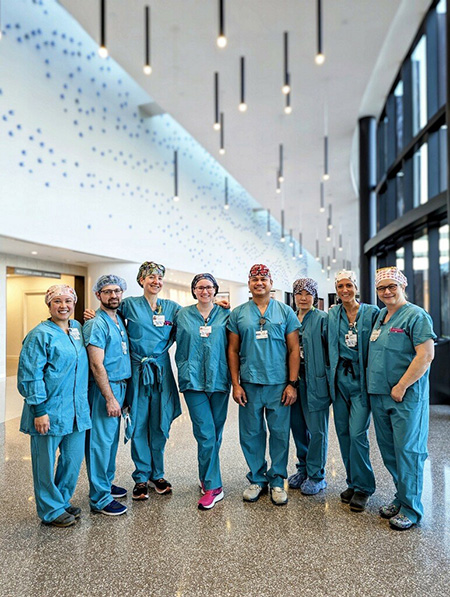 Upcoming RN Transition Program Dates
May 15, 2023

July 31, 2023

October 23, 2023
About the Program
Are you looking to expand your knowledge and experience in a new specialty or transition to acute care?
Overlake recognizes that continued professional development of our nursing workforce fosters our culture of excellence by providing an environment that promotes lifelong learning, growth and development. We encourage experienced nurses to explore their interests in a variety of nursing specialties through our Overlake Medical Center Transition RN program. This program is designed for experienced (minimum of one year of RN experience) nurses interested in moving to a new specialty area.
The Transition RN program is based on best practices and evidence-based education and will include a blend of online learning and instructor led courses; 1:1 clinical precepting by an experienced RN; focused sessions with an Education Specialist to enhance learning and clinical reasoning in your new area of practice.
During the program, you will work a .9 FTE. After completing the precepted portion of the program, your FTE and shift will be based on available positions, with a high probability of .9 FTE night shift.
Specialties currently available for transition in specialty:
Critical Care (one year of cardiac telemetry experience required)

Emergency

Labor & Delivery

NICU (Neonatal Intensive Care Unit)

Post-Partum

Cardiac Interventional Telemetry (E4)

Cardiac Stroke Telemetry (S4)
Specialties currently available for new to acute care:
Medical

Orthopedic

General Surgical

Cardiac Interventional Telemetry

Cardiac Stroke Telemetry
Qualifications
Graduate of an accredited school of Registered Nursing

Current WA state RN license required.

Healthcare provider BLS/CPR certifications

1+ years RN experience

Excellent customer service and communication skills

.
*Please include your resume and cover letter with area of interest.
To learn more, contact Amie Jordan Sessum, Sr. Recruiter, at 425.688.5470 or amiejo.sessum@overlakehospital.org.