Overlake Medical Center Raises $1.1 Million at Annual Bandage Ball
April 25, 2017
Bellevue, Wash. – Overlake Medical Center Foundation & Auxiliaries hosted its annual Bandage Ball auction on Saturday, April 22, at the Hyatt Regency Bellevue, raising $1.1 million to support the Overlake Neuroscience Institute. The Institute opened its doors last year to bring diagnosis, treatment and follow-up care for a range of diseases of the brain and spine under a single roof.   
J. Michael Marsh, Overlake's President and CEO, said, "The Bandage Ball supports everything from allowing our neuroscience team to participate in vital clinical research, to recruitment of specialists in epilepsy and stroke, to adding more state-of-the-art equipment to make brain surgery more effective and less invasive. We are grateful the community comes out full force to support Overlake."
One of the Eastside's premier social events, over 800 community leaders and party goers came together for this year's gala, including Seahawks linebacker K.J. Wright, who auctioned off Seahawks packages and signed footballs. First held in 1960 to celebrate the opening of Overlake Hospital, the Bandage Ball has raised millions of dollars over the years. The proceeds from last year's event went to support Overlake's nurses.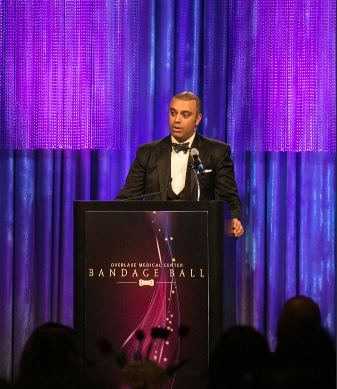 "The night could not have been such a huge success without this year's generous donors, sponsors, patrons and volunteers. We are so thankful for their support," said Molly Stearns, Overlake Foundation's Chief Development Officer. "We are honored to support the new Neuroscience Institute—an amazing team who are pioneering treatments that involve the latest technologies and working to make diagnosis and treatment as seamless as possible for patients."
Visit this link to view or download more photos from the event.