Overlake Medical Center & Clinics becomes first Western Washington hospital honored for hepatitis B vaccine birth dose rate
April 24, 2020
Bellevue, Wash. – Overlake Medical Center & Clinics has been recognized by the Immunization Action Coalition (IAC) and Seattle & King County Public Health for achieving one of the highest reported vaccination rates in the state for its work to protect newborns from hepatitis B. 
"Since there is no cure for the hepatitis B infection, prevention as a strategy is key, especially for one of the most vulnerable populations we care for at Overlake, babies!" explained Margie Bridges, RNC-OB, DNP perinatal clinical nurse specialist with Overlake. "We know transmission of hepatitis B can happen from mother to baby at birth. It is a serious threat to a healthy start and lifelong health. The virus can attack the newborn liver and lead to life-threatening complications and even death. It is more contagious than HIV or hepatitis C."
IAC's Birth Dose Honor Roll recognizes hospitals and birthing centers that have attained high coverage levels for vaccinating children against hepatitis B at birth. Overlake Medical Center has immunized 90% of babies from Jan. 1, 2019 to Dec. 31, 2019, and took additional steps to prevent perinatal transmission of hepatitis B.  
Overlake's goal is to provide the hepatitis B vaccination for all medically stable newborns who weigh at least 2000 grams (about 4.5 lbs.) within 24 hours and before discharge. If the vaccine is given within the 24 hour window of birth it is 75 to 95% effective in preventing transmission.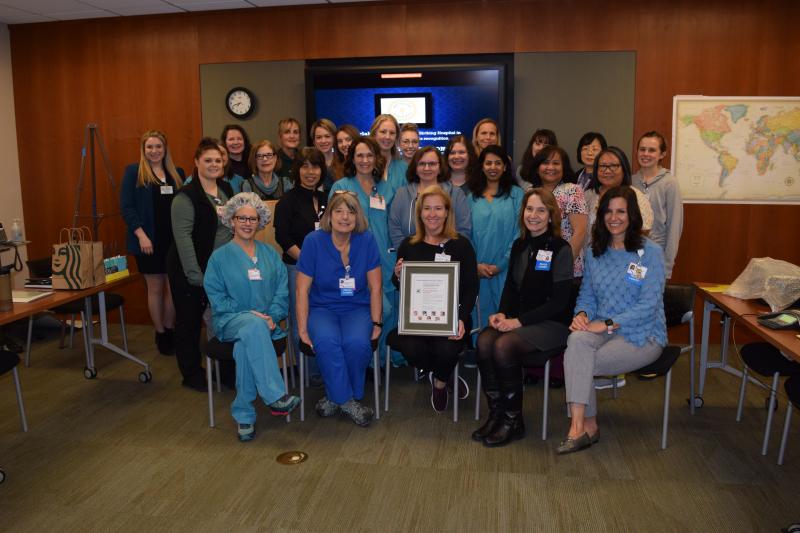 Click here for the criteria and extra steps taken to achieve high coverage rates.
"Hospitals and birthing centers have a responsibility to protect babies from life-threatening hepatitis B infection," said Deborah Wexler, MD, executive director and founder of the IAC. "Overlake Medical Center & Clinics' commitment to the best practice of hepatitis B vaccination at birth has shown them to be a leader in preventing the transmission of the hepatitis B virus."
"I am proud of our entire team who work passionately to provide compassionate care and evidenced-based education to ensure our tiniest patients are protected," says Sandy Salmon, RN, MSN, IBCLE, Director of Women and Infant Services at Overlake.
The national standard of care to prevent the infection in babies is to administer a hepatitis B vaccine to newborns before they leave the hospital or birthing center. The CDC set a national goal in 2017 to increase the percentage of infants who receive a hepatitis B vaccine within three days of birth to 85%. 
More on the CDC's National Progress Report 2020 Goal.
Overlake will celebrate the opening of its new childbirth center later this year. As part of Overlake's Project FutureCare, the new state-of-the-art childbirth center will feature spacious rooms and privacy for family and visitors on two floors of the new East Tower.