Overlake Medical Center named Best Hospital for Maternity by U.S. News & World Report
December 14, 2021
Image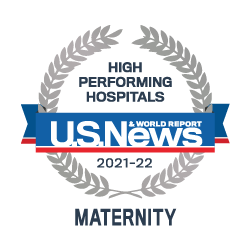 Bellevue, WA – Overlake Medical Center & Clinics today announced it has been recognized as High Performing in Maternity Care (Uncomplicated Pregnancy) by U.S. News & World Report in its new list of Best Hospitals for Maternity. Overlake is the only hospital in Washington state to earn this distinction.
To be recognized among the Best Hospitals for Maternity, hospitals had to excel on multiple quality metrics that matter to expectant families, including complication rates, C-sections, whether births were scheduled too early in pregnancy, and how successfully each hospital supported breastfeeding. Out of 2,700 hospitals nationwide that offer maternity services, U.S. News identified 237 that earned a high performing recognition.
"All families deserve to be informed on how hospitals perform on key indicators of quality, which is why U.S. News has compiled and published a trove of maternal health data from hospitals across the country," says Ben Harder, managing editor and chief of health analysis at U.S. News & World Report. "The hospitals we've recognized as High Performing meet a high standard in caring for patients with uncomplicated pregnancies."
Overlake earned a High Performing rating in Best Hospitals for Maternity, which is the highest rating U.S. News awards for this type of care.
"The team at the Overlake Childbirth Center has worked tirelessly over the last several years to become the premier destination in the Pacific Northwest to deliver a baby. We have tackled quality initiatives that have lowered our C-Section rate, lowered our episiotomy rate, supported mothers with breastfeeding, and so much more," says Kristin Graham, MD, medical director of Women's and Infants' Services at Overlake. "This recognition validates what I already knew: Overlake truly has an incredible healthcare team and a beautiful new facility and is ready to provide compassionate care to expectant families in our community."
The evaluation looks at hospital data relating to only uncomplicated pregnancies. Participating hospitals responded to a survey from the U.S. News health analysis team in spring of 2021, which reflects data from 2019. Participation was voluntary. U.S. News anticipates updating Best Hospitals for Maternity in summer 2022, to coincide with the release of the 2022–2023 Best Hospitals for Procedures & Conditions ratings.
Overlake Medical Centers & Clinics - Media Relations