Overlake Medical Center & Clinics receives 'A" grade for Safety from Leapfrog Group.
May 10, 2022
Image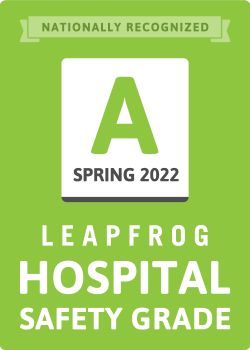 Overlake Medical Center & Clinics today received an "A" Leapfrog Hospital Safety Grade for spring 2022. This national distinction recognizes Overlake's achievements in protecting patients from preventable harm and potential errors in the hospital.
"We are honored to once again receive this distinction," said J. Michael Marsh, President and CEO of Overlake Medical Center & Clinics. "At Overlake, we pride ourselves on the measures we take to promote the best care for our patients. The 'A' rating from Leapfrog is a testament to all team members' dedication to provide safe, compassionate care to our patients."
The Leapfrog Group, an independent national watchdog organization, assigns an "A," "B," "C," "D" or "F" grade to general hospitals across the country based on over 30 national performance measures reflecting errors, accidents, injuries and infections, as well as systems hospitals have in place to prevent harm.
This industry benchmark is widely regarded as a standard of excellence. The Leapfrog Group assesses health systems' commitment to patient safety and success in preventing harm. Overlake has achieved nearly unparalleled performance for this distinction, with repeated, consecutive top "A" rankings from Leapfrog.
"As our healthcare system continues to feel the strain of the pandemic, I thank the workforce and leadership of Overlake Medical Center & Clinics for sustained commitment to patient safety, day in and day out," said Leah Binder, president and CEO of The Leapfrog Group. "An 'A' Safety Grade is an outstanding achievement and one that is not possible without a 24/7 effort by the entire healthcare workforce to protect patients from harm. This community should be proud."
To learn more about Leapfrog's full report, visit hospitalsafetygrade.org.