Overlake Medical Center honored as a Best Maternity Hospital by Newsweek
May 23, 2022
Image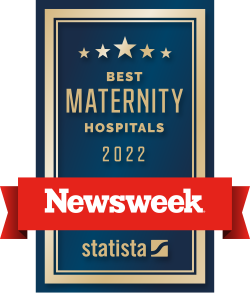 Overlake Medical Center has been named a Best Maternity Hospital in the nation by Newsweek magazine. This prestigious award is presented by Newsweek and Statista Inc., the world-leading statistics portal and industry ranking provider.
"Overlake is extremely honored to be recognized by Newsweek for our exemplary maternity care," said Sandy Salmon, Director of Women's and Infant Services at Overlake. "Our Childbirth Center staff is dedicated to providing the best possible birth experience for every family that walks through our doors. This award validates all their hard work and efforts to become the premier destination to give birth in the Pacific Northwest."
Overlake earned a five-ribbon ranking – the highest designation possible and achieved by only 161 hospitals nationwide. In Washington state, Overlake is one of only three hospitals to receive the five-ribbon ranking.
Newsweek and Statista developed a complex methodology to ensure the quality and validity of the ranking. Three data sources were used for the evaluation:
Nationwide online survey of hospital managers and healthcare professionals with knowledge about maternity processes. Midwives, neonatologists and OB/GYNs were asked to recommend leading maternity hospitals in the US.
Medical key performance indicators on hospitals with a focus on indicators relevant to maternity care.
Results from patient surveys.