Overlake Medical Center & Clinics named a best regional hospital by U.S. News & World Report
July 26, 2022
Image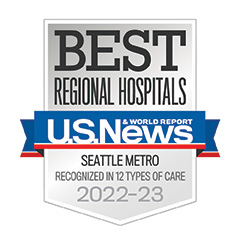 Overlake is delighted to announce that it has been recognized by US News & World Report in the Best Hospitals 2022-23 rankings, naming Overlake Medical Center & Clinics among a distinct 12% that won "Best Regional Hospital" honors for the nation. This honor was achieved by rating "High Performing" in 12 adult procedures and conditions, including:
Back Surgery

Colon Cancer Surgery

COPD

Diabetes

Heart Attack

Heart Bypass Surgery

Heart Failure

Hip Replacement

Kidney Disease

Knee Replacement

Pneumonia

Stroke
Of the more than 4,500 hospitals that underwent the US News & World Report's rigorous analysis, fewer than half earned a single High Performing rating.
"We are proud to have Overlake honored as a top hospital," says J. Michael Marsh, Overlake president and CEO. "This recognition is a testament to staff members' experience, skill and dedication to deliver safe, compassionate care to our community. I'm grateful to our team for their enduring commitment."
"For patients considering their options for where to get care, the Best Hospitals rankings are designed to help them and their medical professionals identify hospitals that excel in the kind of care they may need," says Ben Harder, chief of health analysis and managing editor at U.S. News.