Overlake Medical Center & Clinics recognized for gynecologic and bariatric surgery excellence by Healthgrades
August 10, 2022
Overlake is the only hospital in Washington state to achieve Healthgrades' Gynecologic Surgery Excellence Award in 2022 and Bariatric Surgery Excellence Award in 2022.
Overlake Medical Center & Clinics again was among the top 5% of hospitals in the nation evaluated by Healthgrades for Gynecologic Surgery excellence. Overlake has achieved this top honor five years in a row (2018–2022).
Image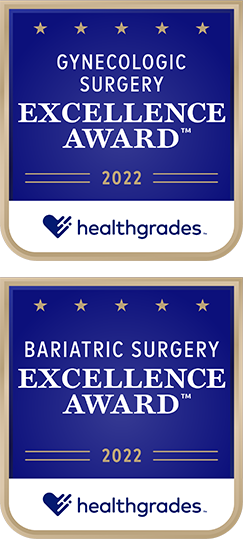 Overlake was also among the top 10% of hospitals evaluated by Healthgrades for Bariatric Surgery in 2022. 
"These awards reflect the Overlake team's dedication to providing the highest quality, safest care to our patients," says J. Michael Marsh, Overlake president and CEO. "We are proud and honored to be the only hospital in the state to receive recognition this year by Healthgrades for these specialty areas."
Healthgrades Specialty Excellence Awards recognize hospitals with superior performance in specific specialty lines and specialty focus areas.
 "We want to provide information to make finding a healthcare specialist an easier experience for consumers. Patients can feel confident knowing that hospitals that are recognized for their performance in these specialties provide high-quality care and superior outcomes," said Brad Bowman, MD, Chief Medical Officer and Head of Data Science, Healthgrades.
For its analysis, Healthgrades evaluated approximately 45 million Medicare inpatient records for nearly 4,500 short-term acute care hospitals nationwide to assess hospital performance in 31 common conditions and procedures and evaluated outcomes in appendectomy and bariatric surgery using all-payer data provided by 16 states. Healthgrades recognizes a hospital's quality achievements for cohort-specific performance, specialty area performance, and overall clinical quality. Individual procedure or condition cohorts are designated as 5-star (statistically significantly better than expected), 3-star (not statistically different from expected), and 1-star (statistically significantly worse than expected).