Overlake Medical Center Again Named a Best Hospital for Maternity by U.S. News & World Report
December 06, 2022
Image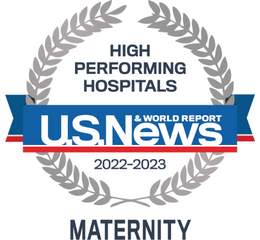 U.S. News & World Report, the global authority in hospital rankings and consumer advice, has once again named Overlake Medical Center & Clinics a High Performing hospital for Maternity Care (Uncomplicated Pregnancy). This is the highest award a hospital can earn for U.S. News' Best Hospitals for Maternity Care and the second year in a row that Overlake has received this honor.
The annual evaluation is designed to help expectant parents and their physicians make informed decisions about where to receive maternity care.
U.S. News evaluated nearly 650 hospitals that provide labor and delivery services and submitted detailed data to the publication for analysis. Fewer than 300 hospitals received a High Performing designation.
"This designation is testament to the hard work of all Overlake Childbirth Center team members to ensure Overlake is the premier destination in the Pacific Northwest to deliver a baby," says Sandy Salmon, RN, Director of Women's and Infants' Services.
Overlake's new childbirth center offers a warm, comfortable environment while also providing the most advanced technology for those who require more complex care. The obstetrics providers who deliver at Overlake are some of the most experienced and respected in the region. 
"This recognition shines a light on Overlake's quality efforts and achievements, such as lowering the hospital's C-section rate, lowering our episiotomy rate and supporting mothers with breastfeeding and skin-to-skin contact with baby with after delivery," Salmon explains. "Our commitment to quality and safety has never been higher. We want the experience of every parent who delivers at Overlake to be safe, healthy and happy."
This year's methodology includes four measures not previously factored into Best Hospitals for Maternity Care, including episiotomy rates, vaginal birth after cesarean (VBAC) rates, and whether each hospital met new federal criteria for "birthing-friendly" practices. Also new this year, the U.S. News methodology rewards hospitals that tracked and reported their outcomes for patients of different races and ethnicities.
"Identifying racial disparities in maternity care is a vital step toward achieving health equity," says Min Hee Seo, senior health data scientist at U.S. News.
For more information about the U.S. News & World Report award, visit Best Hospitals for Maternity Care. Visit overlake.org/childbirth to learn more about Overlake's award-winning childbirth center.