Overlake Completes Project FutureCare, the Largest Campus Renewal Project in its History
January 27, 2023
With the opening of its gleaming new concourse-style main entry, Overlake Medical Center & Clinics is celebrating the completion of Project FutureCare, the largest campus renewal project in its history.
Image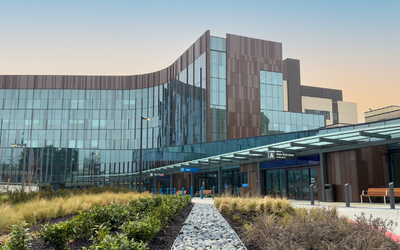 "Project FutureCare is an investment in the growing Eastside community," says J. Michael Marsh, Overlake president and CEO. "What started in 2016 as an ambitious concept to transform our care environment has today become a reality. But this project is more than about new buildings. It's about enhancing the work of Overlake's highly skilled medical providers and teams so they may continue providing exceptional, compassionate care to every patient and family member who walks through our doors."
The cornerstone of the six-year project is the 240,000 square-foot tower that opened in February 2021 with its welcoming, state-of-the-art Childbirth Center. Project FutureCare also includes a new inpatient behavioral health unit that opened in November 2021 and two new, remodeled cardiac operating room (OR) suites.
The design of Project FutureCare is based on an "urban-to-trail" architectural design concept, reflecting the natural beauty of the Pacific Northwest environment in an advanced, modern medical facility. The new connector opening today offers a circular, drop-off entry. Enhanced pedestrian access and added park-like landscaping welcomes patients and visitors. From childbirth services to surgery to behavioral health, Project FutureCare ensures Overlake will continue to set the standard for overall healthcare excellence.
Image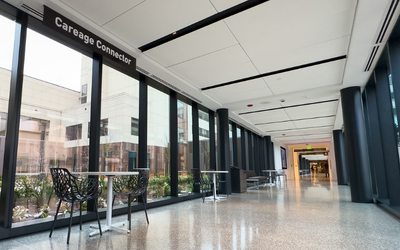 Roughly 20%, $55 million, of Project FutureCare's total cost has been funded by private and community contributions.
"Overlake has such a strong history of community support dating back to its very founding," says Molly Stearns, Overlake chief development officer. "We thank the many generous individuals and foundations who continue to ensure exceptional healthcare remains close to home."
As a not-for-profit hospital governed by a volunteer board of trustees, Overlake invested in cash reserves in Project FutureCare equal to roughly 23% of the project's total cost, with about 57% of the remaining cost funded by tax-exempt bonds.
The Project FutureCare project team includes NBBJ architectural firm, GLY Construction and Bonewitz Project Management.
For more information, visit Project FutureCare. To view our updated campus wayfinding map, click here.