Overlake Medical Center & Clinics named Becker's 150 Top Places to Work
March 23, 2023
Overlake Medical Center & Clinics is delighted to share that the health system is featured in Becker's Hospital Review's 2023 list of 150 top places to work in healthcare.
Image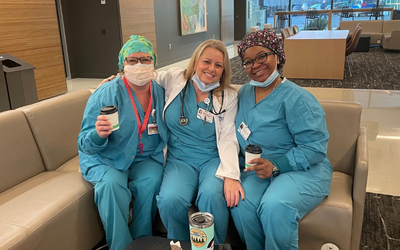 This list highlights hospitals, health systems and healthcare organizations that invest in their employees' wellbeing, satisfaction and fulfillment. Overlake is one of only four hospitals in Washington state to be named on the list.
"The organizations highlighted on this list provide comprehensive benefits packages, opportunities for professional development, inclusive work environments and the flexibility needed for a true work-life balance," states Becker's. "These honorees prove that when employees' needs and desires are met, the entire organization is better for it—they are able to make a greater impact on the lives of patients."
"It's an honor to be named on this list because it demonstrates how highly we value our employees and their voice," says Lisa Morten, Chief People Officer. "Being named on this list highlights our efforts to create a more inclusive workplace and celebrate the rich diversity of our workforce and community."
See 150 top places to work in healthcare | 2023 for the full list.