Bandage Ball Rolls Back to In-Person Celebration
April 05, 2023
When Beth McCaw's mother makes the short drive from her Eastside home to Overlake Medical Center each month for cancer treatment, a valet promptly parks her car and a volunteer greets her warmly, ensuring she gets to where she needs to go. She receives all her required services in one area of the hospital, saving her from having to walk around the medical center at a time when such conveniences are especially appreciated.
The availability of local top-quality care and Overlake's emphasis on the personal touch are reasons McCaw and her husband Yahn Bernier volunteered to co-chair this year's Bandage Ball, Overlake's largest annual fundraiser.
Image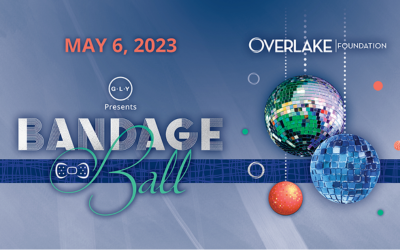 The event will be held in person for the first time since 2019. It takes place Saturday, May 6, with the reception at 5:30 p.m., followed by the dinner, program, live auction and "raise the paddle" at 7 p.m. To close out the evening, guests will be treated to an after-party and live DJ. The event will continue its run at the Hyatt Regency Bellevue, 900 Bellevue Way NE, Bellevue. Bandage Ball is presented by GLY.
Launched in 1960 to celebrate the medical center's opening, the Bandage Ball has garnered over $6 million in the past six years. Monies raised this year will go toward programs and services essential for medical excellence, including professional development and educational opportunities for front-line staff; community preventive health programs; financial assistance to low-income patients; strengthening online functions and services for easier access; and others.
"Overlake is a true community non-profit medical center of the highest quality, dedicated to investing in its staff and serving patients and their families," McCaw says.
Her mother is receiving care at Overlake, which enables people on the Eastside to obtain nationally acclaimed cancer services close to home. "It has provided us a firsthand understanding of Overlake's pivotal role locally and its genuine commitment to the people it serves," McCaw says. "It is very important to support this resource on the Eastside."
McCaw, the former president & CEO of Washington Women's Foundation, and Bernier, a senior software engineer at Bellevue's Valve Corporation, moved to the Eastside from Seattle.
"While the Bandage Ball has always been important for Overlake, it is even more crucial now," says Overlake President and CEO J. Michael Marsh. "Our heroic care teams have faced unprecedented challenges in the past several years and the financial pressures on healthcare organizations are greater than ever. Community support of the Bandage Ball will have a direct impact on Overlake's ability to continue providing the exceptional care the Eastside counts on and deserves."
Part of the funds raised come from the event's live auction, which traditionally features a range of sought-after items, services and experiences. Among the offerings going under the gavel of returning auctioneer Fred Northup, Jr. are Major League Baseball All-Star tickets; seven nights on the Shores of Kauai; a Seattle Kraken VIP experience; two club-level seats to Taylor Swift's The Eras Tour and much more.
To purchase Bandage Ball tickets, receive information on volunteer opportunities at the event and obtain other details, visit BandageBall.org.