Overview
Patient Guide
Thank you for choosing Overlake Medical Center & Clinics — our talented and dedicated team welcomes you and your family. Throughout my 28 years in health care, I have worked in a number of communities and I couldn't be more pleased to now have the opportunity to help lead the evolution of health care delivery in one of the most dynamic, rapidly growing and intelligent communities in the country.
I have come to learn about the many ways Overlake serves the Eastside community — through a network of neighborhood clinics, leading edge clinical and surgical care, dedicated Heart and Vascular Center, superior quality care, and work place health screenings — to name a few. 
Everything we do at Overlake is driven by five core values. The acronym we use is "I CARE," standing for Integrity, Compassion, Accountability, Respect and Excellence. These important values are reflected every day in our patient-focused, family-centered care, by how we treat you and your family, and even how we interact with each other.
Our goal is to provide you and your family with service that is honest and honorable, demonstrating understanding and empathy when you need it most. You can rest assured that your care at Overlake is being entrusted to a highly experienced, skilled and considerate team of physicians, technicians and nursing staff, all working together to help you heal. They are dedicated to helping lessen your discomfort, speed your recovery time and improve your health.
Your experience at Overlake is extremely important to us. You deserve excellent service that rates a "10." Please let us know if there is any part of your experience we can improve. Backed by the expertise and dedication of our physicians and staff, you have my personal commitment to delivering medical excellence every day.™
With warmest regards,
Pre-Admission Information
Pre-Admission & Registration Information
All of our staff and physicians are committed to providing the highest quality medical care possible to all who need and seek our services. Every member of our staff is dedicated to making your stay as comfortable and beneficial as possible.
To assist us in serving you, this page has been designed to provide you with information about hospital policies and procedures. It will explain the information which we need to simplify and, expedite your stay with us.
Please review the information and call our admitting office at 425.688.5115 if you have any questions. 
 It is our privilege to have you as a patient and our guest. If there is anything we can do to make your stay more pleasant, please tell a member of our staff.
To make your admission as easy as possible, we request that you take time to read this page and follow the instructions so everything will be ready when you arrive.
Childbirth Center: Preregister online for your stay at the hospital. If you need help with this form, you may call the registration line at 425.688.5444 daily until 5 p.m. to for assistance. Help is available after 5 p.m. by calling the main hospital line at 425.688.5000; a hospital operator will be able to direct your call to someone who can help you 24-hours a day, seven days a week.
When to Arrive
When your physician schedules an appointment and you submit this form, our admitting office will call you if there are any questions. Upon arrival please go directly to the admitting area, located at the Main Entrance. Routine procedures, such as obtaining your signature for medical care and permission to release information will be performed.
Pre-Admit Testing
Some testing may be required prior to your admission. The pre-testing program is designed to shorten your stay and costs. Your physician will tell you if pre-admission testing is required. If so, please report to the Main Entrance admitting area.
Preparing for Your Hospital Stay
Your Valuables
If you arrive at the hospital with any valuables like jewelry or wallets, please send them home with a family member or have them secured in the hospital vault.
It's understandable that some patients may want to keep a special piece of jewelry on throughout a hospital stay, especially wedding rings. But it's important to remove rings because they are vulnerable to slipping off if you have lost weight, or rings can actually grow too tight if there is swelling from the extra fluids many patients receive during their stay.
Clothing
For most patients in the hospital, a hospital gown will be easiest for you to wear. Pajamas, panties and shorts can make it harder for staff to provide the nursing care you need. If you do not have IVs, drains or bulky dressings, you may be able to wear your own nightgowns or nightshirts. Please ask your nurse.
We will provide you with no slip socks to wear in the hospital. If you bring slippers or shoes from home, they should be easy to put on and have rubber soles to prevent slipping. Robes should be short enough so that you won't trip or catch it on medical equipment. Clothing that opens in the front is easier to put on than pullovers. When you are ready to go home, wear comfortable clothing.
Medications
Leave your medications at home, unless your doctor tells you differently. Bring a complete list of your current medications, dosages and times taken. This list should include any over-the-counter, naturopathic or herbal remedies you are taking. Tell us if there are any medications to which you are allergic or intolerant.
Toiletries
You may wish to bring personal toiletries such as deodorant, tooth care items, hair care items, powder, lotion, makeup or a razor.
Medical Equipment
If you have crutches or a walker, label them with your name and bring them with you.
While You're at the Hospital
We are dedicated to providing medical excellence every day. Please be our partner in your treatment. Here are nine ways you can help ensure that you get the best care possible.
Ask Questions if You Have Doubts or Concerns
Ask questions if something is not clear.
Write down questions for your healthcare team so you don't forget them. Take notes when you meet with your doctor.
If you think something is wrong, speak up. You have the right to ask about your care and safety. Ask your nurse, unit charge nurse or manager to address your concerns.
Involve Your Loved Ones
If possible, have a friend or family member with you to help ask questions and understand the answers. It's easy to be overwhelmed by the amount of information presented.
Be Involved in Your Plan of Care
While you are in the hospital, each day can be different. Ask your healthcare team, "What is my plan of care for today?" They should explain to you what activities, tests and procedures are planned so that you can prepare. 
Know what the treatment will include, and how long the treatment should last.
If you don't understand the reason for a test or procedure, please ask us. We want you to understand.
Safe Patient Identification
Your identification (ID) band is very important in helping us make sure that you are getting the right treatment. Staff will check your ID band and ask you to verify your name and date of birth with every medication, treatment, or procedure. If they don't, feel free to ask anyone who is giving you medications, taking specimens from you, or providing any treatment to check your ID band.
Take Medications Safely
Give your healthcare team a list of all the medications you take, including non-prescription medications, vitamins and herbal remedies. Tell your doctor or nurse if you have any drug allergies.
We want to make sure we are giving the right medication to the right patient with every medication. The nurse will tell you the name of the medication, explain what it is for and tell you if there are side effects you should look for. Ask any questions you have.
Ask the nurse about your medication if it looks different than you expected.
Keep track of your medications by using our Medication Tracker form.
Help Prevent the Spread of Infection
Remind friends, family, and caregivers to wash/sanitize their hands before and after coming into direct contact with you. Cleaning hands is an important way to prevent the spread of infection. Hand sanitizing gel is available throughout the hospital.
Discourage family or friends with an active cough from visiting you at the hospital or accompanying you on your doctor visits.
If you have a cough, cover your nose and mouth with a tissue, or cough or sneeze into your upper sleeve — not your hands. Throw away used tissues and sanitize or wash your hands right away.
During your stay, your nurse will ask you about pneumonia vaccinations. During flu season, he/she will ask about influenza vaccinations, too. You will be offered a vaccination and a vaccine information statement to review. Please ask your nurse any questions you have about vaccinations.
Understand What Will Happen if You Have Surgery
Ask your surgeon: Exactly what will you be doing? How long will it take? What will happen after the surgery? How can I expect to feel during recovery?
Make sure your surgeon has explained any potential complications.
Tell the surgeon, anesthesiologist and nurses about any allergies or bad reactions to anesthesia.
To make sure the right procedure is performed on the right patient and the right place, your healthcare team will ask you to confirm your name, your birth date and the type of procedure you are having. Your surgeon will mark the surgery site before surgery.
You will be given a dose of antibiotics and may be wrapped in a warming blanket because this has been shown to reduce the number of infections after surgery.
Know What to Do After You Are Discharged From the Hospital
Make sure you feel comfortable with discharge instructions given by your healthcare team.
Review medications you are prescribed with your doctor or nurse, including new medications' names, purpose, dosage amounts and how often you will take them. Ask for written information on any new medications.
Ask your doctor or nurse to provide the phone number to call if you have questions following your discharge.
Use Other Resources As You Need To
Rapid Response Team (RRT): If you or your family is concerned about the patient's condition, we want to hear your concerns. Overlake has a Rapid Response Team (RRT) of clinical experts who can provide advanced assessment skills and support for the bedside nurse, patient and patient's family. If you think your patient's condition is getting worse, please tell the nurse.  
Fall Prevention:  When you are in the hospital and receiving medicine, you may be less steady on your feet than normal. Be sure to follow your care provider's instructions to prevent falls. This may include asking for help before getting out of bed or even wearing a leg alarm. For a complete guide to fall prevention – both in the hospital and at home — ask for the booklet, "Don't Let Falls Get You Down!"  It is also available online in our Senior Care Online Senior Resources.
Smoking Cessation: If you smoke, quitting is one of the most important steps you can take to protect your health now and in the future. To learn more about smoking cessation, please ask your care providers for information or call the Washington State Tobacco Quitline at 1-800-QUIT-NOW.
Let Us Know Your Concerns
If you have any concerns about your care during your hospital stay, please talk with your care providers and/or the manager of the department providing your care. Please call Overlake's Patient Advocate for help with any unresolved concerns at 425.688.5191.
If you are not able to receive adequate resolution of your concerns, you are welcome to contact The Joint Commission at 1.800.994.6610 or complaint@jointcommission.org and the Department of Health at 1.800.633.6828.
Includes information adapted from the Washington State Hospital Association.
Caring for You
Our goal is to give you compassionate, expert medical care.
Your doctor will direct the medical care you receive. Expect a visit from your doctor daily, typically early in the morning or late afternoon. Many of our patients are cared for by hospitalists during their stay. Hospitalists are physicians who are specially trained to provide care for patients while in the hospital.
Your nurse will work with your doctor to create a plan of care, regularly assess your progress, implement your doctor's orders and make sure your needs are met while you are here. Your nurse will also direct the activities of unit-based staff who provide additional support services, as you need them.
Technical staff will work with your nurse to provide your care. They will answer your call light and assist with meals and other daily activities like bathing and walking.
Other specialists could include physical therapists, occupational therapists, pharmacists, respiratory therapists, IV nurses, phlebotomists (who obtain blood samples), dietitians, social workers and clinical nurse specialists. All of these services are coordinated by your nurse.
Hospital volunteers help out in many areas of the hospital. You can recognize volunteers by their yellow shirts and photo ID badges.
Important Times in the Hospital Day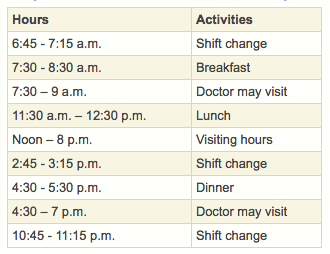 Hospitalist Practice
Hospitalist Practice
The Overlake hospitalists are board-certified in internal medicine and see hospitalized patients who have been referred from community primary care doctors, emergency room doctors or other physicians at the hospital. They do not see patients outside of the hospital.
Intensivists
Intensivists
Patients who are the most seriously sick or injured are treated in our award-winning Critical Care Unit where they're cared for by specially-trained critical care physicians known as intensivists.
The intensivists act as the team leader and they work closely with surgeons, specialists, therapists and our nursing staff to make sure each patient gets the best possible care for their specific needs. Intensivists are trained to treat a broad range of complex medical conditions and they have advanced skills for performing specialized bedside procedures.
Our team of nine intensivists provides onsite coverage 24/7
For patients, the advantages of round-the-clock intensivist care include:
When a medical emergency occurs, a doctor who is board certified in critical care is able to provide care in person.
Intensivists coordinate care among specialists, nurses and other staff ensuring that the entire team is following the same strategy.
Studies show patients who receive care in hospitals with an intensivist program have improved outcomes, lower mortality rates and shorter hospital stays.
Palliative Care
Palliative Care Consult Service
Palliative Care is a medical specialty that helps seriously ill patients and their families.
Read more about our program at Overlake.
Your Room
Your Room
Your room includes a special hospital bed, a bedside stand for your personal belongings, a telephone, an over-bed table and a small closet space.
Your Bed
Your bed can be adjusted. Sometimes you need to keep your bed in a certain position for medical reasons. Most of the time, however, we can help you adjust your bed for your own comfort.
Ask a staff member to show you how to use the controls.
Telephone
You may use the telephone at your bedside to make phone calls.
Calling Inside the Hospital
Dial the 4-digit extension number.
Calling Outside the Hospital
Local Calls

Dial 9 + the number.

Long-Distance Calls Using a Credit Card

Dial 9 + 0 + area code + number.
Wait for the voice instructions before entering your credit card number.

Long Distance Call Collect or Charging Another Number

Dial 9 + 0 + area code + number.
Wait for the voice instructions, then press 0.
The long-distance operator will answer after the tone and complete your call for you.
The long-distance carrier is AT&T. You cannot charge long-distance calls to your hospital bill.
Call Button
When you need help, use the call button. In some rooms it is located in the bed rail. In other rooms, it is located in the panel with the TV controls.
When you press the button, the nurses' desk is notified that you are calling. Someone will answer your call as soon as possible.
Television Controls
The controls to the television are located with the call button. (See the entertainment section below for information on television, radio and education options.)
Meals and Snacks
Your Hospital Meals
Our goal is to prepare and serve you an appetizing, healthy meal. In December 2009 we launched our Seasons Dining room service program with delicious meals and snacks designed by Registered Dietitians and prepared by professionally trained culinary personnel. Meals are prepared with fresh, organic fruits, vegetables and wholegrain bakery items. If you have a food allergy or intolerance, we will prepare your food accordingly. We also consider any other special diet needs when we prepare your meal.
View a sample Seasons Dining room service menu
Special Diets
Special diets may be ordered by your physician, such as clear liquids, comfort foods, low-sodium, low-cholesterol or diabetic diets. Some patients find that their physician orders are less restrictive than at home. This is because calories and food intake are an important part of recovery.
For medical reasons (or if you are having surgery or certain tests), food and liquids may be restricted for a period of time. If so, your nurse or doctor will let you know.
Meals
Patients can choose from an array of meal choices and food is served anytime between 6:30 a.m. and 7 p.m. There are 12 different menus in all — including heart-healthy, low-sodium and low-fiber options — that reflect the diet your physician ordered for you.
Snacks
Snacks such as beverages, an artisan cheese plate, tandoori grilled chicken skewers, fresh fruit and pudding are available if you are hungry between meals and do not have any diet restrictions. 
Taste
Some medications can change your sense of taste and smell so your food may taste differently than you expect.
Questions
If you have questions about your diet, please ask a member of your care team. If needed, a representative from Hospitality Services can speak with you about any special diet needs you have.
Entertainment
You can view a number of news, sports and entertainment channels on the in-room television Several radio stations are available through the television also. Just tune your television to the appropriate channel listed below:
TV
| | | |
| --- | --- | --- |
| Station | Content | Channel |
| WC | Weather | 2 |
| KWPX | PAX | 3 |
| KOMO | ABC | 4 |
| KING | NBC | 5 |
| KONG | IND | 6 |
| KIRO | CBS | 7 |
| DISC | Discovery Channel | 8 |
| KCTS | PBS | 9 |
| KMYQ | MyNetwork | 10 |
| KSTW | CW | 11 |
| KBTC | PBS | 12 |
| KCPQ | FOX | 13 |
| JCRQSN | Joint Commission | 14 |
| Patient TV | In-House | 15 |
| TOON | Cartoon Network | 16 |
| CNBC | CNBC | 17 |
| MSNBC | MSNBC | 18 |
| Movie | Swank | 19 |
| TBN | Trinity | 20 |
| CNN | Cable News Network | 21 |
| HLN | Headline News | 22 |
| FNC | Fox News | 23 |
| BLOOMBERG | Business | 24 |
| CSPAN2 | C-SPAN2 | 25 |
| FX | FOX Movie | 26 |
| USA | USA | 27 |
| TNT | Turner Network | 28 |
| TBS | Turner Broadcasting | 29 |
| FSN | FOX Sports NW | 30 |
| ESPN | Entire Sports | 31 |
| ESPN2 | Entire Sports 2 | 32 |
| SPEED | Speed Channel | 33 |
| ESPN NEWS | Sports News | 34 |
| ESPN Classic | Classic Sports | 35 |
| NATIONAL GEO | Science | 36 |
| HIST | History | 37 |
| TLC | Learning Channel | 38 |
| OWN | Oprah Winfrey Network | 39 |
| A&E | Arts & Entertainment | 40 |
Radio
| | | |
| --- | --- | --- |
| Station | Content | Channel |
| 851 | Smooth Jazz | 45 |
| 866 | Light Classical | 46 |
| 809 | Hit Country | 47 |
| 849 | Soft Hits | 48 |
| 856 | New Age | 49 |
| 804 | 70's Hits | 50 |
Healing Arts
Healing Arts
Overlake's Healing Arts program helps reduce stress and enliven the human spirit. Healing Arts services are available to patients on different days in each unit. If you are interested in any of the Healing Arts activities listed below, please ask your nurse when they are available.
Mirth Visits: A volunteer in costume brings entertaining items such as puppets to spread smiles and cheer to patients.
Healing Touch and Special Touch: Healing Touch, provided by certified therapists, helps patients manage pain and/or anxiety before and after surgery. Special Touch offers soft rubs or light massage for general relaxation.
Pet Partners: Trained and certified pet partner teams visit patients in specific units.
Live Music: Piano and violin are played in the Main Lobby, Monday through Friday, from 10 a.m. to 3 p.m.
Going Home
Discharge
Plan to leave in the morning. This means you need to be dressed, have your personal belongings packed and have transportation arranged. If you will need help with any of these things, ask your nurse. Most of our patients leave the hospital by 11 a.m.
Patients are discharged at the Discharge Lobby across from the West Parking Garage and West Entrance.
Transportation
Patient care staff or trained volunteers will help take you and your belongings to the Discharge Lobby across from the West Parking Garage to meet your transportation. It is our policy to escort patients when leaving the hospital. You may use a wheelchair if you need one.
If you need to arrange special transportation to your home, please let your nurse know. All patients will be discharged through the Discharge Lobby (not the main entrance).
Discharge Planning
If you need help arranging care for after you leave the hospital, ask your nurse to have a discharge planner meet with you or your family.
Take-Home Medications
Upon discharge from the hospital, you may receive prescriptions written by you doctor to take to a pharmacy of choice. You may have your prescriptions conveniently filled at the Walgreens pharmacy on the first floor of the Overlake Medical Tower prior to leaving the Overlake campus.
This pharmacy provides services to all patients and staff of Overlake, clinic patients of the Overlake Medical Tower and members of the Eastside community. It is a full-service, customer-oriented retail pharmacy with prescription services, over-the-counter products, greeting cards and other novelty items. The Walgreens On-site Pharmacy at Overlake is open Monday through Friday, 7 a.m. to 7 p.m.
If you have any questions, please call the Walgreens pharmacy at 425.688.5958.
Discharge Steps
Your nurse will give you written instructions and talk with you about how to take care of yourself after you leave the hospital. Make sure you or your caregiver understand:
Any special instructions about eating and drinking.
Activity guidelines (an exercise program or any restrictions on movement or activity).
Medications (what to take, when to take it, for how long).
How you can expect to feel and how long recovery could take.
Pain control.
How to care for any incisions, drains or tubes or medical equipment.
When to call your doctor
Your Bill
We will mail you an itemized bill within one week after you leave the hospital. If you have questions, please call the Billing Office at 425.688.5124. For your convenience, you can pay your bill online.
If you have insurance, we will bill your insurance for you. If your insurance requires a co-pay, we will collect it before you leave the hospital.
Patient Action Line
Patient care, safety, and service are priorities for achieving our mission of providing medical excellence every day™. We welcome your compliments or complaints, so please notify the manager or director of the unit or department with any feedback.
If you feel your issues have not been resolved, please contact our patient advocate through the patient action line at 425.688.5191 or patient.action@overlakehospital.org.
You also have the right to contact the Department of Health at 1.800.633.6828 and/or the Joint Commission at 1.800.994.6610 to report any concerns or register complaints.
All concerns are taken seriously. We will review your comments and take steps to resolve the issue.
Patient Rights
Patient Rights
Overlake believes you have both the right and the responsibility to be an active participant in your healthcare. There are often difficult decisions that need to be made when dealing with your health. Overlake provides these resources in hopes that some of your decisions will be clearer and easily understood. If you are unclear about any decisions placed before you, ask your nurse or physician for further clarification and she or he will be able to assist you.
See our flyer on patients rights, the Americans with Disabilities Act, our translation assistance and anti-discrimination compliance.