5 Steps to Lower Your Risk for Breast Cancer
October 01, 2023
October marks Breast Cancer Awareness Month. Breast cancer remains one of the most common types of cancer among American women. And, unfortunately, some risks for this disease cannot be changed.
Image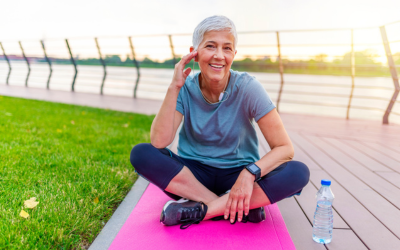 For one thing, you're more likely to develop it as you get older. In fact, women ages 50 and older make up most breast cancer cases. Those whose mothers, sisters or daughters have had breast cancer also face a higher risk. Race and ethnicity play a role, too. For example, breast cancer develops more often in white women than in Black, Hispanic, Asian or American Indian women.
Take action  
There are other risk factors you can change, however. Follow these smart lifestyle strategies:
Maintain a healthy weight. Women who are overweight or obese after menopause have a higher risk for breast cancer.

Stay on the move. Physical activity can help lower your chances of getting breast cancer.

Don't tip your glass too often. The more you drink, the more you're at risk. One alcoholic beverage a day can add up to a 10% increase in risk; two to three a day bumps it to 20%.

Clear the smoke away. According to the Centers for Disease Control and Prevention, there's evidence smoking may increase breast cancer risk.

Think produce. Some studies suggest that a diet high in fruits, vegetables and calcium-rich dairy—but low in red and processed meats—might help lower the risk for breast cancer.
Schedule your screening
When breast cancer does strike, it's very important to catch it in its early stages, when it's most treatable. Mammograms are the best way to find breast cancer early. The American College of Obstetricians and Gynecologists recommends:
Women 40 and older should consider having an annual mammogram in addition to an annual clinical breast examination.

If you have not started screening in your 40s, you should start having mammography no later than age 50. Screening should continue until at least age 75.
The Overlake Cancer Center provides breast screening services at its Breast Health Center in Bellevue and Issaquah using digital mammography. This includes 3D tomography, which is the most advanced technology available and allows for earlier, less invasive treatment and better outcomes.
To schedule your mammogram, call 425.688.5985 today.