7 Health Screenings Men Can't Live Without
January 03, 2023
If you're looking to improve your health in the New Year, start by moving preventive screenings to the top of your to-do list. Regular screenings are crucial for finding and dealing with health problems in their early stages—when many conditions are more treatable and less threatening to overall health. Brad Granath, MD, FAAFP, with Overlake Clinics Primary Care – Lake Hills, shares which seven health screenings men can't live without.
Make sure you are up-to-date with these seven, essential health screenings:
Image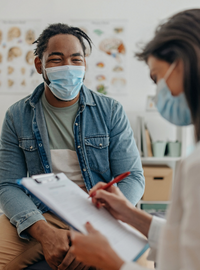 High cholesterol.

 Starting at age 35, men who have no risk factors should get their cholesterol checked regularly. This means at least every four to six years. Men younger than age 35 could be helped by cholesterol testing if they have risk factors, such as smoking, high blood pressure, diabetes or a family history of heart disease.

High blood pressure.

 All men age 20 and older should get their blood pressure checked at least every two years—or more often if recommended by a healthcare provider.

Eye exam.

 Men should get an eye exam at least every two years if they don't have any eye-related health concerns or conditions. If you are at high risk for eye-related diseases or conditions, your healthcare provider may recommended a more complete eye exam more often.

Body mass index.

 Men should get their BMI measured each year to help find out if they are at a healthy weight for their height.

Diabetes.

 Men should get a blood glucose test for diabetes if they have higher-than-normal cholesterol or high blood pressure. They should also have this test if they have signs of diabetes. These include being thirsty often and needing to urinate often. Other symptoms include being very tired and having blurred vision. Healthy men should get screened every three years. This should start at age 45.

Colorectal cancer. 

Men at average risk for colorectal cancer should get their first screening at age 45. Some men should start screening earlier because of their personal history or family history. Talk with your healthcare provider about your health history.

Abdominal aortic aneurysm screening

. Men aged 65 to 75 years who have ever smoked should have a one-time screening for an abdominal aortic aneurysm with ultrasound.
Make preventive screenings a priority in the New Year. If you are an established patient, make your appointment today or if you need a primary care provider, visit overlakehospital.org/primarycare. Your provider will determine which screenings you need based on age, genetics and previous test results.