Advanced Treatments for Coronary Artery Disease
April 27, 2022
Image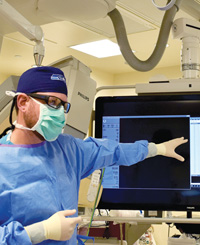 Ernst Susanto, 53, was visiting family in New Jersey last summer when he started experiencing shortness of breath every time he would go for a walk, even when walking short distances. 
Once back in Washington, Ernst underwent tests that revealed blockages in three of his arteries. One was 70% blocked, another was 90% blocked and the third was 100% blocked. 
"This all came as a shock, as I have never had any heart problems or major health issues," says Ernst.
Blockages in the coronary arteries are caused by a buildup of fatty deposits. When this happens, blood flow to the heart is restricted, causing chronic chest pain, shortness of breath and fatigue.
Because Ernst's arteries were so severely blocked, he was referred to Robert Riley, MD, a fellowship-trained complex and high-risk interventional cardiologist and medical director of Overlake's new Complex Coronary Therapeutics Program. 
"One of the program's overarching goals is to give options to patients who have complex disease and may have been told there is no treatment available to them," says Dr. Riley.
Dr. Riley is one of only a few doctors in the area who is trained to perform an advanced catheter-based procedure for those with blockages and other types of complex coronary artery disease. 
This type of procedure is an innovative and less invasive alternative to open-heart surgery. Using catheters (thin, flexible tubes), special types of wires, and tiny devices (such as balloons and stents), blocked arteries are opened up, allowing blood to flow more freely to the heart.
People like Ernst who undergo these procedures report significant decreases in symptoms and see major improvements in their quality of life.
"Living in Washington, I like being in the outdoors, especially hiking and mountain biking. It was important to be able to get back to the activities I love as soon as possible, so I'm very grateful for Dr. Riley's expertise and that there was a minimally invasive option available," says Ernst.
Dr. Riley is currently accepting new patients. Learn more about Overlake's Complex Coronary Therapeutics Program.