Frequently Asked Questions: Mammograms
March 14, 2023
The American College of Radiology recommends all women ages 40 and over receive an annual mammogram. You live a busy and full life, but don't forget to make cancer screening a part of it. At Overlake, we see it every day: early detection saves lives. 
Image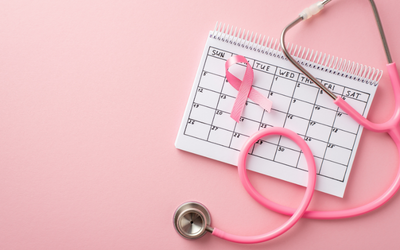 What are the benefits of screening mammography?
Today's high-quality screening mammogram is the best tool available to detect breast cancer before lumps can be felt or symptoms appear. Finding breast cancer early, when it's small and has not spread, will ensure you have the best chance for a successful outcome.
The Overlake Cancer Center provides breast screening services at its Breast Health Center in Bellevue and Issaquah using digital mammography. This includes 3D tomography, which is the most advanced technology available and allows for earlier, less invasive treatment and better outcomes.
Is there a risk of radiation exposure from having regular mammograms?
Our advanced screening methods and diagnostic breast imaging evaluation capabilities include 3D mammography. The lowest doses of radiation are used, while getting the clearest, most accurate images available.
What should a woman expect when having a mammogram?
Don't use deodorant, powder or lotions on the day of your mammogram. Avoid wearing a dress or one-piece outfit. A specially trained radiology technologist will do the X-ray. The technologist will ask you to undress from the waist up, put on a gown and stand next to the X-ray machine. Two flat surfaces (plates) are slowly squeezed together. They compress each breast for a few seconds. 
Are mammograms painful?
At Overlake's Breast Health Center, comfort is key and we are pleased to offer the most comfortable mammography equipment with an ergonomic design. This includes the use of cushioned mammopads placed underneath the breast to provide a warm, more comfortable surface between the patient and the image receptor. While we aim to make it as painless as possible, you may still find the pressure of the plates on the breasts to be uncomfortable. Timing your mammogram when your breasts are not tender can help ease discomfort. In premenopausal women, this is usually one week after your menstrual period. Ask the technologist to reposition you if you experience discomfort or pain. Remember that each X-ray takes just a few moments and could save your life.
When should I schedule a mammogram?
Recommendations for women at average risk of breast cancer:
Women 40 and older should have an annual mammogram in addition to an annual clinic breast examination.
Women between the ages of 25–40 should have an annual clinical breast examination.
All women should consider performing a monthly breast self-examination.
Recommendations for women at high risk:
High risk includes family history, history of atypical hyperplasia, history of mantle radiation and genetic predisposition.
Annual mammograms starting no later than 10 years before the age of the earliest diagnosis in the family but not earlier than age 25 and not later than age 40.
Clinical breast examination every six months.
Consider supplemental imaging for women with dense breast tissue.
Consider alternating between a breast MRI and a mammogram every six months.
To learn more about your risk level, consider taking this brief breast cancer risk assessment.
To schedule your mammogram at the Overlake Breast Health Center, visit overlakehospital.org/get-your-mammogram.